San Antonio Area Freeway System
PROJECT INFO: Loop 1604 Bandera to Hausman
---
This page last updated September 5, 2020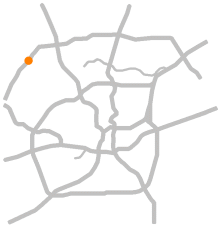 Location
Loop 1604 between Bandera Rd. (SH 16) and Hausman Rd.

Status
Complete.
The previously-proposed westbound ramp changes have been cancelled.

Description
This project reversed the entrance and exit ramps along eastbound Loop 1604 between Bandera Rd. and Hausman Rd., i.e. the existing entrance ramp from Bandera was switched to become the exit ramp for Hausman, and the existing exit for Hausman was switched to become the entrance from Bandera. The new exit ramp merges into the access road just north of the northernmost driveway for HEB (i.e. near the Popeye's.) The new entrance ramp leaves the access road just south of Bamberger Trail. Note that this location for the new entrance ramp is temporary; it will be replaced with a permanent ramp a little further north as part of the larger Loop 1604 expansion project in this area. The reason this project didn't build that ramp in its ultimate position is because that would have required widening the overpass at Hausman to accommodate the acceleration lane, which would have increased the cost of this project beyond what was available, i.e. this project would not be able to be built when it was to provide the interim relief.

While this is a relatively small project, it should make an appreciable improvement; see below for an explanation why.

This project is considered to be a temporary "quick-fix" project until the larger Loop 1604 expansion project provides more comprehensive improvements.

There previously was a second project planned in 2020 on the westbound side that would have converted the westbound exit to Bandera to a two-lane exit ramp and constructed an auxiliary lane (i.e. an additional lane on the right side) on westbound 1604 between the Hausman entrance ramp and the Bandera exit. It was cancelled as the start date for the Loop 1604 expansion project in this area was firmed-up for 2021. That project will widen Loop 1604 and will reverse the westbound ramps between Hausman and Bandera.




PREVIOUS RAMP ARRANGEMENT
NEW RAMP ARRANGEMENT


How this project will help
Moving the Bandera entrance ramp provides more storage area for the traffic that frequently backs-up from that ramp into the Bandera/1604 intersection during the morning rush hour. It also provides better access to Loop 1604 from the HEB and apartments along the access road. The relocated Hausman exit ramp provides better access to Farris Stadium.

Timeline
This project is complete and both ramps have opened to traffic.