About the Texas Highway Man
---
This page last updated February 19, 2018
(Photo credit: Billy Calzada, San Antonio Express-News)
By day, I'm known as Brian Purcell. Although I have a bachelor's degree in Urban and Regional Planning, a fluke got me into the computer biz even before I even graduated from college and now I'm a systems architect at a university in San Antonio. Believe it or not, I'm not affiliated in any way with any road-building or transportation agency or contractor. All my life, though, I've had an interest in all forms of transportation, and this website is the manifestation of that hobby and interest that continues to this day.
The San Antonio Express-News did a story on me back in 2015; the story on their site is, unfortunately, behind a paywall, but the Houston Chronicle picked it up and the entire story is available to everyone here. If you're really bored, you can also read more about me on the Bio page of my blog, also coincidentally written by an Express-News reporter, albeit a different one than did the aforementioned story.
I also was asked to write a piece on San Antonio's freeway history for the Express-News' San Antonio Tricentennial series; it's published on their site here.
---
How I got the name Texas Highway Man
Besides my intense interest in roads and traffic, it seems that I also have a real knack for directions and getting around. As a result, my little sister started calling me "Highway Man" and sometime in the mid '90s drew a really cute cartoon (see below.) When I started my website in 1998, decided that "Highway Man" would be a good name for my online persona, but I decided to add the "Texas" to the moniker since I knew of several fellow "highwaymen" in other places.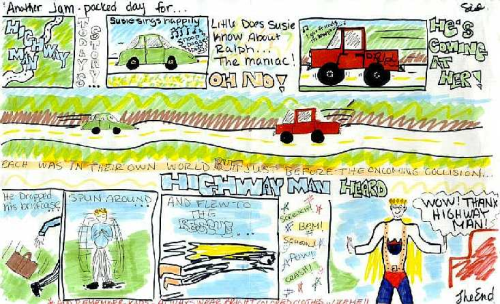 ---
Other "TexasHighwayMen" on the Internet
Over the years, I've come across a few other cases of people using the name "TexasHighwayMan" on the Internet. For example, I found a couple of sites where someone using that name expresses some rather strong opinions on guns and abortion (funny how those topics tend to elicit strong opinions.) That is not me. In general, I sign most of my online posts as either "TexHwyMan" and/or with my actual name, and I generally try to stay out of the fray on politics and controversial topics. In any case, if you find something posted online by "TexasHighwayMan" or the like and you want to know if it's me, feel free to ask. If it's something I posted, I'm certainly willing to discuss it with you. But I don't want to take credit (or condemnation) for things I did not post.