Texas Highways Primer
---
This page last updated April 25, 2018
Texas is a big place. It's nearly 880 miles from the Louisiana border near Orange to the New Mexico border near El Paso, and nearly 500 miles from the Oklahoma border north of Dallas to the Mexican border in Laredo. That size gives the state a tremendous amount of diversity. A hot, humid sub-tropical climate in the Valley yields to a varying Midwest climate, complete with snow, in Amarillo. There are Piney Woods in East Texas, desert and low mountains in West Texas, and plains, prairies, and the Hill Country in between. The state has some of the nation's biggest metropolitan areas and some of its most desolate ranges. With this size and diversity, a large and rapidly growing population, a booming economy, an increasing role in international trade, and its overwhelming dependence on the automobile, Texas cannot help but have the nation's biggest, most well-developed highway system with nearly 80,000 miles of state-maintained roads.
This primer is designed to give you an overview of the state's highway system and its idiosyncrasies. If you're looking for a route log, check out Texas Highway Routes by David Stanek, a complete listing of all highways in Texas. Both Ron Jackson's TexasFreeway.com and Andy Field's LoneStarRoads sites have lots of in-depth information on freeways and other highways statewide.
---
On this page:
---
Highways in Texas are managed by the Texas Department of Transportation (TxDOT). TxDOT was created in 1991 from the former State Department of Highways and Public Transportation (SDHPT), which itself was created by the merger of the Texas Highway Department and Texas Mass Transportation Commission in 1975.
Here are some basic facts about the state highway system in Texas:
CENTERLINE MILES
(2014)
3,417
11,905
16,406
40,910
332
Frontage Roads

7,453

TOTAL MILEAGE
80,423
TOTAL LANE MILES

195,767
REST AREAS: 98
PICNIC AREAS: 623
FIRST HIGHWAY: Started in 1918 and finished in 1920, between Falfurrias and Encino in Brooks County, along present day US 281.
FIRST INTERSTATE: 1956, I‑45 (then US 75) near Corsicana in Navarro County
SHORTEST HIGHWAY: Loop 168 in Tenaha, Shelby County, is 391 feet (.074 miles)
LONGEST HIGHWAY: US 83 stretches 899 miles from the Oklahoma state line near Perryton to the Mexican border near Brownsville
HIGHEST HIGHWAY: A spur from Texas 118 at the McDonald Observatory on Mt. Locke in West Texas is 6,791 feet above sea level.
BUSIEST HIGHWAY: I-10/Katy Freeway in Houston just west of Beltway 8 carries 328,000 vehicles daily.
LONGEST BRIDGE: The Queen Isabella Causeway between Port Isabel and South Padre Island is 2.37 miles long.
NUMBER OF BRIDGES: 53,018 (more than double the number of any other state)
State-maintained highways comprise about 26% of the total roadway mileage in Texas but carry about 73% of all traffic.
---
In addition to having the nation's largest highway system overall, Texas also has more Interstate mileage than any other state. There are now 18 numbered Interstate Highways in the state:
Texas has two of the three "forked" Interstates in the nation. The first, I‑35, is split into I‑35E through Dallas and I‑35W through Ft. Worth. I‑69 is split three ways: first, I‑69 splits into I‑69E and I69W at Victoria with I‑69E running south to Brownsville along US 77 and I‑69W continuing south to Laredo along US 59. I‑69C then branches from I‑69W at George West and runs along US 281 south to I‑2 at Pharr
Texas also has two "hidden" or unsigned Interstates: I‑345, which is a short extension of I‑45 in downtown Dallas, and I‑110, which connects I‑10 to the Mexico border in El Paso.
Interstates in Texas were generally built by upgrading existing US or State highways. I‑45 replaced US 75, I‑35 replaced US 81, and I‑40 replaced the famed US 66, to name a few. In urban areas, many existing expressways were simply re-signed as Interstates. The first Interstate contract let in Texas was for a segment of I‑45 in Navarro County near Corsicana in 1956. The latest additions to Texas' Interstate inventory are I‑69, I‑2, and I‑14. (See the I‑69 and I‑14 sections below.) Prior to that, the last Interstate to be completed was I‑27 between Lubbock and Amarillo in 1992.
Of the inter-urban Interstates in Texas, I‑35 between San Antonio and Dallas-Ft. Worth is the busiest. Most of I‑35 operates at or above its capacity. Every traffic counter location between San Antonio and Hillsboro reported more than 50,000 vehicles per day in 2008. As a result, traffic delays, especially during holiday periods, are common.
Besides increases in passenger vehicles, truck traffic on I‑35 and other Interstates is growing rapidly, mainly as a result of the North American Free Trade Agreement (NAFTA) and the General Agreement on Tariffs and Trade (GATT). TxDOT reports that Interstate traffic has increased every year since 1987. Between 1996 and 1999, passenger vehicle traffic statewide increased 12% while truck traffic increased 19%, and between 1999 and 2011 truck traffic is predicted to grow 50-70%. In fact, Texas has the highest volume of truck traffic in the nation.
All of I‑35 between San Antonio and Georgetown is now six lanes or more, and a bypass tollway (SH 130) from Georgetown to I‑10 at Seguin was completed in 2012. Work continues to upgrade I‑35 to six lanes all the way north to Hillsboro. TxDOT is also participating a $1.5 million federal study of I‑35 from Laredo to Duluth, Minnesota, which aims to provide comprehensive improvements to the corridor. (More information on the I‑35 corridor between San Antonio and Austin is available as part of my San Antonio roads pages.)
In addition to I‑35, TxDOT has projects underway or planned to widen the other two legs of the "Texas Triangle" (I‑10 between Houston and San Antonio and I‑45 between Houston and Dallas) to six lanes over the next decade.
Exits/entrances, the ubiquitous frontage roads, and "Texas U-turns"
As you drive through Texas, you may notice that exits and entrances on many of our Interstates tend to be at more frequent intervals than in other states. This is the result of the philosophy of Dewitt Greer, a former long-time director of the state highway department. It was his belief that, given the vastness of the state, Interstates should not just serve "interstate" traffic, but also "interregional" traffic within Texas, and more frequent exits would help facilitate that.
Another byproduct of this doctrine is perhaps the most unique feature of the state's highway system: frontage roads. There are over 7,000 miles of these along freeways in Texas, which is more-- much more-- than any other state. Instead of using new rights-of-way, many Interstates in Texas were built along the routes of existing US highways. Since Interstates have limited access, the state would have to pay to acquire the access rights of frontage properties. It was decided that it would cheaper to build frontage roads to keep access to those adjacent properties instead of acquiring the rights, not to mention the political expediency of doing to. As a result, this quickly became standard operating procedure at the Highway Department (and subsequently TxDOT) and a large percentage of the state's freeways were built under this policy.
In June 2001, the Texas Transportation Commission considered a major policy change that have eliminated frontage roads from any new freeways unless absolutely necessary. This rocked many Texans to their core-- enough of one that the Commission decided, after statewide hearings, to scrap the idea.
There are several ramp configurations used with frontage roads. The "diamond" interchange is pretty standard, with the on- and off-ramps connecting to the frontage roads in the general shape of a diamond relative to the cross street (see illustration below). Sometimes, the ramps are reversed in an "X"-interchange with the exit ramp for the next cross street preceding the entrance ramp from the previous cross street. This is generally the new standard in urban areas as it typically improves safety, reduces exit ramp backups onto the main freeways lanes, provides better access to and from frontage properties, and helps reduce through traffic at the the frontage road intersections, improving their operation. Occasionally, if space is limited, both the on and off ramps are built at the same location in a "braided" arrangement where one ramp passes-over the other.
| | | |
| --- | --- | --- |
| Frontage roads with diamond interchanges | | Frontage roads with "X" interchanges |
Speed limits on frontage roads generally range from 50-60 mph in rural areas to 40-50 mph in urban areas. In urban areas, access roads are typically one-way in the same direction as the adjacent freeway lanes. In rural areas they are generally two-way. By law, traffic leaving or entering the freeway has the right-of-way over traffic already on the frontage road.
The ubiquitous frontage roads have another interesting cultural facet-- as you travel through the state, you may notice that people in each of the regions call their frontage roads something different. For example, in Houston and East Texas, they're known as "feeder" roads; in Dallas-Ft. Worth, they're "service" roads; in San Antonio, they're "access" roads; and in El Paso, they're called "gateways". The term generally used in Austin and the state's official term is "frontage" road, which is how you'll see them marked on guide signs statewide, even in the aforementioned areas where the popular vernacular differs. Indeed, what someone calls the roads next to the freeway is a good shibboleth to determine where they're from within the state.
It should be noted that frontage roads (or whatever you call them) are not just found on Interstates-- you'll find frontage roads on freeways regardless of route classification (i.e. Interstate, US, or SH routes).
Native Texans are frequently surprised when they go to other places and find no frontage roads. A comment many make after their trip to another state is, "They don't have frontage roads on their highways!" But many native Texans don't realize how much of an oddity our extensive frontage roads are. Conversely, many out-of-state visitors immediately notice and comment on our frontage roads with no clear majority between thumbs-up and thumbs-down.

Going hand-in-hand with frontage roads are the so-called "Texas U-turns" or "turnarounds". These are separate U-turn lanes that allow traffic heading in one direction on a one-way frontage road to turn around and head the other way on the opposite frontage road without having to traverse the two frontage road/cross street intersections (see diagram below). This helps ease congestion in those intersections. Turnarounds can run underneath the freeway using the same underpass as the cross street, or they can cross over the freeway on the same overpass as the intersecting street or on separate overpasses.

Turnarounds are only used on one-way frontage roads and therefore are generally found only in urban areas. Like frontage roads, these may have different names in different parts of the state although "turnaround" seems to be the predominate term. Most of the state uses the "U-turn ONLY" sign to mark them, although the "turnaround" sign is widely-used in the San Antonio area. Other terms used for turnarounds are "U-turn lane" and "crossover", although the later more correctly describes an opening in the median on a divided highway.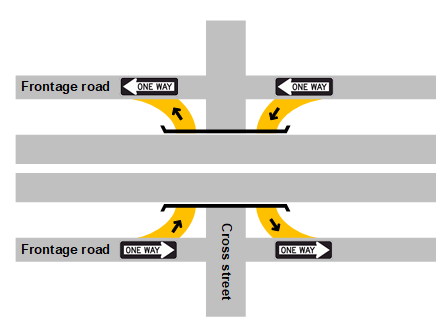 Turnaround diagram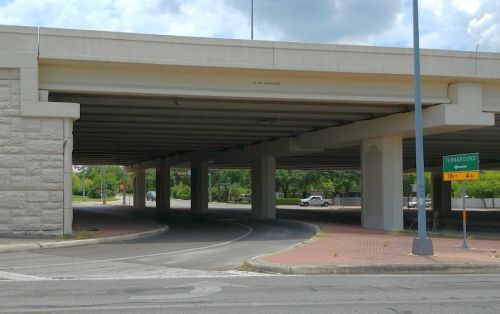 Typical turnaround in San Antonio
Exit numbers
Texas, like most states, switched from a sequential exit numbering system to a milepost numbering system in the mid to late '70s and early '80s. The exit number was typically posted on a tab above the exit board, but starting in 2012, signs with the exit number incorporated in the exit sign became the standard and began appearing.
"IH"
Another semantic idiosyncrasy is how TxDOT abbreviates "Interstate". In most other states, it's I‑35, I‑10, etc. Here, TxDOT's official term is "IH", as in IH-35 or IH-10, with "IH" being short for "Interstate Highway". Furthermore, depending which part of the state you're in, you may locals using that term as well. (As you can tell by my pages, I prefer "I" myself.) I believe TxDOT uses "IH" because all of their other highway abbreviations are two letters as well, so using IH satisfied that standard.
Interstate 69 and Interstate 2

With the growth of NAFTA traffic, Texas began making plans in the late '90s for its segement of Interstate 69 running from Texarkana through Houston and on to Laredo and the lower Rio Grande Valley. During the first decade of this century, planning for this route was rolled-into the Trans-Texas Corridor as "TTC-69" (more details on the TTC below) and "Future I‑69" signs began appearing on US 59 in the Houston area in 2000. However, after the demise of the TTC, the I‑69 project was continued as a standalone effort.
I‑69 will upgrade the existing US 59 corridor, one of several corridors being strained by burgeoning NAFTA traffic. South of Victoria, I‑69 forks into two routes: I‑69E along US 77 south to Brownsville and I‑69W, which continues south along US 59 to Laredo. Near George West, another branch, numbered I‑69C, splits off of I‑69W and follows US 281 south to Pharr.
In August 2011, the Federal Highway Administration approved Texas' request to sign the first section of I‑69 in the state and, four months later, the first I‑69 signs went up on a 6.2 mile section of the US 77 expressway between I‑37 and Robstown just west of Corpus Christi. Those first signs read just I‑69; they were later changed to I‑69E. In September 2012, 35 miles of US 59 stretching from Loop 610 in northeast Houston to the Montgomery/Liberty county line was also signed as I‑69. Since then, numerous additional sections have been signed as they have been upgraded to Interstate standards and, as of May 2015, there were 194 miles of I‑69 signed in Texas.
As part of the I‑69 project, the federal government approved signing US 83 through the Rio Grande Valley as I‑2, connecting I‑69C at Pharr with I‑69E at Harlingen.
More information on I‑69 in Texas is available at the Alliance for I‑69 Texas website.
Interstate 14
In December 2015, the US Congress passed legislation that approved the designation of another new Interstate in Texas, I‑14. Nicknamed the "Forts-to-Ports" route, this route was proposed by the Gulf Coast Strategic Highway Coalition and is intended to provide a high-speed east-west corridor through the middle of the state connecting Ft. Bliss, Ft. Hood, and Ft. Polk in Louisiana and connectivity via other existing highways to the military ports in Beaumont and Corpus Christi. I‑14 is planned to subsume most of the current route of US 190 from
West Texas to the Louisiana border east of Jasper, connecting Brady, Killeen, Belton, Bryan, Huntsville, and Livingston. Some portions of the route have not yet been finalized including the section from Bryan to Huntsville and the routing west of Brady. While the official designation currently calls for I‑14 to join with I‑10 in West Texas, planners are looking at possibly routing it northwest from Brady through San Angelo to Midland/Odessa. As with I‑69, it is possible that both legs may eventually be built. Also like I‑69, I‑14 would be built piecemeal by designating existing freeways in the corridor as I‑14 in the near-term (such as the stretch of US 190 in the Killeen area) and then upgrading portions of the rest of the corridor to freeway standards as funding becomes available. The first signs for I‑14 were installed in April 2017 in the Copperas Cove and Belton areas.
More information on I‑14 is available at the Gulf Coast Strategic Highway Coalition website.
Interstate 27 extension
TxDOT commissioned a study during the early '90s to investigate extending I‑27 south from Lubbock. Three corridors were considered: US 87/SH 349 to Midland, a Sweetwater-San Angelo-Junction corridor connecting to I‑10, and another corridor through Big Spring to I‑10 at Ozona with the I‑20 to I‑10 segments of these corridors studied separately from the Lubbock to I‑20 corridors. The study concluded that there was not enough traffic, present or projected, to warrant an extension of I‑27 for the foreseeable future. Instead, a package of upgrades to US 385, SH 349, US 87, and US 84 was recommended.
With the passage of NAFTA, additional studies have been done on this "Ports-to-Plains" corridor. You can read more about it at Andy Field's AARoads website and at the Ports-to-Plains coalition website. Once again, projected traffic volumes were determined to not be sufficient for an Interstate in this corridor. Instead, various options including bypasses, intersection improvements, additional lanes on existing roads, and ITS measures were recommended.
---
| | |
| --- | --- |
| | The State Highway system includes State Highways (SH), Loops (LP), and Spurs (SP). There are also Park Roads and Business Routes. There are a few "special" state highway designations as well: OSR (Old San Antonio Road) near Bryan, NASA Road 1 leading to the Johnson Space Center, and Beltway 8 around Houston. |
"Loop"
A term you are sure to hear across the state is "Loop". Even when they're Interstates, you'll usually hear beltways and other bypasses referred to as "Loop" such-and-such. For example, I‑410 around San Antonio is usually called "Loop 410" and I‑610 in Houston is known simply as "The Loop" (usually with the cardinal location inserted, e.g. "the West Loop.") However, there is an official state highway designation of "Loop (LP)". This category includes many routes that are not circular or even a bypass! Short state highways whose main purpose is to connect two or more highways are usually designated as a Loop. A good example is Loop 1 (MoPac Expressway) in Austin: it is basically straight and runs pretty much through the heart of the city, but it connects several US, SH, and FM routes along the way.
Business Routes

Prior to 1991, all business routes carried an internal or "hidden" arbitrary State Highway Spur or Loop designation, although in most cases they were actually marked with the business route sign for the parent route from which they branched. In 1991, those internal designations were dropped and the business route designations were made official.
How Texas marks business routes is unique. Firstly, TxDOT often (but not always) puts a small letter at the bottom of the business route shields (see example to the right.) This letter indicates which branch in the series for the parent highway that particular segment is. For example, US 90 passes through several towns. The business route through the first town would be labeled "A", the one through the next town labeled "B", and so on, although this practice isn't followed consistently throughout the state. Secondly, on US business routes, TxDOT often does not use the "BUS" or "BUSINESS" auxiliary plate mounted above the US route marker. Rather, the word "BUSINESS" is included within the US shield above the number, as shown to the right.
| | |
| --- | --- |
| | Interstate Business Loops were fairly rare in Texas until the state decommissioned all US highways that were completely coexistent with Interstates in 1991. Along those Interstates, the US route had previously provided the parent route for the business routes. For example, where I-35 and US 81 coexisted, the business route through towns along the way were designed as Business US 81. Those have since been replaced with Interstate Business Loops. |
Park roads
The state also has 88 or so Park Roads and Recreation Roads, which provide access to state and national parks and other designated recreational areas. TxDOT also maintains all roads within state parks, although most are not marked as state routes.
---
More than half of the state's highway system is comprised of the Farm-to-Market (FM) road system, which also includes Ranch-to-Market (RM) roads. Although the first FM road opened in in Rusk County in 1937, the system really grew after the 1949 Legislature set aside $15 million annually (or about $200 million in today's dollars) for their construction to "help get farmers out of the mud." The system is generally considered to be the largest secondary highway system in the world. Its nearly 41,000 miles is more than double the entire state highway mileage of the six New England states combined. All FM roads are paved and most are two lanes.
The semantic idiosyncrasies of Texas roads continues with the FM system. Although the FM/RM route signs read "Farm Road" or "Ranch Road", the routes are officially designated as "Farm-to-market" or "Ranch-to-market". More head-scratching comes from the fact that larger green guide signs do mark the routes as "FM" and "RM" (see the "signs" topic below.) There is only one route officially designated as "Ranch Road" (as opposed to "Ranch-To-Market), that being Ranch Road 1 leading up to the LBJ Ranch east of Fredericksburg. There are also three FM Spur routes and three Business FM routes. FM and RM roads are numbered as a single system, i.e. there is not an FM and RM road with the same number.
Out of the 3,550 routes in the FM system, 3,370 are labeled as FM, leaving just 180 routes designated as RM. The bulk of those are in a large cluster in the Hill Country and Edwards Plateau area west of Austin and northwest of San Antonio. There are also several RM roads in West Texas and the Panhandle, and a few others widely scattered in the rest of the state. The exact FM vs RM naming criteria is a mystery, but a couple of theories have been proffered that include an assumption made by TxDOT on the type of activity one is likely to see along a particular road (e.g. more cattle and horse trailers along RM roads and more farm equipment like combines and tractors plying FM roads) or perhaps just local preference.
With the explosive growth of metropolitan areas in Texas over the years, many FM routes are now wholly or partially in metropolitan areas. One could drive many of these routes and never see a farm or ranch or even any agricultural products being transported to market. Still, only about 4% of the total FM mileage is within urban areas. Because of legal constraints that limit the sources of funding for urban FM roads, an effort was made in 1995 to create a new classification for FM routes in urban areas called "Urban Roads" to better track these roadways. With the change would have come new signage. The proposed sign would have been the simple state highway square with the word "urban" and the route number (see example to the left.) However, an unexpected outcry from the public about changing the apparently beloved Texas-shaped sign-- not to mention the expense of doing so-- eventually stopped "un-Texan" the plan to re-sign the roads. Instead, TxDOT's internal highway designation logs were changed as planned to re-classify those urban segments as UR but the existing FM and RM signs were left in place. As of 2018, there were 251 roadway segments classified as UR. Urban Roads keep the same route number as the previous FM or RM designation.
Similar to the Urban Road system, TxDOT created a classification of roadway in 1988 called the Principle Arterial Street System, or PASS (designated as PA routes.) This classification allowed for existing and new major urban arterials that provide access to or relief for major state corridors to receive matching state and federal funding without being officially signed as state roadways. Due to financial constraints, the PASS program was essentially discontinued in 1992 and is slowly being sunsetted with the 190 roadway segments included in the PASS system being funded as resources become available or transitioned to other funding categories. Perhaps one of the best-known PASS routes (and which may be the only one signed as such) is the Wurzbach Parkway in San Antonio.
---
Texas has always been on the leading edge of highway technology. The Texas Transportation Institute (TTI) at Texas A&M University has spearheaded much of this highway research. Here are some of the many innovations to come from Texas:
The "Texas Twist" guardrail end was developed in the 1970s to deflect vehicles by burying the ends of the guardrails. As cars got smaller, though, many overturned when hitting this. So in the late '80s and early '90s, TTI developed a new guardrail end treatment called the ET2000. This new guardrail end absorbs the impact of a vehicle by extruding the rail and breaking the wooden posts.

Texas initiated the concept of roadside parks. The first picnic area opened in 1933 along Texas 71 between Smithville and La Grange. In recent years, though, funding issues, as well as the proliferation of fast-food restaurants, has resulted in Texas closing an increasing number of picnic and rest areas, especially near urban areas.

The "adopt-a-highway" project was developed in Texas and it was the first state to implement it statewide. More than 45 other states have since emulated this program. There are currently about 3,800 groups collecting litter along 8,000 miles of highway. It is estimated that this program saves the state $2.5 million a year in litter clean-up costs. (Also see the "Don't Mess With Texas" section below.)

Breakaway sign posts and streetlights were developed in a two-year program in the 1970s to reduce the seriousness of roadside object impact accidents. After 125 crashes resulted in not one single injury, the federal government mandated their use on all federally-funded roads. Texas also developed the breakaway "coat hanger" rural mailbox support, which was recently redesigned.

A modified version of the standard Jersey-barrier designed to reduce the likelihood of smaller vehicles flipping over on impact was developed in the 1980s by TTI. TTI also designed a special heavy-duty, extra-tall guardrail for a downtown San Antonio freeway ramp to prevent heavy trucks from crashing down onto a high school football field below the ramp. To test it, they crashed a fully-loaded tanker truck into it! This rail design has since been used in many other locales where extra strength crash-barriers are needed.
---
During the mid '80s, the forerunner of TxDOT introduced what would become an incredibly popular anti-litter campaign: "Don't Mess With Texas". Signs went up around the state and the slogan took off. Today, you can get "Don't Mess With Texas" T-shirts, mugs, stickers, keychains, hats... you get the idea. There have also been numerous "Don't Mess With Texas" commercials featuring various celebrities. TxDOT owns the trademark on the slogan and logo and zealously pursues unauthorized uses.
---
With freeways in many areas reaching their maximum width, the Texas Transportation Commission in 1989 committed to building Intelligent Transportation Systems (ITS) in the state's largest metro areas. The first system to go online was TransGuide in San Antonio, which at the time was the first advanced metro freeway ITS system in the nation. TransStar in Houston followed shortly thereafter. All of the state's metro areas now have ITS systems, and it has been expanded to several busy rural corridors as well. These systems use a various technologies to monitor traffic conditions and warn drivers of incidents and congestion. ITS also plays a major role in hurricane evacuations and other emergency situations. As of 2015, the state's 14 traffic management centers operated about 900 dynamic message signs and 2,000 CCTV cameras.
---
Texas has more road signs than any other state. There are over 500,000 signs on state maintained highways.
Texas is probably the only state that has two different versions of our highway markers. One version is the freestanding sign and the other is for use on freeway guide signs. Here are some examples:
| | | |
| --- | --- | --- |
| STANDALONE SHIELDS | | GUIDE SIGN SHIELDS |
| | | |
| | | |
| | |
| --- | --- |
| | |
| | After World War II, the route marker for state highways was changed to today's boring black and white square. Prior to then, the shield featured the much more unique circle and five-point star designs shown at the left. Based on photos, the one on the far left seems to be the original route shield used in the 1920s. Sometime in the 1930s, it appears to have been changed to the one on the right. |
---
Until the early 2000s, Texas law prevented the state from building or operating toll highways. Instead, they could be built and operated by subsidiaries of TxDOT or independent agencies created specifically for that purpose. For instance, the Texas Turnpike Authority built and operated tollways in the Dallas area, including the Dallas-Ft. Worth Turnpike, which was the state's first toll road. North Texas tollways are now operated by North Texas Tollway Authority while the Harris County Toll Authority built and operates several tollways in the Houston area (see sidebar below).
In the late '90s, a private toll road, the Camino Columbia, was built to connect the Columbia Solidarity Bridge northwest of Laredo to I‑35. Due to a lack of traffic caused by federal delays to implementing the trucking rules of the North American Free Trade Agreement (NAFTA), that road eventually was sold to the state and is now operated by TxDOT.
In the early 2000s, with worsening urban congestion and declining revenue from the static state gas tax, the state promoted toll roads as a major mechanism to fund new or expanded roads. To facilitate this, the legislature authorized the creation of so-called Regional Mobility Authorities (RMAs) around the state. Perhaps the most controversial toll road proposal was the statewide Trans-Texas Corridor project (see below).
Toll roads in Texas are marked with special signage such as that shown to the right above.
| | |
| --- | --- |
| | The Sam Houston Tollway around Houston is also signed as Beltway 8, a state highway. However, because of the previous restriction of not allowing state highways to be toll roads, only the frontage roads along the toll route are actually Beltway 8. The tolled mainlanes are just the "Sam Houston Tollway", operated by the Harris County Toll Road Authority. |
---
In 2002, Texas Governor Rick Perry announced a concept for a massive new transportation system in Texas. The plan, called the "Trans-Texas Corridor" (TTC), was subsequently approved by the legislature and called for 4,000 miles of superhighway/rail/utility corridors crisscrossing the state. As envisioned, each corridor would have been 1,200 feet wide and included separate roadways for passenger vehicles and trucks, separate tracks for freight and passenger rail, and a right-of-way for utilities such as gas, oil, and water pipelines and electrical transmission and telecommunications lines. Specifically, here's how a typical corridor would have been divvied up:
Four truck lanes, two each way (A on the diagram below)
Six passenger vehicle lanes, three each way (B)
Two sets of tracks for high-speed passenger rail, with stations (C)
Two sets of tracks for freight rail (D)
Two sets of tracks for commuter rail, with stations (E)
A utility corridor about 200 feet wide (F)
Maintenance, safety, and expansion zones as necessary
Trans-Texas Corridor typical cross-section
(Letters correspond to descriptions above)
The roadways would have had limited interchanges with exits only at intersections with other TTC routes, Interstates, US highways, and major state highways. It was planned that the passenger roadways would have speed limits of 80mph. The corridors would have been developed and operated by private companies under a state franchise. These companies would charge tolls and fees for users.
There were four priority corridors:
TTC-35, to parallel or overlap I‑35 from Denison to Laredo
TTC-69/future I‑69, from Texarkana to Laredo via Houston, with branches to the Lower Rio Grande Valley
I‑45 from Dallas to Houston
I‑10 from El Paso to Orange
The project, however, met with fierce opposition across the state. Opposition was especially pronounced in rural areas as the wide corridors would have taken many acres of farming and ranch lands. Furthermore, there was a general discontent with the concept of having the roads operated by private companies, especially ones with foreign ties. As a result, the project was killed by the Legislature in 2009. The TTC-35 and TTC-69 projects, which were in advanced planning at the time, continued but not under the TTC brand. The TTC-35 project was also eventually canceled. However, the segment from Georgetown to Seguin, which had originally been conceived as a traditional toll project, was allowed to be completed as a regional project and today is SH 130. Planning for TTC-69 (the I‑69 extension) continued as a traditional Interstate project (see I‑69 above.)
Map of proposed Trans-Texas Corridor
(Priority routes are in gold)
---
Texas is the only state that does not have statutory speed limits for different types of highways in the state system. Instead, a general limit of 70 mph applies on any rural numbered highway regardless of classification or number of lanes and 60 mph on any other rural roadway. A 30 mph general limit applies in urban areas. These limits can be raised or lowered on specific segments based on an engineering study. Speed limits can be raised to 75 mph on numbered highways and up to 85 mph on select roadways. This means Texas is the only state that has 75 mph speed limits on two-lane roads.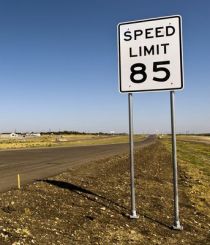 As speed limits have been increased across most of the US in recent years, Texas has lead the way. Today, Texas has an 80 mph speed limit on about 520 miles of I‑10 and I‑20 in west Texas. Several tollways in the Austin area also have an 80 mph speed limit, and SH 130 from SH 45 south of Austin to I‑10 near Seguin has an 85 mph speed limit-- the fastest in the United States.
Prior to 2011, Texas posted separate speed limits for trucks and for nighttime. The truck limits were usually 60 mph when the general speed limit was 65 mph or higher and 70 mph when the general speed limit was 75 mph or higher. Nighttime speed limits were 65 mph when the daytime limit was 70 mph or higher with nighttime limits for trucks generally 55 mph. All truck and nighttime speed limits were repealed in 2011.
To help reduce air pollution, Texas experimented with so-called "environmental speed limits" in the Houston and Dallas-Ft. Worth areas starting in 2000. This scheme lowered the speed limit by 5 mph on roads with an existing 65 or 70 mph limit. In 2002, speed limits in the Houston area were arbitrarily lowered to 55 mph regionwide, but opposition, poor compliance, and a finding that the lowered limit did not significantly improve air quality scuttled that plan within a couple of years and speed limits returned to the original 5 mph reduction scheme. However, the uproar caused the state legislature in 2003 to ban any new environmental speed limits. Environmental speed limits in the DFW region were completely repealed in 2015.
In late 2014, TxDOT conducted a pilot project for variable speed limits at three locations around the state. Variable speed limits are those that can be adjusted in real-time to address congestion, inclement weather, construction, or other issues that could affect traffic safety. The results of the program will be analyzed by the legislature to determine if it should be approved for statewide implementation.

---
TxDOT operates two ferry services. The longest is on SH 87 from northern Galveston to Port Bolivar. Another short ferry connects Port Aransas and Aransas Pass on SH 361. Harris County also operates the Lynchburg Ferry east of Houston near San Jacinto State Park. The Harris County Toll Road Authority studied a possible bridge to replace the Galveston-Bolivar ferry, but determined it to not be feasible.
There are currently no tunnels on the state highway system. At one time, TxDOT did operate a tunnel under the Houston Ship Channel on SH 146 between La Porte and Baytown. It was replaced in the early '90s by the impressive cable-stayed Hartman Bridge. There are, however, three road tunnels in Texas that are not part of the state highway system: the Washburn Tunnel, which is also under the Houston Ship Channel on Federal Road; the Addison Airport Toll Tunnel in Addison north of Dallas (operated by NTTA); and one in Big Bend National Park.
---
Other sites of interest