The San Antonio Area Freeway System
---
This page last updated June 19, 2019
(TxDOT photo)
Since the first expressway opened in 1949, the San Antonio metropolitan area has enjoyed one of most progressive and comprehensive urban freeway systems in North America. For many years, San Antonio was second only to Los Angeles in the number of freeway miles. While most US cities now have extensive freeway systems, Bexar County still has one of the largest systems of state highways and freeways in the nation. In 2017, there were 1,004 centerline miles and 3,384 lane miles of state-maintained roadways in Bexar County, with 258 centerline miles and approximately 1,436 lane miles of freeways in the greater San Antonio area. A study by the Surface Transportation Policy Project in 1998 ranked San Antonio's highways as the best among the largest US urban areas.

This site covers the San Antonio freeway system in-depth. Below, you'll find links to general information about the local freeways, their history, and pages with in-depth details about each freeway. There's also details of freeway construction projects, information about TransGuide and other interesting aspects of the local freeway system, and lots of photos.
---
Primer
Includes lots of basic information about the freeway system including layout, statistics, frontage roads, turnarounds, double-decked freeways construction, and signage, as well as the conventions used on this site.

FAQs
Answers to some of the most common questions I hear about San Antonio's freeways and other local roads.

Freeway system history
A history of the evolution of the San Antonio freeway system.

2017 traffic statistics
Freeway traffic counts and general statistics.

---
Below you can access detailed information about each freeway, including a description of the route and the length covered, lane and access road configuration, a description of the general traffic conditions and traffic counts, a complete list of exits in each direction, speed limits, special features, current construction, future plans, and as much history as I know about the route.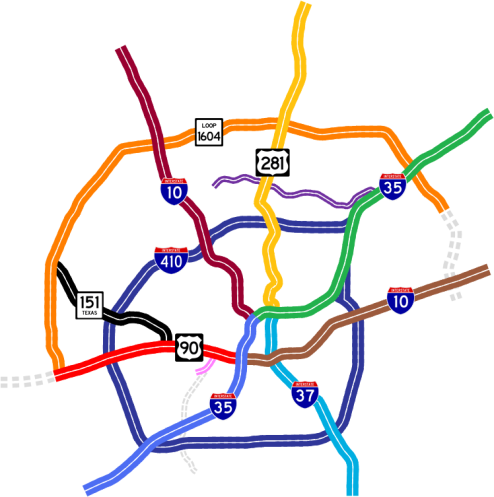 Click on a freeway segment on the map above or on one of the links below
---
---
---
Other sites of interest