San Antonio Area Freeway System
PROJECT INFO: US 90 West Expansion (Loop 410 to SH 211)
---
This page last updated December 15, 2018
This project is currently in design
The descriptions below are based on preliminary schematics and, as a result, details may change before the project goes to construction. This page will be updated when final schematics for the project are available.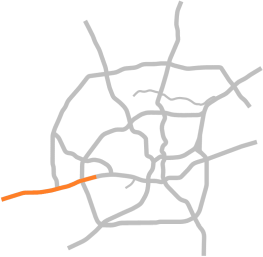 Location
US 90 West from Old Hwy 90 to Medina County Line



Status


Advanced planning (see timeline below.)

Description
This project will upgrade US 90 west of Loop 1604 from a four lane divided highway to a six lane freeway with access roads. It will also build the remainder of the flyovers at the Loop 1604 interchange, revise the SH 211 interchange, widen US 90 between Loop 410 and Loop 1604 to eight lanes (six mainlanes plus an auxiliary lane), and make various operational improvements along the remainder of the corridor east of Loop 1604. A separate project will construct the remaining flyovers at the Loop 410 interchange.

Because of the scale of this project and funding availability, it will be broken into multiple phases. It is expected that the first phase will be the widening and improvements west of Loop 410 and may include additional flyovers at the Loop 1604 interchange.

This project is in addition to several improvements that have already been made to a portion of this corridor recently.

How this project will help
Several new large subdivisions have been constructed along US 90 west of Loop 1604 in the past decade with several more planned. As a result, traffic volumes along that stretch of US 90 have increase more than 25% over the past decade. Additionally, growth along the Potranco Road corridor just to the north is likely contributing to traffic in the US 90 corridor. Upgrading this segment to a freeway will allow it to efficiently and safely handle current and expected traffic. Completing the Loop 1604 interchange will accomodate current and expected traffic there.

The remaining upgrades will improve the operation of the Military Dr. interchange and facilitate the future flyovers in the Loop 410 interchange.

Timeline
Planning is still ongoing. Phase 1 is funded and it is expected construction could start in 2022. Future phases are currently unfunded and therefore have no current timeline.

Schematic
Below is the detailed schematic for this project from TxDOT with my own annotations added to help clarify and explain the various elements. Click on the image below to open the schematic in a new window that you can scroll and zoom.


Note that this schematic shows the ultimate plan for the corridor including some elements constructed as part of earlier projects. As mentioned above, the future improvements shown here will be built in several phases with the first phase expected to be from Loop 1604 westward including one or more additional flyovers in the Loop 1604 interchange. Future phases have not yet been determined.

---
Other sites of interest