San Antonio Freeway System
2016 Traffic Statistics
---
This page last updated December 3, 2016
Below are several charts and maps tabulating Annual Average Daily Traffic (AADT) counts on San Antonio's freeways for 2016. The comments, rankings and calculations are my own analysis based on raw data from TxDOT.
The stats below are area-wide. To see traffic counts for just a specific corridor, see that freeway's individual page elsewhere on this site.
---
Summary
Traffic counts in 2016 were up across most of the city. A notable exception was on I-10 West, were all counts were down. The top spot this year was Loop 410 at Blanco with over 288,000 vehicles per day followed closely by Loop 410 at McCullough. Loop 410 at Vance-Jackson and at Evers were third and fourth, thus making the entire segment of Loop 410 from Bandera to US 281 the busiest in the region. All but one of the remaining top 20 locations were on Loop 410 North, I-10 West, or I-35 North. The outlyer was on US 281 just north of Loop 410.
The top four one-year growth locations are all on Wurzbach Parkway; this is almost certainly a result of the completion of the parkway between Starcrest and West Ave. in 2015. All but three of the one-year growth locations were on the northeast side.
The top 10-year growth spots are also widely scattered. However, four of the top five are along SH 151 and six are along Loop 410 from SH 151 to I-35 North. The remainder are scattered in each quadrant of the city.

---
General statistics (2010)
Number in parenthesis is the San Antonio Urbanized Area's rank nationally for that category.
Centerline miles of freeway: 228 (22)

Interstate highway miles: 142
US and State highway freeway miles: 86

Daily vehicle miles driven on freeways: 20,258,000 (22)
Percent of local roads that are freeways: 3.7% (104)
Percent of total local daily traffic carried on freeways: 53.1% (20)
(Source: Federal Highway Administration, 2010 data)
---
Average 2016 daily traffic by location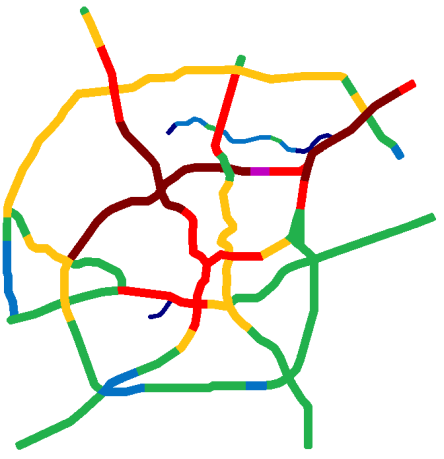 Freeway traffic volumes (2016 AADT)
FWY
LOCATION
2016
AADT
'15-'16
% CHG
1
Blanco Rd.
288,165
+12.03%
2
McCullough Ave.
287,888
+10.95%
3
Vance Jackson Rd.
267,412
+2.89%
4
Evers Rd.
262,198
+2.93%
5
Callaghan Rd.
240,483
-1.63%
6
Nacogdoches Rd.
238,745
+16.21%
7
Thousand Oaks
233,278
+7.44%
8
Broadway
231,140
+19.60%
9
S of Bandera Rd.
215,003
+9.49%
10
O'Connor Rd.
212,692
+7.98%
11
Crossroads Blvd.
205,174
-2.18%
12
N of Walzem Rd.
202,556
+8.85%
13
McCullough Ave.
202,232
+4.59%
14
Pat Booker Rd.
199,886
+4.13%
15
Nakoma Rd.
197,335
+2.43%
16
S of Walzem Rd.
194,518
+8.00%
17
S of Rittiman Rd.
190,907
+7.64%
18
Guadalupe Co. line
188,025
+11.25%
19
Frio St.
186,834
-3.20%
20
DeZavala Rd.
184,375
-1.43%
21
Huebner Rd.
182,092
-0.17%
22
S. Laredo St.
178,839
+2.80%
23
FM 3009
175,832
0.00%
24
N. New Braunfels Ave.
171,940
+7.18%
25
Brookhollow Dr.
168,701
+2.81%
26
Isom Rd.
166,447
+2.78%
27
Hildebrand Ave.
165,216
+7.18%
28
Perrin-Beitel Rd.
158,235
+0.26%
29
S of I-35
155,523
+5.12%
30
Theo Ave.
155,370
+1.81%
31
S. Zarzamora St.
154,208
+2.98%
32
S of Loop 1604
153,716
-1.66%
33
Sunset Rd.
148,326
+2.90%
34
Salado Creek
147,739
+8.99%
35
Cupples Rd.
145,908
+3.56%
36
Wiederstein Rd.
144,784
0.00%
37
Bitters Rd.
144,265
+5.86%
38
FM 2252
142,678
0.00%
39
Fair Ave.
140,340
+1.54%
40
W of Probant St.
137,180
+2.14%
41
Basse Rd.
136,323
+3.15%
42
Tradesman Dr.
136,224
+5.19%
43
E of Probant St.
135,705
+2.15%
44
Carolina St.
133,949
+2.62%
45
N of US 90W
130,713
+4.80%
46
La Cantera Pkwy.
126,313
+5.55%
47
Binz-Engelmann Rd.
124,373
+11.62%
48
SW Military Dr.
117,525
+3.89%
49
E of Potranco Rd.
117,138
+3.48%
50
La Cantera Pkwy.
116,529
-4.01%
51
Lookout Rd.
114,064
+13.32%
52
Gold Canyon Dr.
112,556
+10.49%
53
N of Bandera Rd.
111,970
+5.91%
54
Hausmann Rd.
111,597
+5.95%
55
Henderson Pass
110,161
+4.66%
56
W of US 281N
109,760
+10.64%
57
N of SW Military Dr.
109,102
+28.90%
58
Sonterra Blvd.
107,942
+4.77%
59
Green Mountain Rd.
107,829
+13.52%
60
O'Connor Rd.
105,332
+13.12%
61
Valley Hi Dr.
104,870
+5.40%
62
S. New Braunfels Ave.
103,013
+2.33%
63
S of Culebra
98,874
0.00%
64
W of Potranco Rd.
98,765
+5.52%
65
Loop 410
98,021
+11.13%
66
Pat Booker Rd.
90,720
+14.16%
67
N of Loop 410
88,684
+22.52%
68
E of Loop 410
87,824
+8.85%
69
Dominion Dr.
87,507
-1.87%
70
N of US 181
84,716
+1.32%
71
Zarzamora St.
84,659
+4.62%
72
S. Hackberry St.
83,241
+2.26%
73
WW White Rd. N
82,263
-0.49%
74
S of I-10E
81,768
-0.40%
75
Hunt Ln.
77,676
+11.17%
76
S of E. Houston St.
77,087
-0.53%
77
Old Hwy 90
75,882
+9.84%
78
Martin Luther King Jr. Dr.
74,867
+9.12%
79
E of Loop 410
74,323
+0.74%
80
N of US 90
73,804
-3.40%
81
S of Bandera Rd.
73,221
-9.73%
82
N of FM 78
72,245
+0.83%
83
N of Culebra
71,863
0.00%
84
WW White Rd.
71,413
+3.71%
85
E. Houston St.
70,744
+3.76%
86
Pearsall Rd.
69,592
+3.50%
87
E of Foster Rd.
68,111
0.00%
88
W of FM 78
65,992
+12.21%
89
E of Loop 1604
64,578
+1.87%
90
W of I-35S
61,898
+20.30%
91
Southcross Blvd.
60,162
-0.72%
92
W of I-37
58,676
+1.52%
93
W of Loop 1604
57,979
0.00%
94
W of Loop 1604
56,411
+13.51%
95
Fischer Rd.
56,003
+2.31%
96
E of I-37
55,721
-0.59%
97
W of Roosevelt Ave.
52,846
+2.64%
98
E of Loop 1604
52,235
0.00%
99
E of Roosevelt Ave.
48,479
+2.53%
100
E of Poteet-Jourdenton Fwy.
48,302
+3.26%
101
Somerset Rd.
47,847
+4.26%
102
N of New Laredo Hwy.
45,579
+4.35%
103
Wetmore Rd.
43,558
+75.64%
104
Ackerman Rd.
43,414
+6.62%
105
W of Poteet-Jourdenton Fwy.
42,955
+2.99%
106
E of FM 78
40,095
+23.33%
107
Nacogdoches Rd.
39,829
+88.89%
108
Perrin-Beitel Rd.
39,036
+102.33%
109
Weidner Rd.
24,153
+47.84%
110
S of US 90
15,761
+0.32%
111
At Port SA
12,844
-2.51%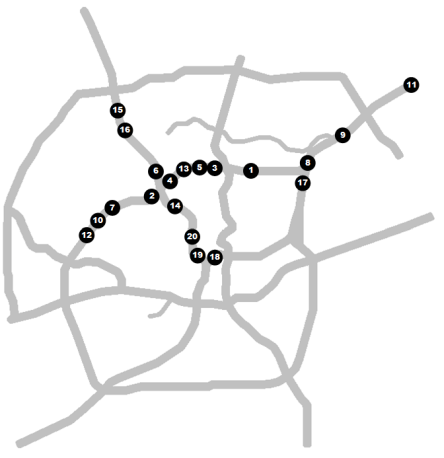 Top 20 AADT locations (2016)


One year positive or negative change (2015-2016)
---
Top 20 one-year growth locations

FWY
LOCATION
'15-'16
% CHG
1
Perrin-Beitel Rd.
+102.33%
2
Nacogdoches Rd.
+88.89%
3
Wetmore Rd.
+75.64%
4
Weidner Rd.
+47.84%
5
N of SW Military Dr.
+28.90%
6
E of FM 78
+23.33%
7
N of Loop 410
+22.52%
8
W of I-35S
+20.30%
9
Broadway
+19.60%
10
Nacogdoches Rd.
+16.21%
11
Pat Booker Rd.
+14.16%
12
Green Mountain Rd.
+13.52%
13
W of Loop 1604
+13.51%
14
Lookout Rd.
+13.32%
15
O'Connor Rd.
+13.12%
16
W of FM 78
+12.21%
17
Blanco Rd.
+12.03%
18
Binz-Engelmann Rd.
+11.62%
19
Guadalupe Co. line
+11.25%
20
Hunt Ln.
+11.17%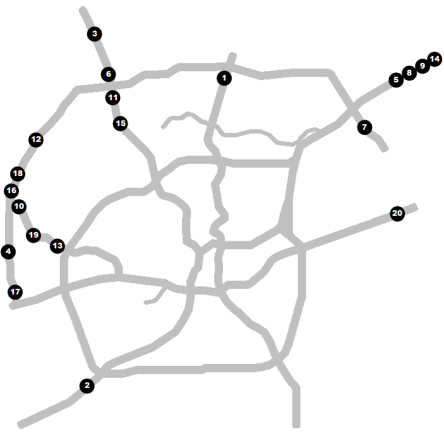 Top 20 one-year AADT growth locations (2015-2016)
---
Top 20 growth locations since 2006
FWY
LOCATION
'06-'16
% CHG
1
E of Loop 1604
+319.34%
2
E of Loop 410
+209.68%
3
W of Potranco Rd.
+166.93%
4
W of FM 78
+144.41%
5
E of Potranco Rd.
+139.06%
6
Weidner Rd.
+119.57%
7
Perrin-Beitel Rd.
+116.87%
8
McCullough Ave.
+74.48%
9
N of US 90
+71.64%
10
Blanco Rd.
+68.52%
11
Vance Jackson Rd.
+55.47%
12
Nacogdoches Rd.
+52.07%
13
E of FM 78
+48.50%
14
N of Bandera Rd.
+47.33%
15
Isom Rd.
+46.01%
16
Hausmann Rd.
+44.93%
17
Evers Rd.
+44.86%
18
S of Bandera Rd.
+43.34%
19
N of SW Military Dr.
+41.69%
20
W of I-35S
+40.68%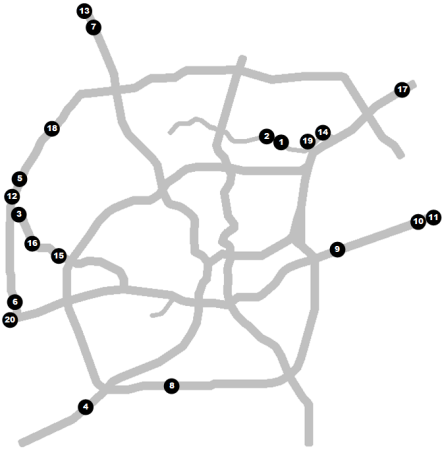 Top 20 AADT growth locations 2006-2016