San Antonio Freeway System
2019 Traffic Statistics
---
This page last updated October 10, 2020
Below are charts and maps tabulating Annual Average Daily Traffic (AADT) counts on San Antonio's freeways for 2019. The comments, rankings and calculations are the author's own analysis based on raw data from TxDOT.
The stats below are area-wide. For traffic counts only on a specific corridor, see that freeway's individual page elsewhere on this site.
---
Summary
After just barely missing it last year, San Antonio joined the rather exclusive club of cities with a freeway having a traffic count exceeding 300,000 vehicles per day this year. The area's busiest location-- Loop 410 at Blanco-- broke into the club with a count of 305,764, up about 2% over the previous year. The two adjacent locations on Loop 410 (at McCullough and at Vance-Jackson) continue to be the second and third busiest spots in the city, followed by I-10 at Callaghan and I-35 south of Thousand Oaks. Seven of the top 10 busiest locations were along Loop 410 North, which continues to make it the busiest stretch of freeway in the region and one of the five busiest in the state. Of the top 20 locations, 19 were on just three freeways: Loop 410 North, I-35 North, and I-10 West; the lone exception was on US 281 near Nakoma. Fourteen locations now exceed 200,000 vehicles per day, up one from last year.
Overall, traffic counts were a mixed bag of increases and declines. Interestingly, large segments of Loop 1604 North and I-10 West saw declines last year. Loop 1604 on the northwest side was an exception, with the section south of Bandera Rd. crossing the 100,000 milestone, the last stretch between SH 151 and I-35 North to do so. Four of the five top locations for one-year growth were on Wurzbach Parkway; the exception was on Loop 1604 just north of US 90, which had construction completed during mid 2019.
The top 20 locations for growth over the decade are widely scattered, but form a few clusters: around the US 90 West/Loop 1604 interchange, around the SH 151/Loop 1604 interchange, on Loop 410 near the airport, along Loop 410 South, near I-10 and Loop 1604 East, and along the eastern half of Wurzbach Parkway, with a couple of outliers.

---
General statistics
Number in parenthesis is the San Antonio Urbanized Area's rank nationally for that category.
(Source: Federal Highway Administration, 2018 data)
---
Average 2019 daily traffic by location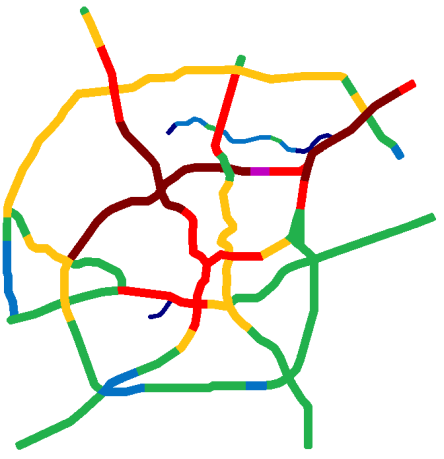 Freeway traffic volumes (2019 AADT)
Segment breaks are approximate
FWY
LOCATION
2019
AADT
'18-'19
% CHG
1
E of Blanco Rd.
305,764
+1.98%
2
W of McCullough Ave.
291,725
+0.10%
3
W of Vance Jackson Rd.
276,016
+2.35%
4
S of Callaghan Rd.
241,130
-0.89%
5
S of Thousand Oaks
235,528
+6.35%
6
W of Wetmore Rd.
235,310
+2.27%
7
N of O'Connor Rd.
232,237
+1.90%
8
W of Nacogdoches Rd.
229,058
+2.50%
9
E of Evers Rd.
228,632
+1.73%
10
S of Bandera Rd.
218,205
+1.79%
11
S of Walzem Rd.
212,846
+0.82%
12
N of Crossroads Blvd.
206,072
-0.33%
13
S of Rittiman Rd.
204,463
+14.00%
14
N of Walzem Rd.
202,221
+5.33%
15
S of DeZavala Rd.
199,029
-3.29%
16
N of McCullough Ave.
196,852
-0.13%
17
S of Nakoma Rd.
194,771
-0.03%
18
N of Frio St.
187,306
+0.23%
19
S of Loop 1604
183,775
+1.31%
20
N of Huebner Rd.
182,384
-1.34%
21
W of New Braunfels Ave.
175,710
+5.15%
22
S of Laredo St.
171,936
-4.00%
23
Bexar/Guadalupe line
171,758
+0.77%
24
N of Hildebrand Ave.
169,830
+5.58%
25
S of Brookhollow Dr.
169,159
+2.66%
26
E of Zarzamora St.
165,709
-2.00%
27
E of Bitters Rd.
164,218
-1.86%
28
E of Perrin-Beitel Rd.
163,071
+1.86%
29
S of I-35
159,184
+1.07%
30
S of US 90
158,210
+0.40%
31
N of Isom Rd.
157,461
+2.54%
32
N of UTSA Blvd.
156,092
-1.34%
33
S of Sunset Rd.
150,523
+1.00%
34
N of Basse Rd.
150,024
+1.00%
35
W of Cupples Rd.
149,640
-1.58%
36
W of Probandt St.
149,616
-3.00%
37
E of Probandt St.
149,338
-2.00%
38
S of FM 3009
148,484
-1.78%
39
Vance Jackson Rd.
146,905
+0.21%
40
N of Salado Creek
143,756
+1.23%
41
N of Fair Ave.
138,357
+1.33%
42
N of Cesar Chavez Blvd.
136,515
+1.24%
43
N of Bandera Rd.
136,161
+9.22%
44
W of I-10W
134,730
-1.37%
45
W of US 281N
131,146
0.00%
46
N of US 90W
127,248
-1.34%
47
W of I-35N
126,780
-1.50%
48
N of Wiederstein Rd.
126,373
+1.42%
49
E of US 281N
126,300
0.00%
50
N of Binz-Engleman Rd.
124,240
-0.44%
51
N of Lookout Rd.
123,206
-0.08%
52
S of US 90W
121,514
+16.01%
53
N of Loop 1604
121,393
+0.12%
54
E of Potranco Rd.
120,807
-0.11%
55
N of Culebra Rd.
119,406
+4.98%
56
W of O'Connor Rd.
118,185
-0.05%
57
N of FM 2252
117,327
+0.84%
58
N of Hausmann Rd.
116,399
-0.87%
59
N of SW Military Dr.
116,128
-0.24%
60
S of Culebra Rd.
115,180
+4.91%
61
E of Green Mountain Rd.
113,497
0.00%
62
S of Loop 1604
106,685
-3.79%
63
W of Hunt Ln.
105,118
-5.86%
64
N of Hot Wells Blvd.
103,713
+1.95%
65
S of Bandera Rd.
102,305
+14.67%
66
N of Pat Booker Rd.
102,231
-0.07%
67
N of Loop 410
100,180
+0.08%
68
S of Redland Rd.
99,587
-1.00%
69
N of Dominion Dr.
98,299
-1.30%
70
S of Loop 410
93,899
-0.08%
71
N of Zarzamora St.
90,788
+4.24%
72
W of Military Dr.
89,824
-1.74%
73
W of Gevers St.
88,996
-3.08%
74
S of Sonterra Blvd.
87,000
-9.36%
75
N of US 90
86,656
+8.89%
76
N of SW Military Dr.
86,136
+2.36%
77
N of US 181
84,749
+2.16%
78
S of I-10E
83,569
+5.29%
79
W of Hunt Ln.
83,301
+1.33%
80
E of Loop 410
82,678
+7.56%
81
N of I-10E
82,654
+1.51%
82
N of FM 3351
80,745
+6.28%
83
E of Old Hwy 90
80,494
-1.77%
84
E of WW White Rd.
79,822
-1.81%
85
S of E. Houston St.
78,559
+2.48%
86
W of WW White Rd.
78,059
-2.35%
87
E of Martin Luther King Jr. Dr.
77,872
-3.00%
88
N of Pearsall Rd.
76,486
+3.43%
89
E of Foster Rd.
75,486
+4.96%
90
N of Loop 410
74,157
-6.46%
91
W of I-35S
73,410
+4.67%
92
N of FM 78
71,815
+3.34%
93
E of Loop 1604
67,705
+12.47%
94
W of FM 78
67,555
0.00%
95
S of Rigsby
65,688
+0.54%
96
W of Loop 1604
65,321
+0.28%
97
S of Pat Booker Rd.
62,190
0.00%
98
S of Southcross Blvd.
61,383
+0.96%
99
W of I-37
60,705
-0.38%
100
W of Roosevelt Ave.
59,670
+4.67%
101
S of Fischer Rd.
59,644
-5.93%
102
W of Ackerman Rd.
57,033
+8.84%
103
E of I-37
56,356
+1.23%
104
E of Loop 1604
56,317
+1.20%
105
E of Perrin-Beitel Rd.
53,821
+33.49%
106
W of Loop 1604
53,373
+0.80%
107
E of Poteet-Jourdanton Fwy.
53,146
+6.27%
108
E of Starcrest Blvd.
52,790
+16.88%
109
E of Roosevelt Ave.
52,761
+4.08%
110
N of Somerset Rd.
50,360
0.00%
111
E of Somerset Rd.
49,450
+4.67%
112
E of Wetmore Rd.
49,197
+19.13%
113
N of New Laredo Hwy.
48,590
+5.80%
114
W of West Ave.
47,117
0.00%
115
E of US 281N
44,542
0.00%
116
E of FM 78
41,903
+1.81%
117
N of US 90W
41,185
+24.77%
118
E of NW Military Hwy.
40,741
+64.48%
119
N of Potranco Rd.
31,528
-5.89%
120
E of Weidner Rd.
25,332
+4.29%
121
S of US 90
15,396
0.00%
122
At Port SA
14,801
+15.28%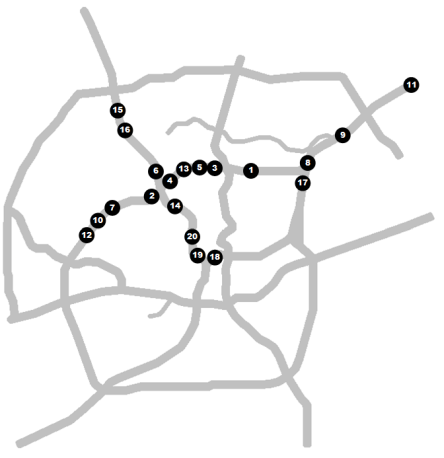 Top 20 AADT locations (2019)


One year positive or negative change (2018-2019)
Segment breaks are approximate
---
Top 20 one-year growth locations

FWY
LOCATION
'18-'19
% CHG
1
E of NW Military Hwy.
+64.48%
2
E of Perrin-Beitel Rd.
+33.49%
3
N of US 90W
+24.77%
4
E of Wetmore Rd.
+19.13%
5
E of Starcrest Blvd.
+16.88%
6
S of US 90W
+16.01%
7
At Port SA
+15.28%
8
S of Bandera Rd.
+14.67%
9
S of Rittiman Rd.
+14.00%
10
E of Loop 1604
+12.47%
11
N of Bandera Rd.
+9.22%
12
N of US 90
+8.89%
13
W of Ackerman Rd.
+8.84%
14
E of Loop 410
+7.56%
15
S of Thousand Oaks
+6.35%
16
N of FM 3351
+6.28%
17
E of Poteet-Jourdanton Fwy.
+6.27%
18
N of New Laredo Hwy.
+5.80%
19
N of Hildebrand Ave.
+5.58%
20
N of Walzem Rd.
+5.33%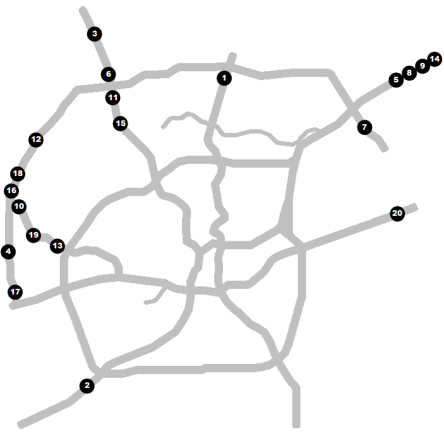 Top 20 one-year AADT growth locations (2018-2019)
---
Top 20 growth locations since 2009
FWY
LOCATION
'09-'19
% CHG
1
N of Culebra Rd.
+95.75%
2
E of Poteet-Jourdanton Fwy.
+89.81%
3
N of US 90W
+87.20%
4
E of Perrin-Beitel Rd.
+85.59%
5
E of Starcrest Blvd.
+82.03%
6
W of Hunt Ln.
+81.09%
7
W of Loop 1604
+72.17%
8
W of I-35S
+70.72%
9
W of Roosevelt Ave.
+70.49%
10
W of Wetmore Rd.
+69.29%
11
E of Somerset Rd.
+64.83%
12
E of Weidner Rd.
+62.38%
13
E of Loop 1604
+61.20%
14
E of Roosevelt Ave.
+59.88%
15
W of Loop 1604
+59.32%
16
W of Nacogdoches Rd.
+59.07%
17
E of Wetmore Rd.
+58.70%
18
N of FM 3351
+58.32%
19
E of Loop 1604
+56.44%
20
E of FM 78
+55.20%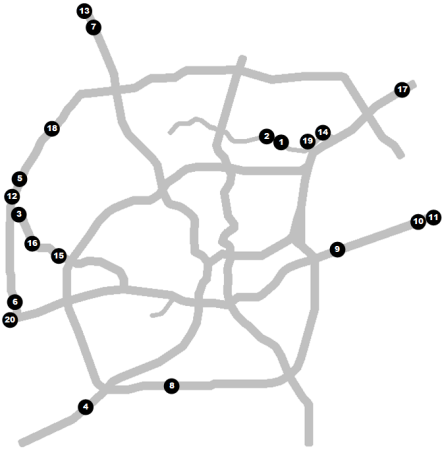 Top 20 AADT growth locations 2009-2019