Ohter San Antonio Area Roads
I-10 West Projects (Boerne - Fair Oaks Ranch)
---
This page last updated October 9, 2019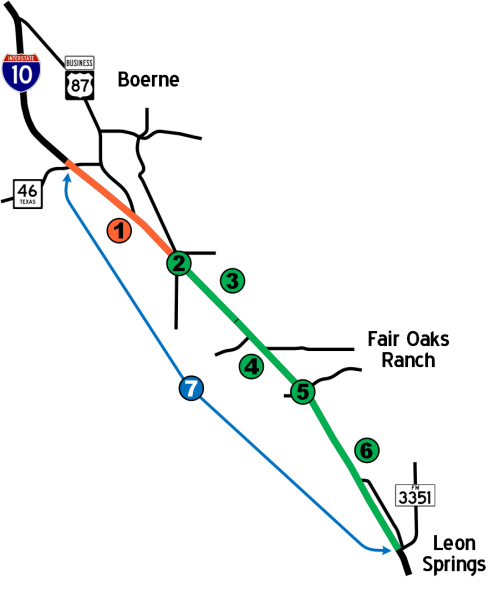 TxDOT has several recently completed, in-progress, or upcoming projects along I-10 West between Leon Springs and Boerne to improve intersections, add new overpasses, convert the access roads to one-way operation, and eventually expand the mainlanes. This page contains information about these projects.
Note that the work on I-10 between Loop 1604 and Boerne is a series of individual projects, not one large project (see Q&A below for why.)
The overarching goal of several of these projects is to convert the access roads to one-way operation from Leon Springs to Boerne. As this area becomes more developed, one-way access roads will be safer and more efficient. For optimal operation, there needs to be a crossover every mile or so. Otherwise, someone turning onto a one-way access road just past an intersection and wanting to go the opposite direction could have to travel more than two miles out of their way; having a crossover every mile or so both minimizes this inconvenience and provides better access for emergency vehicles. This is the reason why new overpasses at Old Fredericksburg Road and Balcones Creek Road were included in the plans (and is the primary reason, by the way, that the overpass at Dominion Drive was built several years ago, despite cynical misinformation alleging otherwise.)
None of these projects are related to the recent Kendall Gateway study.
The schematics below are courtesy of TxDOT; the annotations on them are my own.
Q: Why are these multiple projects instead of one large project?
A: This was due to funding limitations. About a decade ago, TxDOT developed a master plan for improvements to I-10 from Loop 1604 to Boerne. However, because of funding levels at that time, that plan had to be broken into multiple smaller projects in order to fit within projected funding levels, with each project being an incremental step toward the larger vision. Shortly after the first projects started near Camp Bullis Rd. and Dominion Dr., the legislature and voters approved new funding sources for transportation. This additional funding allowed the series of projects originally expected to be built piecemeal over two decades to be accelerated into the barrage of projects now underway or recently completed.
---
| | | |
| --- | --- | --- |
| 1 | | SH 46 to Scenic Loop Road |
This project will overhaul and redesign the interchanges at SH 46 (W Bandera Road) and at Business 87 (S Main Street), complete the westbound frontage road between Business 87 and Christus Parkway, convert all the frontage roads to one-way, and change the locations of the entrance and exit ramps.
At SH 46, the overpass will be widened to two through lanes and a left turn lane in each direction. The access roads adjacent to the overpass will be re-aligned inward toward the mainlanes and portions of the old access roads at School St. and Upper Balcones Rd. will be converted to local service streets configured to minimize conflicts. A westbound to eastbound turnaround will also be constructed. Although not shown on the schematic, the park-and-ride lot will be kept in its current location but reconfigured.
The Business 87 interchange is being rebuilt as a more conventional intersection. A new, wider overpass will replace the existing overpass and will end in a "T" at a realigned eastbound access road. There will be turnarounds for both directions. A new westbound access road will continue beyond the new intersection and join with the new frontage road recently completed near Christus Parkway. The existing entrance and exit ramps will be relocated further south from the intersection. A portion of the existing westbound access road at the southeast corner of the interchange will be converted to a service street to maintain access to local properties after the access road is realigned.
At Scenic Loop, an eastbound to westbound turnaround will be built and the entrance and exit ramps north of Scenic Loop will be relocated further north.

Status:
Work started in June 2018
Estimated completion: Late 2021 (47% complete)


Click above to see the schematic for this project
---
| | | |
| --- | --- | --- |
| 2 | | Scenic Loop to Bexar County Line |
This project will convert the access roads between Scenic Loop Road and Balcones Creek Road to one-way, relocate the entrance and exit ramps further south and construct new entrance and exit ramps for Balcones Creek Road, and construct new higher access road bridges over Balcones Creek. The existing "lower" access roads and crossover under I-10 at Balcones Creek will be kept.
Work started in July 2019
Estimated completion: Mid 2022 (9% complete)
Click above to see the schematic for this project
---
| | | |
| --- | --- | --- |
| 3 | | Kendall County Line to Fair Oaks Ranch Blvd. |
Ths project will construct a new overpass for I-10 at Balcones Creek Road and the access roads will be converted to one-way from Balcones Creek Road to Fair Oaks Ranch Parkway. An eastbound to westbound turnaround at Fair Oaks Ranch Parkway will be also built as part of this project (not shown in the schematic.) The access roads between Balcones Creek Road and Scenic Loop Road will be converted to one-way in a future project (see #2 above.)
A future project will add turnarounds in both directions, move the entrance and exit ramps, and convert the access roads to one-way.

Work started in October 2018
Estimated completion: Mid 2021 (currently 54% complete)



Q:

Why are the lanes through the work zone so narrow?




A:

These are temporary lanes and are 11 feet wide, which is slightly less than the typical 12 foot lane, but still within the permissible standards. They had to be narrowed to fit into the available space. Note that several freeways in San Antonio have permanent 11 foot lanes. The barriers on each side can create the illusion or perception that the lanes are narrower than they actually are.



Q:

Why are there barriers on both sides of the road?




A:

The barriers on the left are there to protect workers in the median. The temporary lanes are very close to the adjacent frontage roads and are at a different elevation, so the barriers on the right are there to prevent vehicles from leaving the mainlanes and crashing onto the frontage road, which one outcome could be a head-on collision.
Click above to see the schematic for this project
---
| | | |
| --- | --- | --- |
| 4 | | At Fair Oaks Parkway/Tarpon Drive |
The overpass has been widened to five lanes and realigned to join Fair Oaks Parkway to Tarpon Drive. The access roads south of Fair Oaks Pkwy have been converted to one-way and the entrance and exit ramps relocated as part of project #6 below. The future project at Balcones Creek Road (above) will then convert the access roads north of Fair Oaks Pkwy to one-way and relocate those entrance and exit ramps.

The schematic for this project is included with the schematic for #5 below.
---
| | | |
| --- | --- | --- |
| 5 | | Fair Oaks Parkway/Tarpon Drive to Ralph Fair Road |
A new overpass for I-10 has been built at Old Fredericksburg Road connecting it to Buckskin Drive. The access roads have been converted to one-way, new entrance and exit ramps for this intersection added, and the exit and entrance ramps for Ralph Fair Road/Boerne Stage Road relocated.
Project complete



Q:

Why are the signals at the new Buckskin/Old Fredericksburg intersection flashing red?




A:

These signals were installed for future use at this intersection, i.e. planners know they will be needed in the near future as traffic grows here, so it was more cost-effective to include them in the overpass project than to have to come back later and install them. For the moment, traffic volumes only necessitate a four-way stop, so the signals are used to supplement that. Engineers are monitoring traffic at this intersection and will switch to full red-yellow-green signal operation when traffic volumes warrant.



Q:

When the access roads changed to one-way, why was only one lane open for the first couple of weeks?




A:

This was done as a safety measure while motorists got used to the new one-way pattern. By blocking the former opposing lane, drivers were forced to go the correct direction. The "new" lane was opened the week of October 1st.



Q:

Why weren't all the new ramps opened at the same time?




A:

Two of the new ramps are at the location of the ramps south of Fair Oaks (see schematic for #5 above) and two more are located where the former ramps north of Ralph Fair were, so those ramps had to stay open and the new ramps at those locations couldn't be built until the replacement ramps at the new locations near Buckskin/Old Fredericksburg were open (think of the game where you have to move the numbered squares around to get them in order but only have one open square to work with.) Furthermore, those new ramps, because of their alignment, couldn't be opened until the access roads were one-way. To be able to have opened all eight new ramps at once would have required closing the four old ramps at Fair Oaks and at Ralph Fair for several weeks before the other ramps opened. This would have forced all NB traffic headed to Fair Oaks to exit at Ralph Fair Rd. and use the access road for that entire distance (and the same for SB traffic coming from Fair Oaks) and would have forced all SB traffic headed to Ralph Fair to exit at Fair Oaks and follow the access road that entire distance (and the some for the opposite direction.) It should be obvious how bad of an idea that would have been.
Click above to see the schematic for this project
---
| | | |
| --- | --- | --- |
| 6 | | SH 46 to Ralph Fair Road |
This project will expand the I-10 mainlanes to add one general-purpose mainlane in each direction (for a total of three) plus one HOV lane in each direction. All of the projects above were designed with this project in mind.

Proposed I-10 cross-section
---
Other sites of interest