San Antonio Area Freeway System
US Highway 281 North (Walter McAllister Freeway)
---
This page last updated November 14, 2020
This page covers US 281 north of downtown San Antonio from the I-35 interchange to Sonterra Blvd. US 281 continues south of downtown concurrent (multiplexed) with I-37.

Length: 14 miles
---
Just looking for more information on the US 281 "superstreet"?
See the superstreets page.
---
On this page
---
This freeway is the backbone for San Antonio's rapidly-growing North-Central area. The route serves Trinity University, the University of the Incarnate Word, Brackenridge Park, the San Antonio Zoo, Alamo Stadium, The Quarry, Lincoln Heights, and Legacy developments, San Antonio International Airport, and the Stone Oak area, as well as the suburban cities of Alamo Heights, Olmos Park, Hollywood Park, and Hill Country Village.
Traveling outbound from downtown, 281 crosses the booming lower Broadway corridor before snaking around the southern edge of the Brackenridge Golf Course. It then continues north shoehorned between the San Antonio Zoo and Alamo Stadium before crossing the Olmos Dam and sailing over the wooded Olmos Park and flood control basin. North of Basse, the landscape becomes increasingly suburban in character, and dense commercial development is achieved near San Antonio International Airport at Loop 410 all the way to 1604 with a short break at the end of an airport runway between Rhapsody and Nakoma. North of 1604, work to extend the freeway into the booming suburban and exurban areas of northern Bexar County is underway.
Prior to November 2012, all traffic connecting between US 281 and Loop 1604 was required to exit onto access roads and traverse an overburdened three-level signalized interchange. However, the first phase of a five-level interchange opened in November 2012 and provided direct connections from US 281 northbound to both directions of Loop 1604. The connectors from Loop 1604 to southbound US 281 opened in late December 2012. The remaining flyovers are being constructed as part of the project to extend the freeway northward with the connectors from southbound US 281 to both directions of Loop 1604 opening on August 16th, 2020. The last two connectors are expected to open in early 2021.
---
| | |
| --- | --- |
| | This section of freeway is occasionally mistakenly called I-37. While the freeway that is I-37 and US 281 along the east side of downtown seamlessly continues to the north, I-37 actually ends at I-35 while US 281 continues north from there. |
---
LINE SCHEMATIC

Click here for a line schematic of US 281 North.
LANES

8 lanes from I-35 to St. Mary's St.
6 lanes from St. Mary's St. to Hildebrand Ave.
8 lanes from Hildebrand Ave. to Sunset St.
6 lanes from Sunset St. to Isom Rd.
8 lanes from Isom Rd. to Donella Dr.
6 lanes from Donella Dr. to Sonterra Blvd.



ACCESS ROADS

No continuous access roads from I-35 to Loop 410 with the exception of short sections of access road at the following locations:

Both directions between St. Mary's St. and Stadium Dr.
Southbound from Loop 410 to Sunset Rd.
Northbound from Parkridge St. to Loop 410

Continuous access roads remainder of route except through San Pedro Ave. interchange.




EXITS

Click here for a list of US 281 North exits.
SPEED LIMITS

60 mph from I-35 to Hildebrand Ave.
65 mph from Hildebrand Ave. to Sonterra Blvd.



SPECIAL FEATURES & NOTES

TransGuide coverage from I-35 to Bitters Rd.
Southbound left exit to northbound I-35.
Northbound

left exit

to Loop 1604.

Winding and scenic route from I-35 to Basse Rd.
Landing lights for a runway at San Antonio International Airport cross over the freeway on a truss just south of Nakoma Dr.



TRAFFIC
Generally heavy along entire route. Regular morning peak congestion occurs inbound along most of the route. Regular afternoon peak-period congestion occurs outbound between I-35 and Hildebrand Ave. and from Nakoma Dr. to Sonterra Blvd. and inbound from Loop 410 to Hildebrand Ave.

Traffic volumes in this corridor have fluctuated over the past decade.




AVERAGE ANNUAL DAILY TRAFFIC
LOCATION
1999
2009
2014
2017
2018
2019
'09-'19
% CHG
N of Hildebrand Ave.
139,000
134,000
154,797
169,425
160,853
169,830
+26.74%
N of Basse Rd.
118,000
113,000
129,488
139,741
148,539
150,024
+32.76%
S of Sunset Rd.
118,900
122,000
136,180
151,180
149,033
150,523
+23.38%
S of Loop 410
82,000
114,000
87,624
90,915
93,973
93,899
-17.63%
N of Loop 410
96,000
103,000
93,318
98,735
100,100
100,180
-2.74%
N of Isom Rd.
99,000
129,000
160,964
153,221
153,566
157,461
+22.06%
S of Nakoma Rd.
154,000
165,000
175,069
190,478
194,828
194,771
+18.04%
S of Brookhollow Dr.
112,000
141,000
166,828
163,542
164,772
169,159
+19.97%
S of Loop 1604
95,000
124,000
106,418
102,250
110,884
106,685
-13.96%
S of Sonterra Blvd.
47,000
104,000
95,674
97,657
95,981
87,000
-16.35%
S of Redland Rd.
87,314
100,732
100,593
99,587


---
Click here for photos and video of this freeway.
---
Click here to view information for all projects in this corridor.
---
In 2018, TxDOT announced plans to reconstruct the Jones-Maltsberger and Basse interchanges near the Alamo Quarry Market. A Diverging Diamond Interchange is proposed at Jones-Maltsberger. At Basse, the existing cloverleaf ramps would be removed, and a new southbound exit ramp and northbound entrance ramp added.
A project to make several operational improvements in the Loop 410/US 281/San Pedro area will add a collector-distributor road along southbound US 281 between Nakoma and San Pedro and will close the northbound entrance ramp from Jones-Maltsberger north of the airport. More details on that project is here.
With the first HOV lanes now under construction north of Loop 1604, planners are working on long-term plans to extend those HOV lanes-- along with other operational improvements-- along US 281 to downtown. However, the geometry and right-of-way contraints along much of this route will complicate that planning.
Long-range plans are still on the books to upgrade US 281 to a full freeway all the way to FM 306 at the Comal/Blanco County line. The first phase of that eventual plan was to upgrade 281 from a two-lane road to a four-lane divided highway from the Guadalupe River to FM 306; work on that project was completed in early 2015.
---
Originally known during planning as the "North Expressway", US 281 is named for Walter McAllister, San Antonio's mayor when the freeway was proposed and one of the main leaders in getting it built.
This corridor has been the subject of major controversy twice in its history. Its initial construction was one of the most controversial freeway projects in US history, resulting in changes to federal law that are still in effect today. Plans in the first two decades of this century to extend the freeway north of Loop 1604 as a toll road were equally contentious.
The section north of Sandau was originally built around 1934 as an extension of San Pedro Ave. to be used as the route for US 281 as part of the Arneson Plan to improve state highways in Bexar County. Prior to then, US 281 and its predecessors SH 66 and SH 108 ran along Nacogdoches, Wetmore, and Bulverde roads.

Map of alignments studied for North Expressway presented in 1960

(Source: San Antonio North Expressway Study, 1971)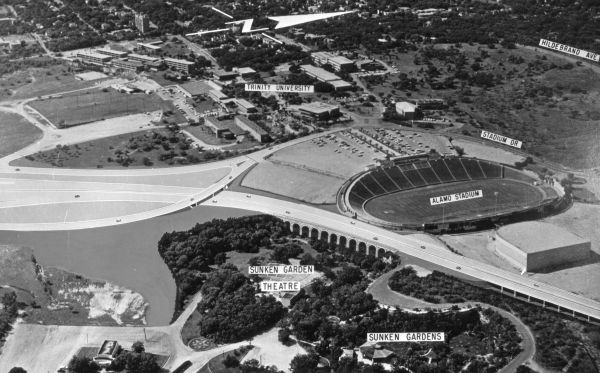 Artist's rendering of planned US 281 near Alamo Stadium ca. 1971

Note the proposed viaduct with Roman arches near the Sunken Garden Theater.
(Photo courtesy of TxDOT)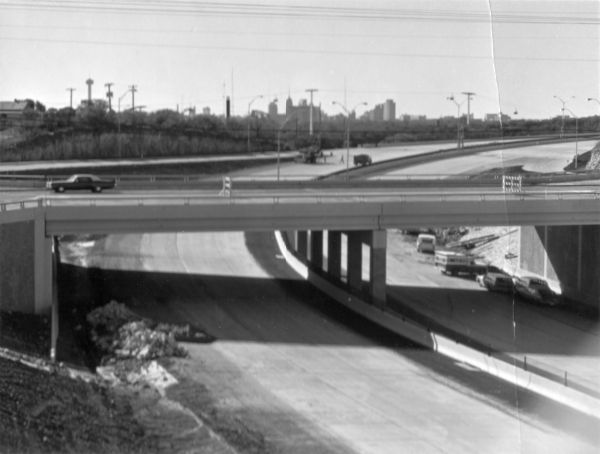 Construction on US 281 at Hildebrand Ave. looking south ca. 1977
(Photo courtesy of TxDOT)