San Antonio Area Freeway System
HOV Lanes
---
This page last updated October 3, 2019
Transportation planners (as well as many citizens) have realized that simply adding new general-purpose lanes in major corridors is only a short-term solution to traffic congestion. Before long, the new lanes are just as congested as before and there's only so much room to add even more lanes. Instead, transportation projects need to focus on moving people, not just cars. High-occupancy vehicle (HOV) lanes are one way to do that and have been successfully used in many cities in the United States and abroad. Furthermore, HOV lanes help to "future-proof" a corridor by building-in lanes today that can someday be used for new transportation options such as autonomous vehicles.
In Texas, Houston and Dallas currently have HOV lanes, and San Antonio will soon join them.
With the removal of proposed toll lanes from planned expansion projects on I-10 West and US 281 North outside Loop 1604, planners realized an opportunity to include San Antonio's first HOV lanes in those projects (shown in orange on the map to the left.) These two locations will serve as "starter" HOV projects. The I-10 HOV lanes will run between La Cantera Pkwy and Ralph Fair Rd. On US 281, the HOV lanes will run between Evans Rd and Borgfeld Rd. Additionally, HOV lanes are included in the latest proposals for expansions of I-35 North, Loop 1604 North, and I-10 from Ralph Fair Rd. to SH 46 in Boerne; there are shown in blue on the map to the left. Furthermore, planners are already studying how to continue the I-10 and US 281 HOV lanes inside Loop 1604.
TxDOT will build the HOV lanes while VIA will operate them.
Below are typical cross-sections for the HOV lanes in the various corridors.




---


---


---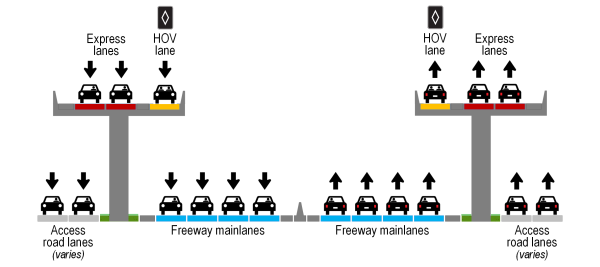 ---
FAQ
What will be the requirements to use the HOV lanes?


It is planned that local HOV lanes will be open to vehicles with two or more passengers (HOV 2+), transit vehicles, motorcycles, and emergency vehicles. The HOV lanes will operate full-time.



I will not use the HOV lane, so it won't benefit me. My taxes shouldn't pay for something I won't use.


Even if you don't use the HOV lane, you will still derive a benefit from it in that every vehicle that uses the HOV lane is one or more vehicles that won't be in the general-purpose mainlanes, thus reducing congestion there. We all pay taxes for many things we don't use or directly benefit from but that benefit everyone generally. Don't forget that the people who will use the HOV lanes are also taxpayers.



Instead of an HOV lane, another general-purpose mainlane would provide more capacity.


Yes, having an extra mainlane in place of an HOV lane would provide more general-purpose capacity. But the benefit would be short-lived because that extra lane will soon also become congested and will leave less room (if any) then to expand. With an HOV lane, planners build-in a corridor that can be used now and well into the future to move more

people

per vehicle through the corridor, people who won't be clogging the mainlanes in their single-occupancy cars. Freeway corridors are more than just pathways for vehicles-- they're high-capacity

transportation

corridors that need to be considered not only for their ability to move vehicles, but also their ability to move people. These two purposes can coexist and HOV lanes are a way of doing that. A new general-purpose mainlane, while providing immediate gratification, is myopic in the long-run; HOV lanes reflect a more sophisticated long-term planning desired by many citizens.



Nobody wants HOV lanes.


That's simply not true. Of the over 3,500 respondents to the recent SA Tomorrow transportation planning survey, 76% either agreed or strongly-agreed that HOV lanes should be an important part of San Antonio's transportation future. Anecdotally, the author of this website attends nearly every public meeting for transportation projects and has consistently heard broad-based citizen support for HOV lanes.



Why build short stretches of HOV lanes on I-10 and US 281 when there aren't any others in San Antonio?


The inclusion of HOV lanes in freeway projects is a recent change in local transportation planning policy and the I‑10 and US 281 projects were in development when that policy was put into effect, so HOV lanes were included in those projects. Consequently, these could be considered "starter" HOV lanes. Planners are already considering how to continue the I-10 and US 281 HOV lanes inside Loop 1604, and future plans for I-10 from Leon Springs to Boerne include HOV lanes. Beyond those corridors, HOV lanes are also included in the latest expansion plans for I-35 North and for Loop 1604. This piecemeal approach to building HOV lanes is actually quite common. Remember that San Antonio's freeway system started with a short section of I-10 between Woodlawn and Culebra that provided no significant connectivity but was part of a bigger plan. "Rome wasn't built in a day."



How will the HOV lanes be enforced?


Each HOV lane will have enforcement bays where police can monitor usage. Violators can be ticketed and fined.



Where will traffic be able to enter and exit the HOV lanes?


HOV lanes will be located to the left of the general-purpose mainlanes. Therefore, traffic will enter the HOV lane from the leftmost general-purpose mainlane, and traffic exiting the HOV lane will merge into the left mainlane. To maintain safe traffic flow in the HOV lane and adjacent mainlanes, traffic is only permitted to enter and exit HOV lanes at designated locations. These include each end of the HOV corridor as well as intermediate locations generally spaced two to three miles apart. These entrances and exits will be marked using signage with the standard black and white diamond symbol to differentiate it from the signs for the general-purpose lanes. Exits from the HOV lane will be marked to show the upcoming freeway exits that are accessible by leaving the HOV lane at that point. The HOV lane exit is placed an adequate distance upstream from those exits so that traffic has sufficient room to safely merge to the right to reach the intended exit.

The US 281 HOV lane will also have a dedicated elevated ramp from the HOV lane into the Stone Oak Park & Ride garage.



How will the HOV lanes be separated from the general-purpose mainlanes?


A wide buffer area marked with white lines will delineate the HOV lane. Early plans for US 281 proposed to use flexible bollards between the HOV lane and the mainlanes, but due to expected maintenance costs, the final plan instead will use only the buffer area. Barriers can be added at a later time if it is determined they're warranted.
Rendering of I-10 HOV lane looking inbound north of Dominion Dr
Rendering of US 281 HOV lane connector ramps to the VIA Park & Ride south of Stone Oak Blvd


(The southbound HOV lane is not visible behind the elevated ramp)
---
Other sites of interest