San Antonio Area Freeway System
State Loop 1604 (Charles W. Anderson Loop)
---
This page last updated June 19, 2019
This page covers the freeway segment of Loop 1604 across North San Antonio from FM 78 in Converse to US 90 West. The remainder of the 95 mile loop is non-freeway, most of which is a two-lane rural road.

Length: 39 miles
---
On this page
Overview

Roadway
details
Schematic


(Not yet available)

Lanes
Access
roads
Exits

Speed
limits
Special features
& notes
Traffic
Media gallery

---
When it was built in the 1960s, it would have been hard to fathom that Loop 1604 North would become the busy beltline that it is today. While the southern half remains in its original configuration as a two-lane rural state highway, the northern arc has been expanded to a four-lane freeway. Loop 1604 forms the outer of San Antonio's two beltways and the freeway portion serves Randolph AFB, the forthcoming Live Oak Town Center development, Rolling Oaks Mall, the Stone Oak area, Camp Bullis, the University of Texas at San Antonio's (UTSA) main campus, Six Flags Fiesta Texas, the Shops at La Cantera and the La Cantera development, The Rim development, the corporate headquarters campus for Valero Energy, the Alamo Ranch area, Sea World, the Westover Hills area, and the suburban cities of Converse, Universal City, Live Oak, Selma, Hollywood Park, Shavano Park, and Helotes. The corridor runs through increasingly dense suburban residential areas with some moderate to heavy commercial development, especially near I-35, US 281, Blanco Rd., I-10, Bandera Rd., and Culebra/SH 151. The area outside 1604 from Bandera Rd. to US 90 is expected to add 200,000 people by 2030.
There is currently only half of a fully directional interchange at US 281. Motorists must use access roads and a signalized three-level interchange to access US 281 north of 1604. Work to construct the remaining four ramps of the interchange is underway and expected to be complete by 2020. Cloverleaf interchanges exist at I-10 and I-35. There is a single flyover connector from southbound Loop 1604 to eastbound SH 151 as well as from southbound Loop 1604 to US 90 eastbound.
---
| | |
| --- | --- |
| | Loop 1604 is sometimes mistakenly referred to as FM 1604. However, it is correctly titled Loop 1604; FM 1604 is in North Texas. (See the History section below for more info.) |
---
LANES



4 lanes (2 x 2) along entire route
Continuous access roads along all of route except:

East of Pat Booker (NB) and east of Kitty Hawk (SB)
At I-35
At the railroad tracks between Nacogdoches and Green Mountain
Northbound through the SH 151 interchange

EXITS

Click here for a list of Loop 1604 exits.
70 mph from Nacogdoches to SH 151
65 mph from Pat Booker to FM 78
TransGuide coverage from Lockhill-Selma to US 90 West
Five at-grade turnoffs ('right-on, right-off") with no median crossover in Universal City

(soon to be removed)

Partial directional interchanges at US 281, SH 151, and US 90 West
VIA Metropolitan Transit University Park & Ride located under I-10 interchange
Carpool parking area on northbound ramp to/from FM 78
Unusual yield sign arrangement at I-10 interchange; click here for more information
Loop 1604 experienced ridiculously blistering traffic growth during the 1990s with average AADT counts up well over 300% along nearly the entire route, and up nearly 800% near Bandera Rd. However, that has moderated substantially during the past decade. Recently, the section near FM 78 has seen a significant spike. Generally, volume is moderate to heavy along entire route. Recurring congestion occurs during morning and evening peak periods between Bandera Rd. and US 281.
AVERAGE ANNUAL DAILY TRAFFIC
LOCATION
1990
2007
2010
2015
2016
2017
'07-'17
% CHG
E of FM 78
9,400
30,000
26,000
32,510
40,095
41,129
+37.10%
W of FM 78
18,300
28,000
56,000
58,811
65,992
67,174
+139.91%
S of Pat Booker Rd.
19,800
72,000
65,000
79,469
90,720
67,020
-6.92%
N of Lookout Rd.
21,000
85,000
81,000
100,656
114,064
116,417
+36.96%
Green Mountain Rd.
15,800
78,000
70,000
94,987
107,829


W of O'Connor Rd.
16,800
87,000
78,000
93,113
105,332
112,228
+29.00%
E of US 281N
19,800
109,000
96,000
101,873
112,556
121,579
+11.54%
W of US 281N
24,000
122,000
118,000
99,204
109,760
125,989
+3.27%
Bitters Rd.
25,000
114,000
107,000
136,275
144,265
161,000
+41.23%
Vance Jackson Rd.
26,000
115,000
108,000
129,500
136,224
142,249
+23.69%
W of I-10W
21,000
100,000
113,000
119,668
126,313
131,409
+31.41%
N of Hausmann Rd.
13,300
88,000
95,000
105,328
111,597
114,499
+30.11%
N of Bandera Rd.
10,200
88,000
94,000
105,721
111,970
122,687
+39.42%
S of Bandera Rd.
8,700
69,000
65,000
81,114
73,221
89,976
+30.40%
N of Culebra
82,252
71,863
97,685


S of Culebra
104,244
98,874
86,833


N of Potranco
38,132
38,347
33,664


---
Culebra to Potranco: Click here for details on this project.

Potranco to US 90:

Click

here

for details on this project.
At Bandera: Click here for details on this project.

I-35 to FM 78:

Click

here

for details on this project.

Click here to view information for all projects in this corridor.
---
In 2018, plans were announced to upgrade the section from FM 78 to I-10 East to a full freeway, possibly starting in 2023. Details of those plans are here.
Plans had been in the works since 2005 to expand Loop 1604 from Bandera to I-35 by adding tolled managed lanes in the median between the existing lanes. The environmental study for that project, however, has been delayed several times over the years due to changes in its scope (it initially included the section all the way south to US 90 that has since been built separately and is now nearing completion), and the study itself has had funding issues. In August 2018, with new transportation funding available and tolling deprecated, the MPO removed the toll component of this project. TxDOT now plans to expand 1604 from Bandera to I-35 to eight general purpose lanes (i.e. four in each direction) plus one HOV lane in each direction. Before work can start, the environmental study needs to be completed. Funding for first phase-- from Bandera to Redland-- has been identified and TxDOT estimates that construction might begin as early as 2021. That phase will also include some of the flyovers for a new interchange at I-10. Funding for the second phase-- from Redland to I-35 and the remainder of the new flyovers at I-10-- will need to be found before work can be scheduled on it.
---
Loop 1604 was authorized by Transportation Commission Minute Order 72928 (June 30, 1977). Named "Anderson Loop" for former Bexar County Judge Charles W. Anderson who advocated for an outer loop during the mid 1950s. Anderson served as Bexar County Judge from 1939 until his death in 1964.

The first plans for an outer loop around San Antonio emerged in 1956. Most of the northern half was built as new route while most of the southern half usurped the existing routes of FM 2173 and FM 1518. Work on the first section, a new road from I-10 to US 281, was completed around 1958 and was designated as FM 1604. By 1966, it had been extended east to Pat Booker Rd., usurping the short stretch of FM 1627 between I-35 and Pat Booker.

To the west, FM 1604 had also reached Bandera Road by 1966 and had been extended south to US 90 West by 1969. The section from Pat Booker south to I-10 East was completed by 1972 as was the section from US 90 West south to Macdona. There, it met the existing FM 2173, which was renumbered to be part of FM 1604 in 1973; this took 1604 south to Somerset. East of there, FM 1518 from Somerset to SH 16 South was also renumbered to FM 1604 in 1973.

Continuing east, many sections the then-FM 1518 all the way to St. Hedwig were upgraded and became part of Loop 1604 in 1977. Other sections were bypassed and are now other FM roads or county roads. The final section of the loop, between I-10 East and FM 1518, was completed around 1977.

At that point, state officials were ready to change the designation from FM to Loop. Because loops are typically not assigned a four-digit number, this should have resulted in a new number being assigned. However, the route number 1604 had already become so ingrained with area residents that state officials decided to simply change the route designation from FM to Loop, keeping the number as 1604. As a result, Loop 1604 is the only four-digit loop and one of just four four-digit state highways in Texas that is not a Farm-to-Market road. The FM 1604 designation has since been recycled and is in use in Irene, Texas, east of Hillsboro. Regardless, many locals still mistakenly refer to Loop 1604 as FM 1604

Finally, here's one interesting footnote in the 1604 numbering story: In 1958, the western arc of Loop 1604, from I‑10 south to Macdona, was going to be designated as Loop 334, but was changed to FM 1604 the following year.

In the late '70s and most of the '80s, the northern and western sections of Loop 1604, which were still mostly two-lane farm road, became known as "The Death Loop" due to a high number of fatal accidents.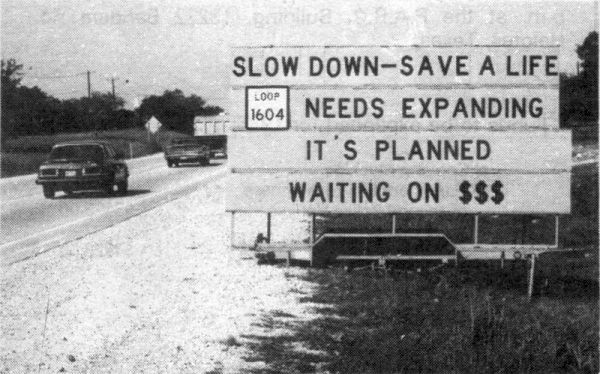 Sign along Loop 1604 in 1983
(Image courtesy of TxDOT)

The first half of the cloverleaf interchange at I-10 West was completed around 1982. The current interchange at I‑35 North was completed in 1986 and the rest of the interchange at I-10 West was completed in 1987.
Also around 1987, the section between US 281 and I-10 was upgraded to a four-lane freeway. The section between US 281 and I‑35 was upgraded to a freeway in three phases between 1988 and 1991. The section from I‑35 to FM 78 was upgraded around 1991.
The segment from I-10 to Babcock was upgraded in 1992. The section from Babcock to Braun Rd. was upgraded in 1996. The section from Braun Rd. to near Culebra was upgraded to a divided highway in 1999, and the overpass at Culebra opened in early 2004. TransGuide coverage was added to the section between Babcock and Tradesman in 1999.
The previously-missing access roads between NW Military and Bitters were added during the summer of 2002. TransGuide coverage was extended to the section from Babcock to Bandera Rd. in April 2003. Work to upgrade the section from SH 151 south to US 90 to a four-lane divided highway was completed in 2007 and work to widen the section from FM 78 to Lower Seguin Rd. to a divided highway was complete in September 2011. Work to upgrade the section from Lower Seguin Rd. to I-10 East to a four-lane divided highway was completed in 2015.
TxDOT and the Alamo Regional Mobility Authority released plans in June 2007 for a $1.8 billion mega-project to upgrade and expand Loop 1604 across northern San Antonio from Military Dr. West around to I-10 East. This project would have added tolled freeway lanes where there were no freeway lanes (i.e. south of Braun Rd. and south of FM 78). Between Braun and FM 78, the project would have added new tolled managed lanes in the median between the existing free freeway lanes, which would have remained toll-free. Additionally, it would have built new interchanges at SH 151, I-10W, US 281N, I-35N, and I-10E, as well as modifications and improvements on those intersecting roads. That project was eventually broken-up into smaller, toll-free projects.
In February 2009, Congress approved a national economic "stimulus" plan that poured additional federal money into road construction projects. The Metropolitan Planning Organization (MPO) approved allocating San Antonio's share of transportation stimulus funding to be used as matching funds to leverage state funding for first half of a 281/1604 interchange. This project built all four of the ramps connecting to 281 south of 1604, i.e. northbound 281 to both directions of 1604, and both directions of 1604 to southbound 281. The use of the federal funds allowed the ramps to be toll-free. The Texas Transportation Commission (TTC) approved the funding request on March 5th, 2009. Construction began in early 2011 and the first ramps opened on November 8, 2012, with the remainder opening a few days before Christmas that same year. The remainder of the improvements associated with the interchange project, including additional lanes on 1604 and some ramp modifications, were all complete by mid 2013.
An overpass for Vance Jackson Rd. was completed in mid 2013.
In May 2012, local officials identified funding to construct new toll-free freeway lanes from Bandera Rd. south to SH 151. After a funding swap to remove federal funding from the project, it was removed from the overarching federal environmental study for the corridor, which allowed the state to begin construction after a state environmental approval. After work began, the project was expanded to include an overpass for SH 151 to Alamo Ranch Parkway and a flyover from southbound Loop 1604 to SH 151. The new southbound freeway lanes opened to traffic on April 23, 2016, followed by the northbound lanes on May 12, 2016. The flyover from SB Loop 1604 to SH 151 opened to traffic July 30, 2016 and the SH 151 - Alamo Ranch Parkway overpass opened on December 17, 2016.
In January 2014, TxDOT and ARMA officials announced funding had been secured to extend the non-toll freeway south from SH 151 to US 90 and build an elevated direct connector from southbound Loop 1604 to eastbound US 90. Work began on that segment in late 2016. The first section, southbound from SH 151 to Potranco, opened in April 2019. The remaining sections opened in phases in May and June 2019.
---
Is it "Loop" 1604 or "FM" 1604?
It is

Loop

1604. The first segment of what is now Loop 1604 to be built from scratch after it was first proposed was numbered FM 1604 and segments were added to it over the years. When the loop was completed, the designation was changed in 1977 from FM to Loop. Besides the obvious meaning of the "loop" nomenclature for motorists, a Loop designation is equivalent to a State Highway, which makes it eligible for more types of funding than FM roads. The FM 1604 designation was re-cycled in 1980 for use on a short stretch of road in the town of Irene in North Texas, where it is still in use today.


Why is Loop 1604 four digits while other loops in Texas are three or fewer digits?
The first section of new route built for San Antonio's outer loop was originally designated as a farm-to-market road and numbered FM 1604. As the loop was being built, the new sections were built as continuations of FM 1604. Once the loop was completed in 1977 and the designation was ready to be changed to "Loop", the route number of 1604 had already become well used among locals, so they opted to keep the number 1604 and simply changed the designation from FM to Loop. It is an exception to Texas' numbering rules and is one of just four four-digit state roads that's not an FM road.


Why are the new sections of Loop 1604 only four lanes? It needs to be six lanes or more.
A lot of people see the congestion on Loop 1604 North and assert that the new sections of Loop 1604 should to be wider to start with. However, those sections of Loop 1604 carry less than a third of the traffic that most sections of Loop 1604 North do (for example, 34,000 vehicles per day at Potranco vs. 123,000 at Bandera.) That current volume, and the projections for the next 20 years, indicate that four lanes should be adequate for those new sections. Twenty years is the accepted planning horizon because that's the length of time before a road will need major repairs and upgrades simply due to age (i.e. the road's expected lifespan), and because that's the length of time that any projections can be considered even remotely reasonable. Will those new sections experience congestion before 20 years? Maybe. Nobody has a crystal ball, so traffic projections are "educated guesses" based on the best data available for future development in an area and past growth, and road capacity is always theoretical-- many other factors other than just the number of lanes affect congestion levels. But as a steward of taxpayer dollars, TxDOT cannot spend more than they can empirically justify, a policy I'm sure most taxpayers support to prevent "pork" projects. And spending now on extra lanes that may or may not be needed in the future takes away funding for other projects that are needed today.


Why didn't they build Loop 1604 between Bandera and I-35 with more than four lanes?
See the point above regarding how the number of lanes to be built is determined. Then keep in mind that Loop 1604 between I-10 and I-35 was planned 35 years ago and that it was an upgrade from a two-lane rural road to the four-lane freeway that's there today-- a dramatic increase in capacity at the time. Loop 1604 between Bandera and I-10 was planned around 1990 and also was an upgrade from a two-lane rural road. In both cases, significant recurring traffic congestion didn't develop until the 15 to 20 year mark, which shows the validity of the planning done. An expansion has been planned for a while now but has been delayed (see next point.)


Why haven't they added more lanes to Loop 1604 North? Don't they know how bad the traffic is?
Plans have been in the works to expand Loop 1604 from Bandera to I-35 for well over a decade. However, such an expansion is a very expensive project-- approaching $1 billion. Due to substantial funding shortages that began in the early 2000s, TxDOT was required to incorporate tolling to pay for mega projects like this. With local opposition to tolling and the drama over a similar plan on US 281 that delayed that project for over a decade, the plan for 1604 has had to be reworked several times. Additionally, because of the project's location over the Edwards Aquifer Recharge Zone, an extensive and lengthy Environmental Impact Study (EIS) is required. With new funding mechanisms now in place and tolling deprecated, the toll component has since been removed from the project. This has required the project to be redesigned yet again and additional funding allocated in order to complete it. As of this writing, TxDOT anticipates that work on the first phase--

from Bandera to US 281

-- could start in 2021.