SAN ANTONIO FREEWAY HISTORY
Read my essay on San Antonio's freeway history for the Express-News' Tricentennial series

here.

The full history of the freeway system is available on this site

here.
San Antonio Area Roads & More
Loop 1604 South Projects
---
This page last updated October 9, 2017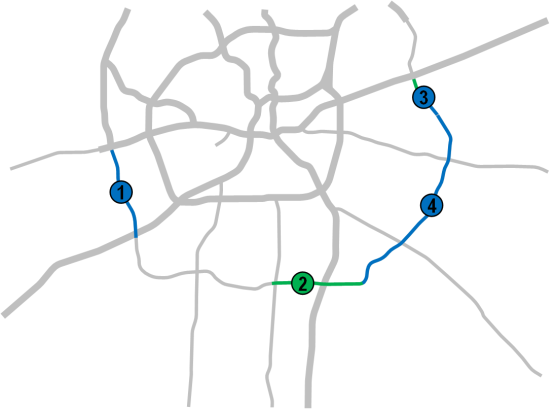 TxDOT has long-range plans to widen all of Loop 1604 south of US 90 to a four-lane divided highway. Two segments are currently in final planning. This page contains information about those projects.
---
| | | |
| --- | --- | --- |
| 1 | | From US 90 West to I-35 South |

Projected start: Late 2021

Description
This project will widen Loop 1604 from a two-lane rural road to a four-lane divided highway from US 90 West to I-35 South. In general, the existing roadway will become the northbound lanes and a new southbound roadway will be built to the west.

Additional overpasses for the new lanes will be built at the Medina River, Macdona-Lacoste Rd./Nelson Rd., and Quintana Rd.

A new overpass and full interchange for Loop 1604 will be built at FM 2536/Old Pearsall Rd.

At FM 143, a full crossover with turnarounds for both directions will be built. This intersection will be wide enough to accommodate a future overpass for Loop 1604.

A turnaround-only crossover will be built just north of the Medina River at the location of a planned future east-west arterial. It will also be designed to accommodate a future overpass.

At Macdona-Lacoste Rd./Nelson Rd., a second "jughandle" connector will be built on the west side of Loop 1604 to connect the new southbound lanes to Macdona-Lacoste Rd./Nelson Rd. The existing connector will serve the northbound lanes.

A turnaround-only crossover will be built at Kinney Rd.

The Dragon Ln. connection to Loop 1604 will be closed and Dragon Ln. will dead end at the Southwest High School parking lot. A new connector road to Loop 1604 will be built just south of the existing Dragon Ln.

At Quintana Rd., the existing connector to Loop 1604 south of Quintana will be removed and replaced with a short driveway to adjacent properties. This will also remove the existing railroad crossing there. The existing connector north of Quintana will be lengthened and reconfigured to become the entrance and exit ramp to/from southbound Loop 1604 and a new entrance ramp to northbound Loop 1604 from Quintana will be built.

At I-35, TxDOT is currently exploring a possible double-roundabout or "dumbbell" interchange.


Schematics
The schematics below are courtesy of TxDOT; the annotations on them are my own.

US-90 to Nelson/Macdonna-Lacoste

Click above to see the schematic
Nelson/Macdonna-Lacoste to I-35

Click above to see the schematic
---
| | | |
| --- | --- | --- |
| 2 | | From US 281 South to FM 1303 |

Projected start: Late 2018

Description
This project will widen Loop 1604 from a two-lane rural road to a four-lane divided highway from just west of US 281 to just north of FM 1303. Between US 281 and Cambellton Road, the existing roadway will become the eastbound lanes and a new westbound roadway will be built to the north of it. Between Cambellton and FM 1303, the existing roadway will become the westbound lanes and a new eastbound roadway will be built to the south of it.

At US 281, a full diamond interchange (i.e. entrance and exit ramps from both directions of Loop 1604) will be constructed to replace the two "jughandle" connectors along with a new overpass for the westbound lanes.

Turnaround-only crossovers (both directions) will be built just east of Rockport Rd., midway between Cambellton Rd. and Liedecke Rd., and just west of Labus Rd.

Full crossovers with turnarounds will be built at FM 3499, FM 1937, Cambellton Rd., and FM 1303.

A full crossover without turnarounds will be built at Priest Rd.

An eastbound-to-westbound turnaround will be built midway between FM 3499 and FM 1937.

At S Flores Rd. east of I-37, there will be a westbound left turn to S Flores and turnarounds for both directions but no left turn from S Flores.

At Southside Heritage Elementary School, there will be an eastbound left turn into the school but no left turn out of the school.

At I-37, there will be dedicated left turn lanes as well as turnarounds for both directions of Loop 1604.


Schematics
The schematics below are courtesy of TxDOT; the annotations on them are my own.

US 281 to I-37

Click above to see the schematic
I-37 to FM 1303

Click above to see the schematic
---
Other sites of interest