Other San Antonio Area Roads
Cibolo Parkway
---
This page last updated July 26, 2017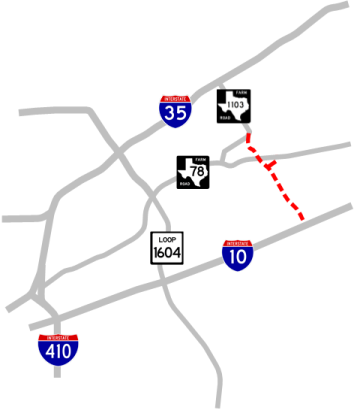 In 2007, TxDOT completed a study on a possible future extension of FM 1103 in Cibolo south to I-10. However, it was determined that issues with right-of-way acquisition and funding precluded such an extension for the foreseeable future.
In 2015, with explosive development in the FM 1103 area continuing, the Cibolo city council instructed city staff to investigate options to build the extension themselves and a Blue-Ribbon citizens committee was formed to study the matter. In 2016, the committee recommended partnering with the Texas Turnpike Corporation (TTC) to develop the road as a tollway.
In 2017, the city council approved an agreement with the TTC to move forward with the project. The TTC is now in the process of conducting a detailed feasibility study for the road, which would be a four-lane expressway from FM 1103 at Weil south to I-10 at Zuehl Road. An overpass and connector at FM 78 would be constructed and overpasses/interchanges at other intersections are being evaluated. Initial proposals indicated that the project could also include two toll-free express lanes in the center of a planned widening of FM 1103 between Weil and I-35; however, TxDOT would have to approve these lanes and redesign the planned FM 1103 expansion to accommodate them. To date, TxDOT has not given any indication of doing so.
While the City of Cibolo would own the road, TTC would fiance the design, construction, maintenance and operation of the estimated $125 million and roughly 11 mile roadway. In exchange, it would collect tolls-- currently planned at 20 cents a mile-- from roadway users for 50 years.
It is important to note that this project is being undertaken solely by the City of Cibolo and its partner TTC, which is a private company. TxDOT is not involved in the planning or development of this project in any way other than approving any connections to state highways (i.e. FM 1103, FM 78, and I-10.) TxDOT's own planned expansion of FM 1103 pre-dates this proposal. The project is included in the Metropolitan Planning Organization's plans as a privately-funded project and has no state or federal funding associated with it.
If the project is deemed feasible, the roadway could open to traffic as soon as 2020.
---
Additional information