Other San Antonio Area Roads
"The Circuit"
---
This page last updated January 23, 2020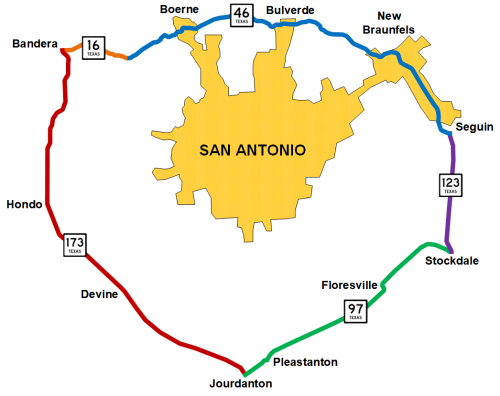 If you look at a road map of South-Central Texas for a few minutes, you may soon notice that, in addition to Loops 410 and 1604, San Antonio has yet another, albeit unofficial, loop. This outer-outer loop is formed by parts of State Highways 16, 97, 123, and 173 and all of SH 46. The roughly 222 mile ring, about 30-40 miles from downtown San Antonio, connects the towns of Boerne, Bulverde, New Braunfels, Seguin, Stockdale, Floresville, Pleasanton, Jourdanton, Devine, Hondo, and Bandera. The areas along the northern arc of this route are rapidly growing as San Antonio's exurbs continue to push northward, and some local residents and officials have begun to discuss the need for a possible third loop around San Antonio. While there are no official plans currently in the works to officially designate a third loop, "The Circuit" has emerged as a possible moniker for this ad-hoc beltway.
The majority of the route consists of two-lane rural roads. In 2006, TxDOT announced plans to widen SH 46 between Bulverde and New Braunfels. In the first phase, additional passing lanes were added between New Braunfels and Bulverde and work was completed in 2011 to widen the road to seven lanes between Loop 337 and FM 2722 in western New Braunfels, including an overpass at FM 2722. Work is expected to begin in 2025 to widen the road to four lanes between FM 2722 and FM 3159. Work could also start that year to widen SH 46 between Bulverde and Boerne. Over the past few years, additional passing lanes have been added along that stretch. A widening project on SH 46 on the east side of Boerne is underway and should be finished later this year. A study for a possible SH 46 bypass around Boerne has been shelved after the Kendall County commissioners court did not vote to support it.
That 2006 plan also proposed to widen SH 46 to six lanes through Bulverde, but the Bulverde City Council twice voted not to support the project. However, they have since reconsidered and TxDOT began a study of the route in 2015. The current proposal calls for widening SH 46 from Farhills Dr. to FM 3159 to six lanes including a center median, bicycle facilities, and sidewalks. An overpass and interchange is planned at FM 3159. Construction from Farhills Dr. to Bentwood Dr. is expected to start in 2022, the overpass and interchange at FM 3159 could start in 2023, and the widening from Bentwood Dr. to FM 3159 isn't expected to start until 2028.
Prior to 2006, TxDOT widened SH 46 from New Braunfels to Seguin to five lanes.