Other San Antonio Area Roads
Which Military? (And the history of the local military roads)
---
This page last updated September 23, 2018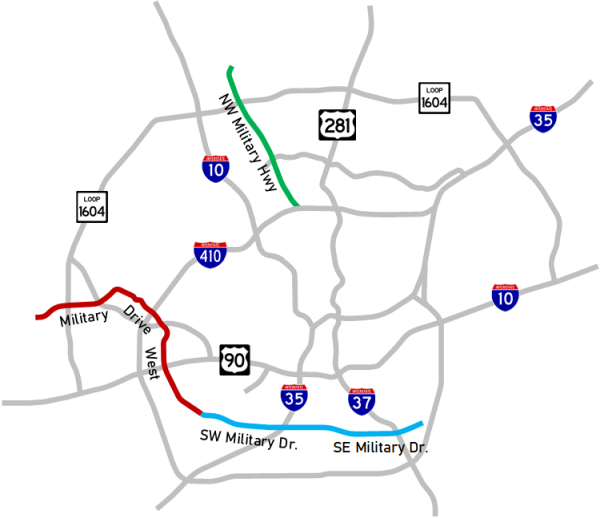 San Antonio is known for having an unusual number of street naming idiosyncrasies that confound locals and visitors alike. One of those is that there are three distinct roadways with "Military" in their name: SE/SW Military Drive, Military Drive West, and NW Military Highway. Here is the breakdown of each:
SE/SW Military Drive:

This roadway, also designated as Loop 13, is the main "drag" of the South Side of San Antonio running from S WW White Road near Loop 410 westward crossing both I-37 and I-35. It becomes Military Drive West (see next bullet) somewhere near Whitewood St. just west of Pearsall Rd. S Flores St. is the dividing line between SW and SE Military Dr.



Military Drive West

: Military Drive West, also sometimes called W Military Dr., continues north from the end of SW Military. If you're not paying attention to the signs, you won't even notice the name change. It runs through the middle of Lackland AFB before crossing US 90 (where the Loop 13 designation ends), SH 151, and Loop 410. Presently, it ends at Potranco Rd., but another leg of Military Drive West starts a short distance north of there near Reed Rd. and runs westward crossing SH 151 again, passing south of Sea World, and crossing Loop 1604 before ending at Grosenbacher Rd. The two sections are actually part of the same planned road-- the gap between Potranco and Reed is scheduled to be built in the next few years.



NW Military Highway:

This is a completely separate roadway that runs from Loop 410 through Castle Hills to Camp Bullis. Although it has the word "Highway" in its name, it's actually just a surface roadway and is also designated FM 1535.


Military convoy between San Antonio and Camp Bullis
(ca. 1935/TxDOT)
---
Military Roads History

The military has always played a key role in the area's economy and, as a result, has often been given special attention in the area's road development. The first instance of this in modern road history came in the 1930s when a need for a direct route from Kelly Field to Brooks Field emerged. To satisfy that, the county built the Military Road (later Military Drive) to connect the two. This was the first section of a planned loop as proposed in the 1932 Arneson Plan for state highways in Bexar County. In 1937, the state acquired the route and designated it as Loop 13. In the early 1940s, Loop 13 was extended west from Kelly through the new San Antonio Aviation Cadet Center (later renamed Lackland AFB) to US 90 and east from Brooks to and then along WW White Road (the northern section of which, at that time, ran over today's Springfield Road) north to the old Seguin Road (today's FM 78, also known then as Randolph Field Road) which connected the eastern end of Fort Sam Houston to Randolph Field.

NW Military Highway was part of the longer "Harry Wurzbach Military Highway" (eventually referred to simply as "Military Highway") that connected Fort Sam Houston to Camp Bullis, then known as Leon Springs Military Reservation. It was built sometime around 1945 to replace a very circuitous route that accessed Camp Bullis via Blanco Road or US 87. The new road encompassed today's Harry Wurzbach Rd., NW Military Hwy., and the stretch of today's Loop 410 in between, part of which at the time was a road named Zercher Road; this is why Harry Wurzbach and NW Military bend toward each other at Loop 410. Interestingly, Harry Wurzbach is another example of the local phenomenon of multiple roads with similar names: the three roads named Wurzbach. For more information on that and on the history of the Harry Wurzbach name, see the

Which Wurzbach?

page.

Around 1952, WW White Rd. was straightened between US 90 East and FM 78 and Loop 13 was extended north from US 90 East along the straightened stretch of WW White to FM 78 and then further north along today's Loop 410 and I-35 to meet US 81, which ran along what's now Randolph Blvd., and then west from there along today's Loop 410 to Harry Wurzbach, tying it in to the road to Camp Bullis.

Military Drive West north of US 90 was not part of the original Military Drive; the first section was built in 1961 primarily to serve new residential areas sprouting up north of Lackland. Over the years, it has been extended further north and west with an overpass for it at Loop 410 built in 1982. Coincidentally, it now runs past the San Antonio campus of the National Security Agency.

Just like Fort Sam and Camp Bullis, there was a need to connect Kelly Field and the Medina Annex, probably to provide a direct route to transfer atomic weapons stored at Medina to and from the airfield at Kelly. So in the mid '50s, the Medina Base Road was built. However, instead of intersecting Old Pearsall Rd. as it does today, it originally turned northeastward just west of Old Pearsall Rd., crossed Military Dr. and then turned and crossed Leon Creek and intersected with Westover Rd. on the west side of the airfield. While that section of the road is long gone now, the bridge for the road at Leon Creek is still there today. The rest of the route to the west was essentially the same as it is today. When Loop 410 in that area was built around 1960, it didn't include an interchange with Medina Base Road, perhaps to limit traffic on the road in order to avoid conflicts with the military traffic. An interchange was subsequently built in the early '70s after the weapons center at Medina was transferred to another facility near Amarillo.

Local military installations have also played a role in other local road history. The first state highway to the northeast (SH 2 to New Braunfels, Austin, and beyond) crossed through Ft. Sam Houston, which was an open post until 2001. Heading north from downtown along N New Braunfels Ave., it passed through Ft. Sam, then turned east onto Eleanor St. and Old Austin Rd. along the edge of the post, then crossed through Ft. Sam again near the old BAMC and onto the eventual Harry Wurzbach before continuing northeast onto Corinne Dr., Austin Hwy., and Randolph Blvd. SH 2 continued to pass through Fort Sam until the late '20s when the route was changed to use Broadway and Garraty Rd. instead.

Before the current runway was built at Kelly Field during World War II, Frio City Rd. connected to today's Old Pearsall Rd. at SW Military (looking at a map, you can see how they line up) and was the route from San Antonio to (you guessed it) Pearsall and on to Laredo. Part of that road is now the section of General Hudnell Dr. in Port San Antonio. When Kelly Field was first established in 1917, it occupied the wedge of land between that road and the railroad tracks along Quintana. A second military field, Kelly Field #2, was built shortly thereafter in the area immediately northwest of the original site with the road then dividing the two. During WW II, the two airfields (then known as Kelly Field and Duncan Field) were combined and expanded and the road through the consolidated Kelly Field was severed in order to build a new, longer runway.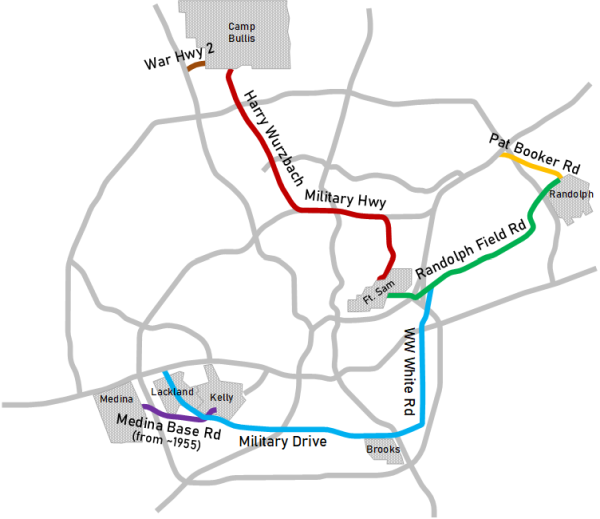 Map of the military roads (ca. 1945) in San Antonio overlaid on today's freeway network