SAN ANTONIO FREEWAY HISTORY
Read my essay on San Antonio's freeway history for the Express-News' Tricentennial series

here.

The full history of the freeway system is available on this site

here.
San Antonio Area Roads & More
Which Military? (And the history of the local military roads)
---
This page last updated January 8, 2018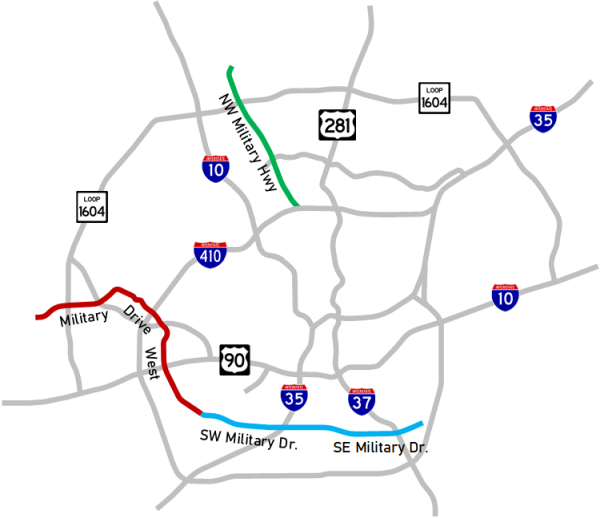 San Antonio is known for having an unusual number of street naming idiosyncrasies that confound locals and visitors alike. One of those is that there are three distinct roadways with "Military" in their name: SE/SW Military Drive, Military Drive West, and NW Military Highway. Here is the breakdown of each:
SE/SW Military Drive:

This roadway, also designated as Loop 13, is the main "drag" of the south side of San Antonio running from S WW White Road near Loop 410 westward crossing both I-37 and I-35. It becomes Military Drive West (see next bullet) somewhere near Whitewood St. just west of Pearsall Rd. The section west of S Flores St. is SW Military Dr. with the section east of there SE Military Dr.



Military Drive West

: Military Drive West, also sometimes called W Military Dr., continues north from the end of SW Military. If you're not paying attention to the signs, you won't even notice the name change. It runs through the middle of Lackland AFB before crossing US 90 (where the Loop 13 designation ends), SH 151, and Loop 410. Presently, it ends at Potranco Rd., but another leg of Military Drive West starts a short distance north of there near Reed Rd. and runs westward crossing SH 151 again, passing south of Sea World, and crossing Loop 1604 before ending at Grosenbacher Rd. The two sections are actually part of the same planned road-- the gap between Potranco and Reed is scheduled to be built in the next few years.



NW Military Highway:

This is a completely separate roadway that runs from Loop 410 through Castle Hills to Camp Bullis. Although it has the word "Highway" in its name, it's actually just a surface roadway and is also designated FM 1535.

History
These roads were all built to connect the area's military bases. In the 1930s, Military Road (later Military Drive) was built to connect Kelly Field to Brooks Field. In the 1940s, it was extended west from Kelly to the new Lackland AFB and US 90 and east from Brooks to WW White Road, which connected it to the eastern end of Fort Sam Houston and to Seguin Road (FM 78) leading to Randolph AFB to the northeast. When Loop 13 was designated by the state in the 1940s, it was also intended to connect the area's military bases and so ran along the existing Military Dr. and WW White Road, but then was extended north along today's I-35/Loop 410 to Fratt, then west from there along today's Loop 410 to Harry Wurzbach.

NW Military Highway was part of the longer "Harry Wurzbach Military Highway" that connected Fort Sam Houston to Camp Bullis, which was then known as Leon Springs Military Reservation. That road encompassed today's Harry Wurzbach Rd., NW Military Hwy., and the stretch of today's Loop 410 in between; this is why those two roads bend toward each other at Loop 410. It was built sometime around 1940 to replace a very circuitous route that accessed Camp Bullis via Blanco Road. For more information on the history of the Harry Wurzbach name, see the

Which Wurzbach?

page.

Military Drive West north of US 90 was not part of the original Military Drive; the first section was built in 1961 primarily to serve new residential areas sprouting up north of Lackland.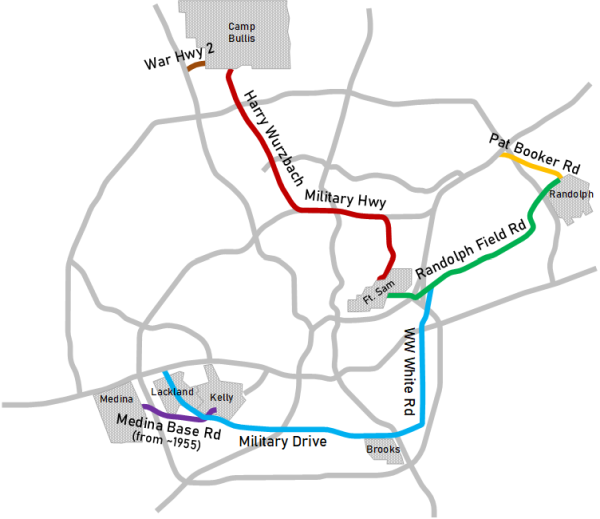 Map of the military roads (ca. 1950) in San Antonio overlaid over today's freeway network



Harry Wurzbach, coincidentally, is part of another example of the local phenomenon of multiple roads with similar name: the three roads named

Wurzbach

.