San Antonio Area Freeway System
PROJECT INFO: SH 151 at Loop 1604
---
This page last updated December 6, 2018
Although the original state project here has been complete since 2017, this page has remained to provide updates on follow-up projects in this area as well as to answer ongoing frequently-asked questions.



Location
SH 151 at Loop 1604/Alamo Ranch Parkway (ARP)

Status
Original project complete; current lane addition project at ARP and Westwood Loop 30% complete

Description
The orginal state project constructed a flyover from southbound Loop 1604 to SH 151. Additionally, it added an overpass connecting SH 151 to ARP at Westwood Loop; this replaced a signalized intersection for eastbound traffic crossing Loop 1604 and a circuitous route along the Loop 1604 access roads for westbound traffic.

Due to traffic congestion and safety issues at the Alamo Ranch Parkway/Westwood Loop intersection after the original project was completed, the county has now started work to add an additional through lane on westbound ARP. This additional lane will allow the left lane coming from SH 151, which used to be a left turn only lane, to become a left/straight option lane. This project should be completed in early 2019

The county is now persuing additional funding to eventually build a flyover for westbound ARP traffic over Westwood Loop. The expected timeline for that project is 3-5 years.

Purpose for the original state project
Providing the new flyover from Loop 1604 southbound to SH 151 eastbound removed all that traffic from the southbound access road and previous signalized intersection there. The new overpass connecting SH 151 to ARP improved the connectivity between those roadways; this was done to reduce congestion on the Loop 1604 access roads south of Culebra as SH 151 traffic destined for ARP and SB Loop 1604 no longer has to use the turnaround there. In addition, traffic from Culebra headed to SH 151 now uses other routes, further reducing congestion on those access roads. This project also eliminated the signalized at-grade intersection on Loop 1604 at SH 151, which was necessary to extend the freeway south (now under construction.)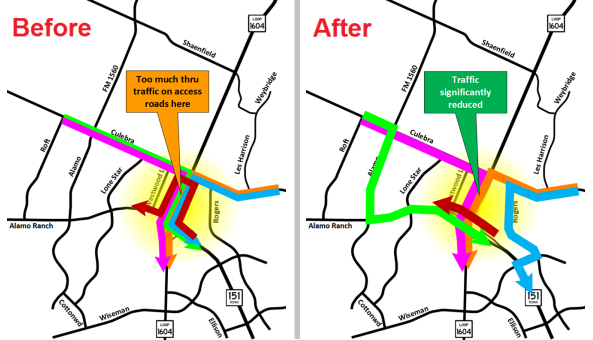 Macro 151/1604 area traffic patterns before and after ARP overpass
Illustrates a major intent of this project to disperse traffic away from the overcrowded 1604 access roads
and 1604/Culebra intersection

Timeline
Work began in April 2015. The flyover from SB Loop 1604 to SH 151 opened to traffic July 30, 2016. The ARP overpass opened on December 17, 2016. The traffic signals at Westwood Loop went into full operation on February 27, 2017.
The current lane additional project at ARP and Westwood Loop should be complete in early 2019.
FAQ
This project epitomizes the concept of "Don't let the perfect be the enemy of the good."
Why did they make a highway end at a traffic signal?
It may seem like that's the case since the 151 mainlanes continue straight onto ARP, but traffic coming from 151 had to go somewhere onto ARP, and ARP is a surface street with intersections, so that's just how it worked out. This situation is not uncommon and is found in many other cities.

The goal of this project was to provide a direct connector from 151 to ARP so that traffic would no longer have to go to Culebra, turnaround, and go back to reach ARP, which adds substantial congestion on those access roads, and also so that traffic going from ARP to 151 would not have to cross Loop 1604 at an at-grade intersection (see traffic patterns maps above.) Since ARP lies directly ahead of the end of 151, the route must inherently go straight from 151 to ARP. Therefore, it gives the impression that the highway keeps going over 1604 and suddenly ends at an intersection, but you'll notice that the speed limit decreases to 45 mph as you approach Loop 1604 and there are large yellow "FREEWAY ENDS - SIGNAL AHEAD" signs that tell you the freeway is ending and that you are transitioning to a surface street. Therefore, the overpass is essentially a long exit from 151 to ARP-- it just happens to be a straight exit at the end of the freeway. This is a case where drivers need to pay attention and adjust their expectations. It's a location that required an anomalous design (a situation complicated by an endangered species finding; more on that below.) Perhaps drivers would have more instinctively understood that they're exiting the freeway if the 151 access road had been extended over Loop 1604 instead of the mainlanes and ARP-bound traffic had to exit and use that. However, there still would have been the same issues where that connected to ARP.


This causes westbound traffic from 151 to ARP back up at Westwood Loop.
Yes, traffic queues at that signal just as it does anywhere traffic leaves a freeway and encounters a controlled intersection such as it does on exit ramps and access roads and where freeways end and become surface roads (e.g. Loop 1604 at Wiseman.) As mentioned above, this is essentially an exit from 151 to ARP-- it just happens to be a straight exit at the end of 151. As such, there's no reason to expect this location wouldn't have backups like any other highly-trafficked exit from a freeway to a surface road. Furthermore, traffic backed up there prior to this project and it has never been claimed that this project would solve that. Instead, the direct overpass is an improvement over the previous circuitous route from 151 to ARP.


Couldn't they have extended the overpass over Westwood Loop?
Possibly, but the state's right-of-way doesn't extend that far, plus it would have substantially increased the cost of the project. They did the best they could with the funding they had. Road improvements in fast growing areas with limited funding will always be an exercise in incremental improvements.



UPDATE (12/2018):

The county is persuing funding to construct a flyover for westbound ARP over Westwood Loop. It is anticipated that work could begin in 3-5 years.


Are there any future plans to improve the intersection of ARP and Westwood Loop?
The current intersection is considered to be an interim improvement as planners know that growing traffic will overwhelm it before too long. In the meantime, to prevent the illegal turning/crossover situation on the westbound side, the county has added a concrete curb where the flexible pylons previously were. Currently, an additional through lane from SH 151 onto Alamo Ranch Parkway is under construction; this will allow the far left lane coming from SH 151 to become a straight/left option lane. The lane will then merge into the existing two lanes about 250 yards downstream from the intersection. Previously-considered plans to convert the intersection to a "super-street" configuration have been tabled for now as has a previous proposal to change the westbound signals to a "split-phase" where the SH 151 and Loop 1604 approaches would each have had their own green phase (thus allowing left and right turns from each.) It was determined that changing to a split-phase would have extended the cycle length excessivley, thus increasing congestion, and that doing so was unnecessary as there are other convenient routes to reach those destinations.



UPDATE (12/2018):

The county is persuing funding to construct a flyover for westbound ARP over Westwood Loop. It is anticipated that work could begin in 3-5 years.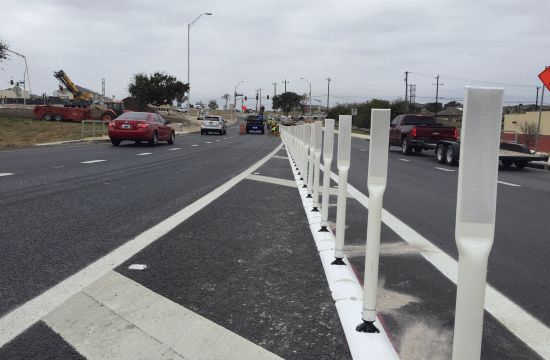 Pylons being installed on westbound ARP at Westwood Loop to prevent problematic lane changes; these have since been replaced by a concrete curb
(Photo courtesy of Josh Donat, TxDOT)

Why is the left lane coming from 151 a turn-only lane?
There are only two lanes on ARP to receive traffic crossing Westwood Loop. With traffic coming from both Loop 1604 and from 151, dividing that capacity between the two (i.e. one lane each) was appropriate. That means that the "extra" lane coming from 151 had to either be dropped prior to Westwood Loop or could flow into the left-only lane. However, the county is now constructing an additional through lane at that intersection, which will allow that left lane to become a left/straight option lane.


Could they have built an underpass under Loop 1604 instead of the overpass?
That actually was the original plan, but the discovery of a federally-protected endangered spider during construction of that forced TxDOT to redesign the project to go over the protected habitat of that spider. The good news is that the direct connector from southbound Loop 1604 to 151 was not included in that original project, so the discovery of the spider resulted in that improvement.



Why didn't they plan for the increase in traffic caused by the overpass?


Obviously, planners knew that traffic would increase with the opening of the overpass. The challenge is something known as "latent demand". This means that there were a significant number of people using alternate routes to avoid the congestion and/or inconvenience of the previous 151 to ARP route. While planners can do studies to attempt to estimate what that latent demand might be, it's virtually impossible for anyone without a crystal ball to know for sure what that demand is until the new road opens and that traffic materializes, especially in an area like AR that's growing so rapidly. That said, the overpass and ARP have ample capacity for the expected traffic once the situation at Westwood Loop is sorted-out.


Why is there a signalized intersection for the ramp to southbound Loop 1604 instead of a flyover?
There was not enough funding for a flyover for that connection, so this was the compromise. An elevated direct connector will likely replace it in the future. The highest traffic volume making that turn should be in the evening when eastbound ARP/151 traffic is typically lighter. (Traffic counts on that ramp since it has opened have shown a relatively miniscule volume of traffic using it.)



Why did they only build the connector from southbound 1604 to 151?


The simple answer is funding. They only had enough funding to construct one connector, and that's the one with the most traffic and most "bang for the buck".



Why didn't they make the connector from southbound 1604 to 151 two lanes?


There are not enough lanes downstream on 151 to receive two lanes from the connector plus the lanes coming from ARP and the entrance ramp from northbound 1604. Making that connector two lanes would have resulted in a bottleneck where it merges into 151.



Why did they close the Wiseman exit ramp on eastbound SH 151?


Technically, there wasn't an exit there before. Traffic coming from Loop 1604 was on the access road and could either enter SH 151 just before Wiseman or stay on the access road to Wiseman. The new connector from 1604 enters the 151 mainlanes directly, not the access road. That said, the reason why they didn't add an eastbound exit to Wiseman from the Loop 1604 connector is because there wasn't sufficient space to do so. From the end of the on-ramp coming from northbound 1604, they would need a minimum of 1,500 feet for a weave area that would be safe and minimize possible congestion. At the 1,500 foot mark, the exit to Wiseman would be quite steep and would put the end of the off-ramp much too close to the Wiseman intersection (less than 500 feet), which means drivers wanting to turn right onto Wiseman would have to make a sharp cut across the access road. It would also mean that traffic would likely back up onto the exit ramp during peak periods.



Will the hairpin connector from 151 to northbound 1604 be replaced?


Not at this time. TxDOT is aware of the issues that ramp causes, but did not have enough funding in this project to improve that ramp.


Will there be a ramp from eastbound ARP to northbound Loop 1604?
No, there are no plans at this time for such a connector. It could be included in future improvements to the interchange.



Why is there no entrance ramp to SH 151 from Culebra?


The decision to not include an entrance from Culebra to SH 151 was based on several factors:


The volume of traffic now and especially in the future needing to get from southbound 1604 to ARP exceeds that of traffic needing to get from Culebra to SH 151; this made an exit for ARP a higher priority than an entrance from Culebra.
There is only room for one ramp in that area.
There are good local alternatives to get to SH 151 from Culebra whereas there are limited ways to get from southbound 1604 to ARP.

An entrance from Culebra onto the SH 151 connector would have resulted in significant congestion on the connector during peak periods caused by a stream of slower-moving traffic entering from Culebra trying to merge with a stream of faster-moving traffic coming from Loop 1604 all while moving uphill to the connector. This congestion would have backed-up onto Loop 1604 as well as onto the access road and possibly into the intersection at Culebra.
---
Other sites of interest