San Antonio Area Roads History
Freeway System History
---
This page last updated September 26, 2022




Below is the best history of the San Antonio area freeway system that I can assemble. The information on this page was compiled from a wide variety of sources including old city maps, newspaper articles, and an array of highway plans and documents. Many thanks to the San Antonio Central Library Texana section and the San Antonio district office of TxDOT for their assistance in locating those materials.

This page covers the history of the expansion of the overall system but not capacity or reconstruction expansions on individual freeways-- details of those are available on the individual freeway pages elsewhere on this site.

---
General
The convergence of US and state highways in downtown San Antonio and the dramatic growth of automobile traffic in the 1930s caused severe congestion in the central city. To address this growing problem, officials began planning a series of "interregional highways" in the late '30s to carry through traffic around downtown. However, the outbreak of World War II delayed this initiative. After the war ended, the effort resumed with a meeting of civic and business leaders in late 1946 where "the development of an interregional highway system in the San Antonio area" to help relieve increasing congestion on downtown streets was discussed. The manifestation of that was a 20-year master plan to ensure that San Antonio was at or near the front of the line to receive post-war state and federal funding to build an expressway system. City maps from as early as the mid-1940s show a three-legged "Interstate Highways and Expressways for post-war construction" that is today's "Downtown Y" of Interstates 10 and 35. In plans and news reports, the routes were interchangeably referred to as expressways, urban expressways, freeways, or interregional, intrastate, or interstate highways.
That first master plan and resulting civic and political support helped San Antonio and Bexar County obtain voter approval for numerous bonds over the years to purchase right-of-way for the future expressways. It was this local cost-sharing that allowed San Antonio to leverage state and federal funds that propelled the construction of local expressways and landed San Antonio one of the Texas Highway Department's four Urban Expressways divisions (the others being Houston, Dallas, and Ft. Worth.) The expansion of the system got a massive boost in 1956, first with the state approval of a local expressway plan, and then with the launch of the Interstate Highway System, which designated San Antonio as the crossroads for two major Interstate routes. All of this meant that, just a decade later, Bexar County had nearly 180 miles of Interstates and expressways, a "metropolitan highway complex that...ranks second only to Los Angeles" according to a San Antonio Express and News report from 1966.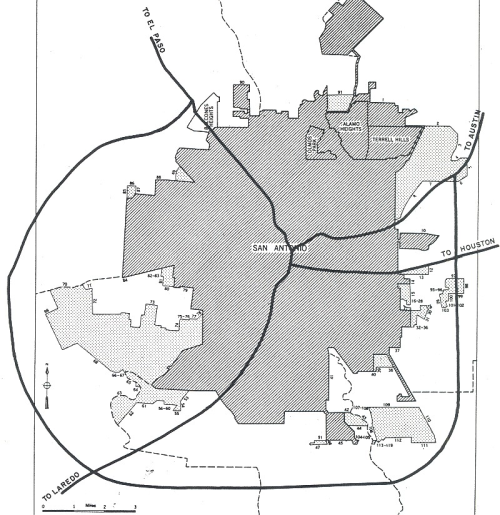 Proposed Interstate Highways in San Antonio from the 1955 "Yellow Book"
that was the blueprint for the Interstate Highway System
Based on other plans in the works at the time, these seem mostly like "placeholder" routes for the
most part and not exact proposed locations. (Other historical plans are here.)

Beyond the Interstates, several other freeways were proposed over the years. Some were shelved due to cost or feasibility issues, and a couple died due to public opposition, but most were eventually built in one form or another, leading to the comprehensive system that is in place today.
Below are maps and descriptions of the system (both completed and proposed) at various points during the last 70 years. The years chosen were those for which I could find definitive information and/or were benchmark years in the development of the system. Between those dates, short-lived variations to specific plans may have been proposed but were not substantially different enough to warrant inclusion here.
In some cases, I found conflicting or incomplete information, so I had to extrapolate or infer the status of particular segments at certain times based on earlier and/or subsequent reports. This may result in some minor inconsistencies.
Early freeways here replaced existing US and State Highways and initially carried those route numbers. It wasn't until the early and mid '60s that Interstate shields began appearing on local freeways. For consistency and ease of reference, I refer to the current route designations in the discussions below. For reference, here is a list of the early highway designations, including the state highway designation that preceded the US route number as well as the routing of those routes in 1945 just before the start of the first freeway project. Most of the routes were adjusted several times as the freeway system evolved and usurped them.
TODAY
U.S. HWY
PRIOR
DESIGNATION
PRE-FREEWAY ROUTING

WEST
Fredericksburg Rd., N. Flores St.

EAST
E. Commerce St.

NORTH
Broadway, Austin Hwy., Randolph Blvd.

SOUTH
S. Alamo St., Nogalitos St., New Laredo Hwy.
S. Presa St.

WEST
W. Commerce St., Old Hwy 90 W

NORTH
San Pedro Ave.
N/A
N/A

---
Pre-1949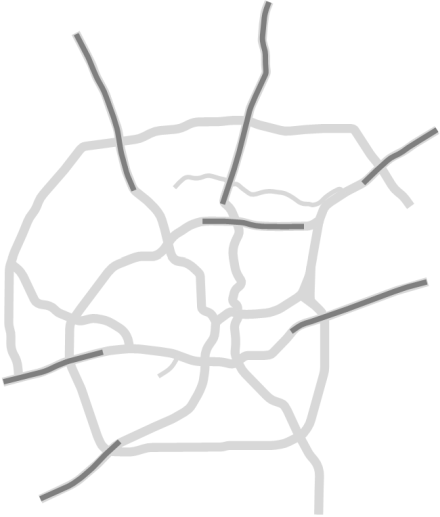 During the construction of San Antonio's freeway system, several existing sections of US and State highways in the outlying areas were upgraded to freeways. The maps on this page show those sections in dark gray as "existing non-freeway" roadways until the time they're upgraded.
Notes: Several freeway routes were initially built as access roads. For the early segments of I-35 South and Loop 410 that were built first as access roads but followed within a few years by full freeways, the initial access road construction and completion is shown on the maps below as completed freeway because of the short time between those stages. For SH 151, since there was a much longer time between the opening of the access roads and the full freeway sections, the maps below will show the access road completions as non-freeway route with eventual freeway upgrades shown as they opened in subsequent years. For Loop 1604, which was preceded by FM roads, those roads will also be shown as non-freeway when they were built and the various segments shown as completed freeway as they were upgraded to such in the following years. Finally, a few segments of I-35 on the far south and north sides of the county were initially opened as "semi-freeways", which consisted of full divided highways with access roads, but no overpasses at intersections; the maps below will show these as completed freeway since they more-or-less functioned as such. They were upgraded to full freeways in subsequent years.
---
1949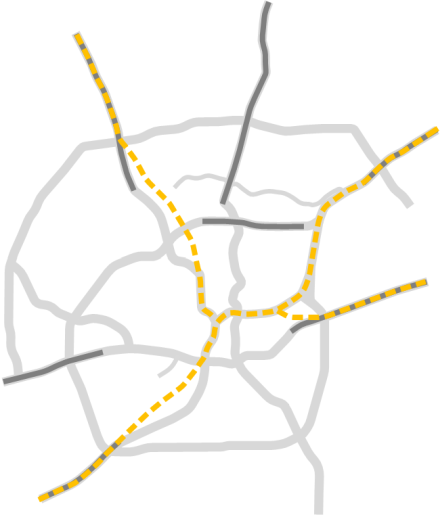 City maps from the mid-1940s show the earliest proposal for an "Urban Expressway" network consisting of today's "Downtown Y" sections of I-10 and I-35. Soon, extensions to that core system were proposed. I-35 North was proposed along what would be its eventual path. I-35 South was proposed to follow Nogalitos St. from its intersection with present-day I-35 south to New Laredo Hwy., then south along that roadway to its present-day intersection with I-35, then south along present-day I-35 from there (this would have simply been an upgrade to the existing US 81 route at that time.) I-10 West was proposed to roughly parallel the rail line from downtown to NW Bexar County. I-10 East was proposed to approach the city along the existing US 90 to the location of today's Loop 410, then head west-northwest to meet I-35 somewhere in the vicinity of Walters St.
Today's section of Loop 410 between NW Military Hwy. and Harry Wurzbach Rd. was actually part of the longer Harry Wurzbach Military Highway, which was a single road connecting Fort Sam Houston to Camp Bullis.
---
1952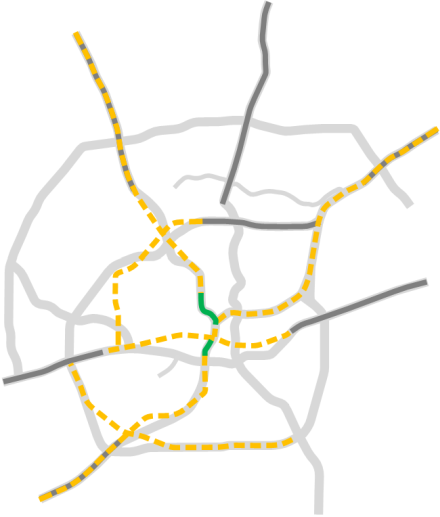 Construction of the city's first expressway, US 87 (also today's I-10) from Fredericksburg Rd. at Woodlawn Ave. to Frio St. (Comal St. at that time), started in 1946 with the first section, the 7/10th of a mile stretch from Fredericksburg Rd. to Culebra Ave., opening quietly and without fanfare on July 8, 1949. On November 28, 1949, a ribbon-cutting ceremony on the Colorado St. overpass celebrated the official opening of the entire expressway from Woodlawn Ave. to Frio St. From there, traffic used the existing Laredo St./Cameron St. boulevard along San Pedro Creek to reach downtown. About a year later, the expressway was extended along that boulevard from Frio St. to Martin St. where it merged into Pecos St. going southbound and from San Saba St. coming northbound. The first section of today's I-35 South, stretching from Guadalupe St. at Pecos St./San Saba St. south to Nogalitos St., then opened in late 1952, leaving a short gap between the two expressway sections along the west side of downtown.
The proposal for I-10 West had now been modified to run further to the west and parallel to Fredericksburg Rd., heading northwest from Fresno Ave. to meet Fredericksburg Rd. just south of Huebner Rd. The I-35 South proposal would have had it run due south from its intersection with Nogalitos St. to Southcross Blvd., then southwest from there to today's intersection of Zarzamora St. (Aviation Rd. at the time) at I-35, then west from there to join US 81 (New Laredo Hwy.)
The city's 1951 master plan, the so-called "Lilly Report" (named after the city's chief engineer at the time), had three proposals for Loop 13. On the North Side, the proposed route west of NW Military Hwy. would have routed it to the intersection of Callaghan Rd. and Fredericksburg Rd. (Callaghan did not continue east of Fredericksburg at that time.) It then would have followed Callaghan Rd. southwest and south to US 90. On the South Side, the existing Loop 13 along Military Dr. had become too developed to continue to be a high-speed corridor, so the plan was to build a new loop route a couple of miles south along Chavaneaux Rd. from Goliad Rd. west to Palo Alto Rd. (SH 346 at the time), then west-northwest to US 81, then northwest to Dwyer Rd. at Covel Rd., then along Dwyer Rd. to US 90 west of Lackland AFB; most of this route would eventually become the southern and southwestern sections of Loop 410. Finally, on the Northeast Side, the existing Loop 13 on WW White Rd. was proposed to continue northward along what's now Loop 410 and I-35 to Randolph Blvd. Those sections of Loop 13 were not necessarily intended to be expressways initially.
Although I cannot find an official route map for it, I have discovered a couple of Highway Department aerial views from this time with a hand-drawn proposed expressway route through Southtown and the East Side as well as some artist's renderings for a proposed US 90 expressway cutting through the middle of the King William District and a proposed interchange at I-35 near Guadalupe St. These all appear to outline an early proposed route for a US 90 expressway. Coming from the east, the route would have used today's I-10 to Salado Creek. From there, the route would have followed the Aransas Ave. corridor to near New Braunfels Ave. where it would have turned west and followed the Indiana St. corridor. After crossing today's I-37, it would have turned northwest and crossed Presa St. and St. Mary's St. at Sadie St. Continuing northwest, it would have crossed Alamo St., the King William District, and the San Antonio River between Sheridan St. and Beauregard St. It then would have continued along Arsenal St. and El Paso St. to the aforementioned interchange with I-35. West of there, I haven't found any definitive route plans, but it seems like it probably would have used the Guadalupe St. and Castroville Rd. corridors to Acme Rd. and then the current route of US 90 west of there.
---
1955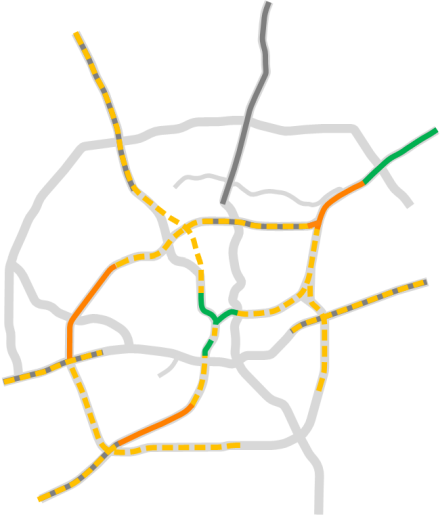 The first section of I-35 North, from Martin St. to Broadway, had been completed and was now open. The first major section of freeway outside of downtown-- the section of I‑35 from Toepperwein Rd. to the county line, including an interchange at Pat Booker Rd.-- was complete and the section between Fratt and Toepperwein Rd. was starting construction.
Construction on other outlying freeways was also underway including the first section of access roads for Loop 410 running from US 90 to Bandera Rd. The alignment for I-35 South between Nogalitos St. and the future Loop 410 had been adjusted yet again, this time to its final alignment, and the access roads were now under construction from SW Military Dr. to Loop 410.
There was no routing for most of I-10 East and US 90 West inside Loop 410 in local plans at this time, so it seems the earlier proposal had been scrapped. Despite it not being in local plans, a routing for I-10 East in the 1955 "Yellow Book" of proposed Interstate routings in metropolitan areas showed it essentially following the Commerce St. corridor to near downtown, then perhaps the Montana/Nueva St. corridor to I-35. It's possible this was a generic "placeholder" routing while an exact routing was studied. Meanwhile, plans for US 90 West of Military Dr. were underway.
The alignment for I-10 West had moved again, this time running north-northwest to intersect with Loop 410 at Vance-Jackson Rd., then northwest to meet today's I-10 alignment just south of Wurzbach Rd. By the middle of 1955, however, the ultimate routing between Woodlawn Ave. and De Zavala Rd. would be set. Interestingly, it seems no local plans-- at least any that were made public-- show the "Yellow Book" route that appears to follow Fredericksburg Rd.
Routing for the SE segment of Loop 410 as well as I-37 was in limbo awaiting a decision on a possible runway expansion at Brooks AFB, but most of the alignment for the rest of Loop 410 had been finalized.

---
1957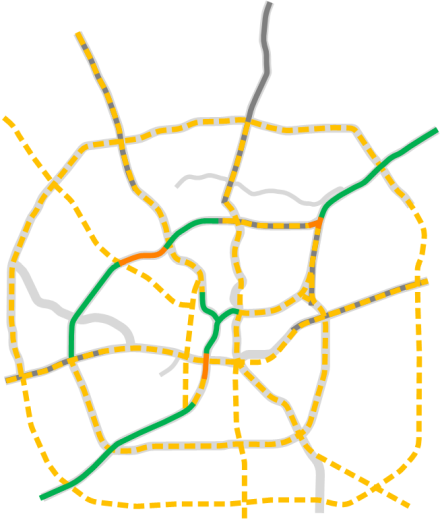 With strong public support and federal funding now covering 90% of construction costs, expressway planning reached a fevered pitch by 1957. By this time, San Antonio was generally ahead of other cities, with the Express-News reporting that San Antonio was "outdoing all other Texas cities who, despite their boasting, have been unable to get an Expressway [sic] into their major business and shopping areas", and officials were hoping to continue the momentum with the release of an ambitious freeway plan in 1956.
The latest proposal for I-10 West was for the alignment that would eventually be built. A new proposal for I-10 east of I-37 would have routed it along the Bailey Ave. corridor to Clark Ave. before turning northeast to meet Houston St. just east of Commerce St. The first proposals for the eventual US 281 North and US 90 West were now known and the routing for the southeastern arc of Loop 410 had been settled. The eventual route for I-37 inside Loop 410 was on the books, but as this was still anticipated to be a freeway for US 181, it followed the US 181 corridor south of Loop 410. (I-37 wouldn't be in the cards for a couple of years still.)
Several other freeways were proposed that eventually would be scrapped including a US 281 South freeway along Roosevelt Ave., the Bandera Expressway along Culebra Ave. and Bandera Rd. (it will go through several iterations before being abandoned), and the first proposal for an "inner bypass" west of downtown along Zarzamora St. to connect I-10 West to I-35 South bypassing downtown. This bypass was planned to relieve congestion that had already manifested on the original sections of I-10; it, too, went through a few versions before getting scrapped.
The access roads for I-35 South from SW Military Dr. to New Laredo Hwy were complete and the freeway was now being extended from Nogalitos St. south to Division Ave. The "semi-freeway" from New Laredo Hwy. south to Loop 1604 was also complete as was the elevated "Central Expressway" connecting the three previously completed expressways north and south of downtown and which carried motorists "in the air through downtown" according to news reports at the time.
I-35 North from Fratt to Toepperwein Rd. was complete and work on the Fratt interchange was nearing completion.
The first section of Loop 410, from Culebra Rd. to Bandera Rd., opened in 1956 as a two-lane (i.e. one lane in each direction) freeway (sometimes called a "Super Two") followed a month later by the section from Culebra Rd. to Marbach Rd. ("Super Two") and Marbach Rd. to US 90 (access roads.) 1957 saw the opening of the Loop 410 mainlnes from Fredericksburg Rd. to Vance-Jackson Rd. and the access roads from there to San Pedro Ave.
The first proposals for an "Outer Loop" (now Loop 1604) were also made at this time. The western arc, from I-10 to US 90, was originally designated Loop 334 before being merged with FM 1604 in 1959.
Loop 1604 note: I only show the overall Loop 1604 proposal during this year. It remained in the local highway plans from this point forward, but it was initially built as Farm-to-Market roads. For clarity, from this point on, I'll only designate "proposed freeway" sections for Loop 1604 when plans were released to upgrade those f road sections to a freeway.
---
1959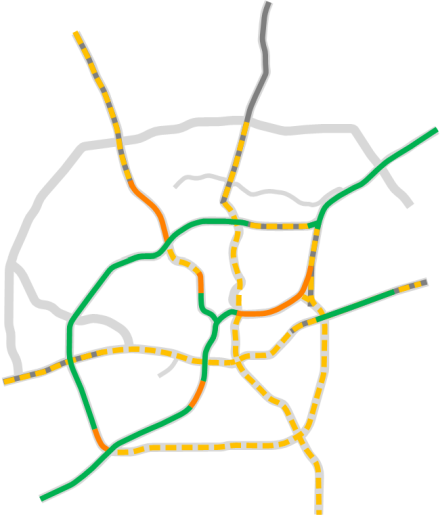 The access roads for Loop 410 from Bandera Rd. to Babcock Rd. and full freeway from Babcock Rd. to Fredericksburg Rd. were now complete. I-35 South had been completed from Nogalitos St. to Division Ave. and was under construction between Division Ave. and SW Military Dr.
I-35 North from Broadway to Rittiman Rd. was now under construction.
I-10 West was now under construction from Loop 410 north to Fredericksburg Rd. and from Woodlawn Ave. to Fresno St. The southwest segment of Loop 410 between US 90 and Pearsall Rd. was complete and was under construction from there to I-35.
The final routings for I-10 East inside Loop 410 and for I-37 had finally been mapped. I-10 East from just inside Loop 410 to FM 1516 was complete.
The Bandera Expressway, Roosevelt Ave. expressway, and inner bypass had been dropped from plans.
---
1961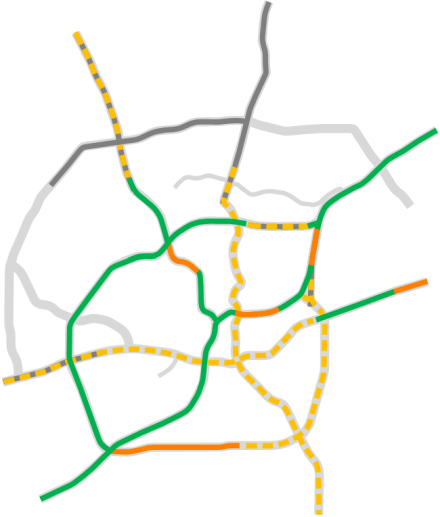 Substantial sections of freeway were now open to traffic. The earlier sections of Loop 410 between US 90 and NW Military Dr. that were initially built as access roads had now been upgraded to full freeway, and the section from Pearsall Rd. to I-35 was complete. However, only the western arc of 410 from I-10 West to I-35 South carried the Interstate 410 shield; the section east of I-10 was marked as State Loop 410 because it was not yet part of the national Interstate Highway system. Loop 410 on the South Side between I-35 and Roosevelt Ave. was under construction.
All of I-35 South was now complete; the previous section of I-35 South that had been built as access roads had now been upgraded to a full freeway.
I-35 North from AT&T Center Pkwy. to Rittiman Rd. was now open while construction on the remaining sections between Broadway and AT&T Center Pkwy. and from Rittiman Rd. to Fratt were nearing completion.
I-10 West was now complete from Loop 410 north to Fredericksburg Rd. and from Woodlawn Ave. to Fresno St. and was under construction from Fresno St. to Loop 410. The section of I-10 East from FM 1516 eastward was also under construction.
Finally, the first section of the two-lane FM 1604 was complete between I-10 West and US 281 followed shortly thereafter by the section from I-10 to Bandera Rd.
---
1964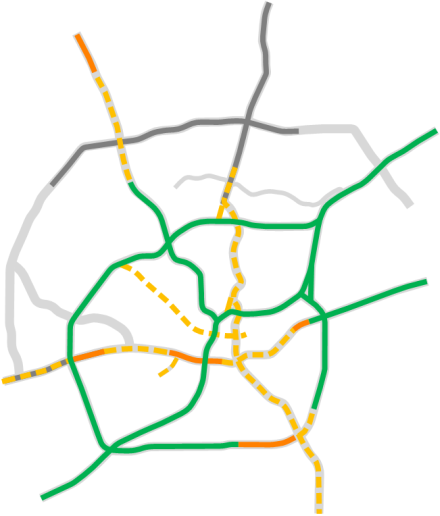 With federal Interstate Highway funding now pouring-in and approval from city voters of another expressway bond proposal, construction was continuing briskly. In 1962, all of I-35 in Bexar County was open, making I-35 the first metropolitan Interstate in Texas to be fully completed. I-10 West was now complete inside Loop 410 and was under construction from Leon Springs to Boerne. I-10 East was complete east of WW White Rd. and was under construction from there to E Houston St.
Loop 410 on the South Side was open from I-35 east to Roosevelt Ave, most of the eastern arc from I-35 south to S WW White Rd. was complete, and the sections between San Pedro Ave. and I-35 North had been upgraded to a full freeway by this time.
The first sections of US 90 West, from I-35 to Cupples Rd. and Loop 410 to Pinn Rd., were just starting construction. An additional section of the two-lane FM 1604 from US 281 to Bulverde Rd. was complete.
New routes were now on the drawing boards including Spur 371 (the "Kelly Access Freeway", now General Hudnell Dr.) and a resurrection of the previously-proposed Bandera Expressway with a routing that had it starting on the East Side near Commerce St. at Monument St., then crossing south of downtown generally along today's Cesar Chavez Blvd., then along El Paso St. to Zarzamora St. before turning northwest to run mostly parallel to and just to the west of Bandera Rd. before ending at Loop 410.
The routing of the North Expressway (US 281 North), which would soon become quite controversial, was now being fleshed-out. Two small freeway connectors were also planned for the North Expressway: San Pedro Ave. connecting Loop 410 to US 281, and the St. Mary's Connector, running parallel to St. Mary's St., connecting US 281 to I-35 just north of downtown. It would have also featured a downtown feeder spur in conjunction with elaborate distribution ramps for the other freeways surrounding downtown.
---
1967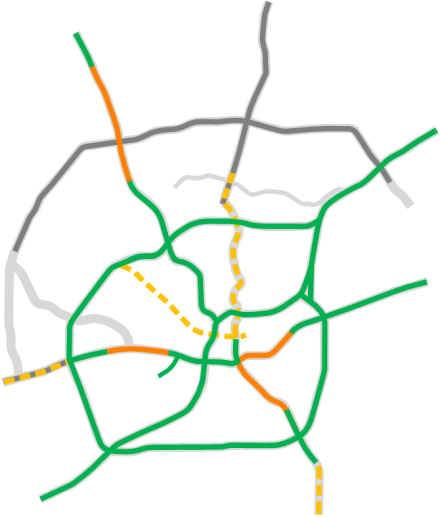 Freeway construction continued to move forward full-steam in preparation for HemisFair in 1968. By 1967, the bulk of today's freeway system was either complete or under construction. All of Loop 410 was now done, but the section from I-10 West to I-35 North still carried the State Loop 410 designation; it would not see an Interstate 410 shield until mid-1969.
The first section of US 90 West from I-35 to Cupples Rd. was open as well as the access roads between Loop 410 and Pinn Rd. I-10 between I-35 and I-37 was completed as was Spur 371 (General Hudnell Dr.) I-37 was complete from US 181 to SE Military Dr. and from I-10 to Florida St., and was under construction between I-10 and SE Military Dr.
FM 1604 had been extended south from Bandera Rd. to Culebra Rd. and from Bulverde Rd. to Pat Booker Rd. I-10 West from Leon Springs to Boerne and beyond was complete and was under construction between Leon Springs and Fredericksburg Rd.
Controversy was swirling around both the Bandera Expressway and the North Expressway. The San Pedro Ave. and St. Mary's connectors for US 281 appear to have been scrapped.
---
1969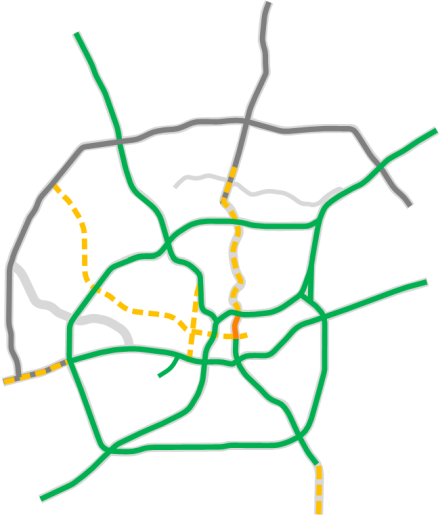 When HemisFair opened in 1968, most of the city's freeway system was in place. All of I-10 and I-35 were open. US 90 West was complete inside Loop 410, and I-37 between I-10 and SE Military Dr. had been opened. The section of I-37's right-of-way next to the HemisFair area had been temporarily paved and used as a parking lot for the fair, but work started shortly after the fair closed to complete the freeway from Florida St. north to I-35.
FM 1604 had been extended to US 90 West and to I-10 East.
By this time, controversy was beginning to rage over the Bandera Expressway (also occasionally referred to as the "Hill Country Expressway"). A new alignment for the route west of Zarzamora St. had been proposed which had it veering west at 24th St. a few blocks north of Commerce St., then gradually turning northwest at Acme Rd. to cross Loop 410 near Culebra Rd. before more-or-less following Leon Creek to Bandera Rd., then along Bandera Rd. to Loop 1604.
Also making a renewed appearance in freeway plans was the I-10 bypass, which would run in the Navidad St. corridor from I-10 near Fulton to US 90. A large interchange was planned where it would intersect the Bandera Expressway east of the Guadalupe/Zarzamora intersection. Both the Bandera Expressway and I-10 bypass faced opposition due to the large number of homes and businesses that would be displaced and its possible impact on federal funding for the "Model Cities" urban renewal area on the near West Side, which both expressways would bisect.
---
1973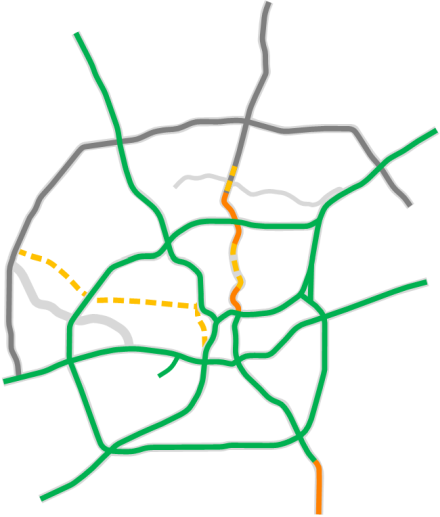 The controversies over both US 281 North and the Bandera Expressway continued to rage on.
Work on the undisputed northern and southern parts of US 281 had begun in 1969, but was suspended in 1971 when the Conservation Society won a decision to revoke federal funding. In 1973, Congress allowed the state and city to complete the freeway without federal funding and work resumed immediately.
Meanwhile, the previous Bandera Expressway route had been scrapped due to its path through the Model Cities area on the near West Side. A new proposal for the freeway, now officially being called the "Northwest Transportation Facility", routed it along Culebra Ave. from I-10 to Loop 1604; this route skirted the Model Cities area to the north. In addition, a new route for the I-10 bypass was proposed that shortened its length and took it closer to downtown following the railroad corridors, which allowed it to skirt the Model Cities area on the east.
Amid the controversies, I-37 had been completed downtown and work had started on it from US 181 south to the Loop 1604 area. FM 1604 had been extended south from US 90 all the way to SH 16 South.
---
1979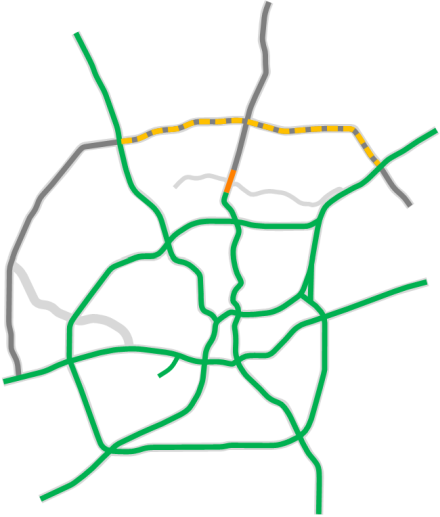 The bitter war over US 281 North was finally over and the freeway opened in 1978 with the last section of the original plan, from San Pedro Ave. to Bitters Rd., under construction.
The Bandera Expressway, however, had been scrapped by this time along with the I-10 bypass. Instead, planning was now underway to double-deck I-10.
The last sections of FM 1604 south of the city were now under construction and the road would soon be renamed Loop 1604. Planning to upgrade the increasingly busy and dangerous northern arc to a freeway was underway.
---
1984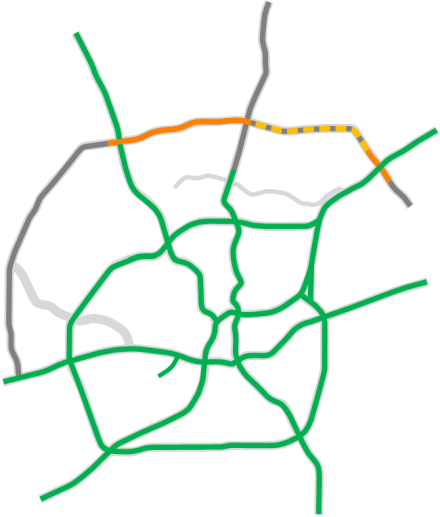 By the mid '80s, suburban growth was beginning to reach the northern sections of Loop 1604. As a result, an upgrade of the loop to a freeway was underway from I-10 West to US 281 North and in the area around I-35 North, and was planned between US 281 and I-35.
---
1987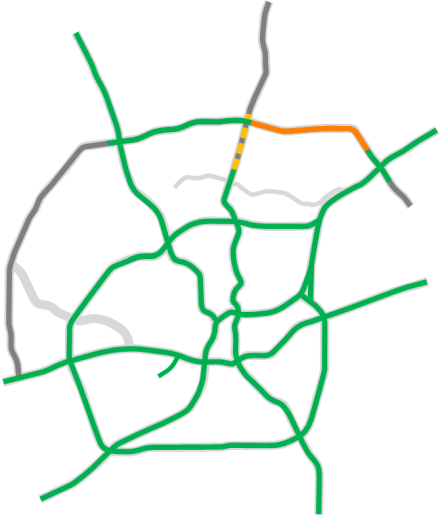 The Loop 1604 upgrade from I-10 to US 281 was complete as was the new Loop 1604/I-35 North interchange, and work was progressing to upgrade 1604 between US 281 and I-35. Plans to upgrade US 281 from Bitters to Loop 1604 were announced, and the access roads for SH 151 outside Loop 410 were under construction (not indicated on map.)
---
1990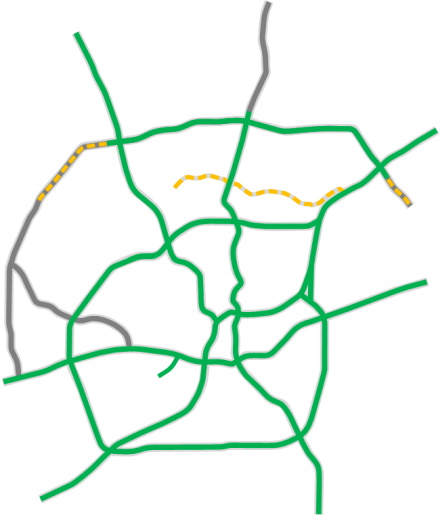 The most heavily traveled sections of Loop 1604 across the North Side had now been upgraded to a freeway, ending the days of the "Death Loop", so-called because of the high number of fatal accidents that had occurred along it. Plans were now in the works to extend the western end of the freeway south to Bandera Rd.
Work to upgrade US 281 North between Bitters Rd. and Loop 1604 was completed in record time, and the SH 151 access roads were now complete along its entire route. Initial proposals for an "East-West Parkway"-- subsequently named Wurzbach Parkway-- to relieve traffic on Loops 410 and 1604 had been announced.
---
2000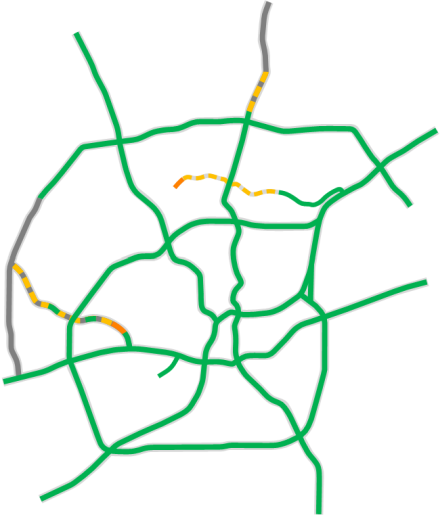 At the dawn of the new millennium, short sections of freeway mainlanes had been added to SH 151 at Potranco Rd., Pinn Rd., and Old Highway 90, and the freeway mainlanes from Old Highway 90 to Callaghan Rd. were under construction. Proposals to finish the SH 151 freeway were now on the books.
An overpass on Loop 1604 at Kitty Hawk Rd. built in the mid '90s essentially extended that freeway east to FM 78. On the western end, Loop 1604 had been upgraded to a freeway from John Peace Blvd. to Bandera Rd.
The first section of the Wurzbach Parkway was open from Wetmore Rd. to O'Connor Rd. and the segment from Lockhill-Selma Rd. to NW Military Hwy. was nearing completion.
The first plans to upgrade US 281 from Loop 1604 to Stone Oak Pkwy. were announced.
---
2005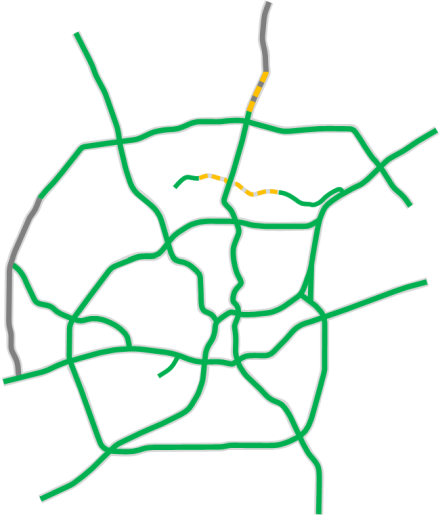 Work to complete the mainlanes of SH 151 had been completed by 2005. Wurzbach Parkway was done now from Lockhill-Selma Rd. to Blanco Rd. and plans were on the books to finish the remaining segments.
Previous plans to expand US 281 from Loop 1604 to Stone Oak Pkwy. had been put on hold due to funding issues, and proposals to build it as a tollway created a storm of controversy that would delay it for over a decade.
---
2012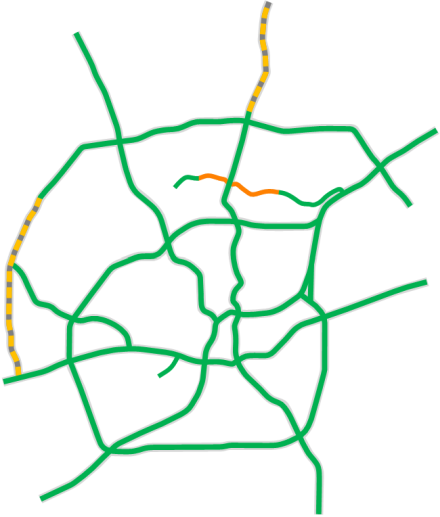 Work to finally build the missing middle segments of Wurzbach Parkway was now underway and plans were announced to extend the Loop 1604 freeway south from Bandera to US 90. Plans to expand US 281 north of Loop 1604 now extended all the way to the county line, but those plans were embroiled in ongoing controversy as the expansion would include toll lanes.
---
2015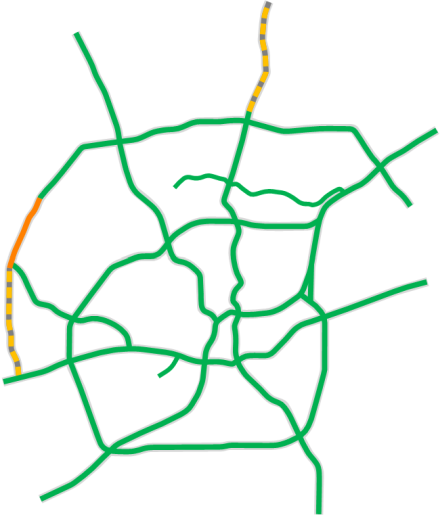 Construction on the first phase to expand Loop 1604 West, from Bandera Rd. to SH 151, was now underway. New funding that would allow the expansion of US 281 to proceed without tolls was approved.

---
2020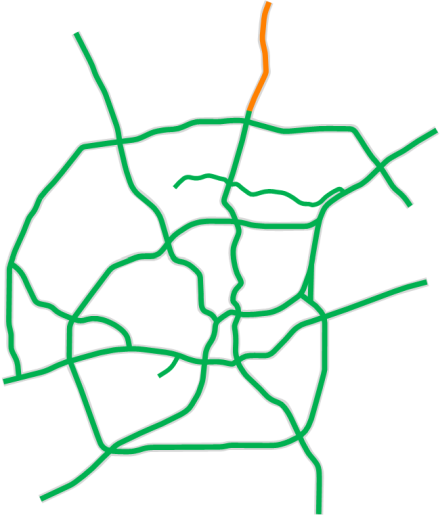 The expansion of Loop 1604 on the West Side from Bandera Rd. all the way to US 90 was complete, and work had finally started on the long-anticipated expansion of US 281 North.
---
Other pages of interest on this site
---
Other sites of interest