San Antonio Area Freeway System
PROJECT INFO: Loop 1604 from FM 78 to I-10 East
---
This page last updated January 29, 2022
This project is currently in design
The descriptions below are based on preliminary schematics and, as a result, details may change before the project goes to construction. This page will be updated when final schematics for the project are available.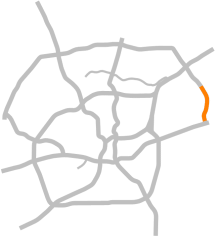 Location
Loop 1604 from FM 78 to I-10 East

Status
Advanced planning


Timeline
Construction is not yet scheduled. As of this writing, it is penciled-in to start in 2032. However, funding could be allocated sooner. It is estimated construction would take about three years to complete.

Description
This project will upgrade Loop 1604 in this area from a divided highway to a full freeway. Mainlane overpasses will be constructed at Rocket Lane, Lower Seguin Road, Graytown Road, and Binz-Engleman Road. Access roads will be built throughout the entire corridor except through the Salitrillo Creek floodplain. Overpasses for the access roads over the railroad tracks at FM 78 will be built to connect with new access roads being built north of FM 1976 as part of a separate project. Lower Seguin Road will be realigned to cross Loop 1604 at a single, perpendicular intersection.

Because of the railroad tracks at FM 78, a traditional exit for southbound Loop 1604 to FM 78 and corresponding entrance to northbound Loop 1604 from FM 78 are not possible without significant elevating of FM 78 (deemed too costly.) Instead, a series of dedicated turnarounds will be provided to facilitate those movements:
Traffic headed from southbound Loop 1604 will exit onto a dedicated ramp with an elevated turnaround that will drop that traffic directly onto the northbound access road to FM 78.
Traffic headed from FM 78 to northbound Loop 1604 will turn onto the southbound Loop 1604 access road, then exit to the left into a dedicated turnaround which then will lead directly into an entrance ramp to northbound Loop 1604.
A third southbound to northbound turnaround, just south of Hanover Cove, will provide an additional crossover opportunity in that area.
This project will end just north of I-10 East and the existing signalized intersections there will remain for now. Stubs for planned future interchange flyovers will be built on Loop 1604 as part of this project.

How this project will help
Traffic has been increasing on this stretch of Loop 1604 and is expected to continue, so this project will facilitate that anticipated traffic.
FAQ
Why does this project not include flyovers to/from I-10?


Simply-put, there is not enough funding available at this time to include flyovers. Although it won't be ideal, the existing intersections at I-10 should be able to adequately handle expected traffic for a few more years until funding for the first flyovers can be secured.



What is with the wacky U-turns to get to and from FM 78?


Because of the railroad tracks, traditional exit and entrance ramps on the north side of FM 78 are not possible without elevating FM 78 and probably also Loop 1604. Doing so would be cost-prohibitive, so the the U-turn ramps were the next best solution.



Why is there no northbound exit to FM 1976?


Like with the FM 78 question above, the railroad tracks there make a traditional exit impossible. While FM 78 has the the traffic volumes to support the more elaborate ramps required, FM 1976 does not.


Schematic
Click on the image below to open the detailed schematic for this project from TxDOT with my own annotations added to help clarify and explain the various elements. The schematic will open in a new window that you can scroll and zoom. These plans are preliminary and subject to change.

(Note: the schematic is somewhat large and may take a few seconds to open.)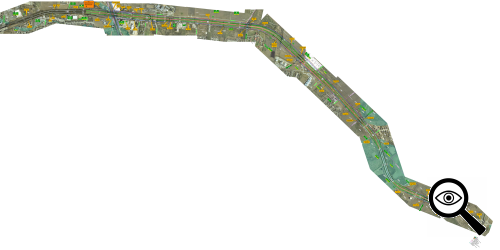 ---
Other sites of interest