San Antonio Area Freeway System
PROJECT INFO: US 281 at Basse
---
This page last updated August 20, 2022
This project is currently in design
The descriptions below are based on preliminary schematics and, as a result, details may change before the project goes to construction. This page will be updated when final schematics for the project are available.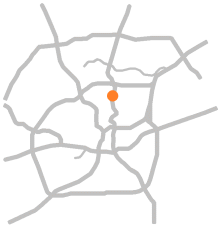 Location
US 281 at Basse Road

Status
Advanced planning

Timeline
Construction is not yet scheduled. As of this writing, it is listed to possibly start in 2032 and would take about a year to complete.

Description
This approximately $7 million project will make improvements to the US 281/Basse Road interchange. The existing cloverleaf ramps from westbound Basse to southbound US 281 and from northbound US 281 to westbound Basse will be removed. They will be replaced with an exit ramp from southbound US 281 and an entrance ramp to northbound US 281. The existing entrance ramp to southbound US 281 from eastbound Basse will be re-aligned to provide access from both directions of Basse via a new signalized intersection. Another new signalized intersection at the remaining existing northbound exit ramp will facilitate left turns onto westbound Basse from US 281.

Motorists wanting to enter northbound US 281 from eastbound Basse will utilize a displaced left-turn (DLT) lane. This means that traffic making that turn will cross over to the other side of Basse Road well in advance of the location of the entrance ramp (in this case, the crossover will be at the location of the southbound entrance ramp.) The crossover will be signalized. They will then travel in a median-separated contraflow lane to the left of westbound Basse traffic, pass through the intersection with the new southbound exit ramp, continue under US 281, and directly enter the new northbound entrance ramp. (Yes, this probably sounds confusing, so see the diagram and schematic below to better understand it.)

The DLT configuration will also slightly change how traffic from the new southbound exit ramp turns right onto westbound Basse. Instead of turning directly onto the Basse mainlanes at the intersection, they will instead travel a short distance in a barrier-separated lane alongside the contraflow lane described above, then merge into Basse Road. This allows that traffic to avoid all conflicts in the interchange. (Again, see the diagram below for clarification.)

A companion project to improve traffic flow is planned at Jones-Maltsberger.


TRAFFIC FLOW FOR EASTBOUND BASSE TO NORTHBOUND US 281
AND SOUTHBOUND US 281 to WESTBOUND BASSE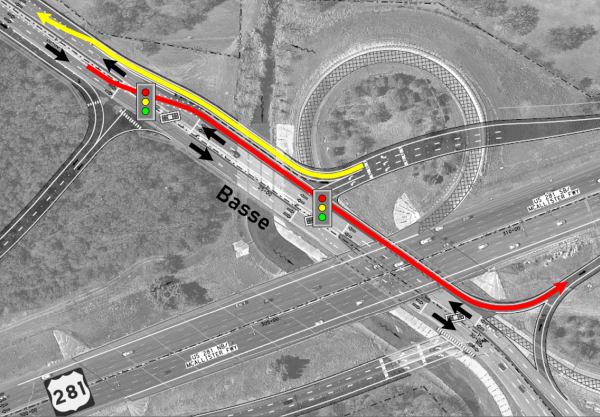 EB Basse to NB US 281 is shown in red
SB US 281 to WB Basse is shown in yellow
Black arrows are regular mainlane traffic flow on Basse
How this project will help
Adding the new exit and entrance ramps will allow traffic that currently has to use the Jones-Maltsberger interchange to instead use this interchange. This should help to reduce congestion at the Jones-Maltsberger interchange as well as on Jones-Maltsberger and Basse in the vicinity of the Alamo Quarry Market.
Using the DLT configuration will help this intersection operate more efficiently for the long-term. Shifting that left-turning traffic out of the way of opposing traffic reduces the number of signal phases required, thus allowing the intersection to move more traffic per signal cycle. Since it is anticipated that the westbound Basse to southbound US 281 movement will be quite heavy, shifting the opposing left turn movement out of the way will provide an especially significant improvement over a conventional intersection at this location. See the Bandera and 1604 DLT project page for more information about the benefits of a DLT.
FAQ
This looks confusing. It will cause lots of crashes.
While it may look complicated on the schematics, it's actually fairly easy to navigate on the ground. See the "how-to" video at the bottom of this page. Statistics from DLT implementations show a significant reduction in crashes and practical experience from other DLT locations shows drivers quickly adapt to it.



How does this improve traffic?


The new ramps will allow another access point onto northbound 281 and another exit from southbound 281 in this area. Today, all traffic wanting to make those maneuvers have to use the Jones-Maltsberger interchange. This adds congestion to that interchange as well as to Jones-Maltsberger and Basse Road in between. Making this interchange accessible from all directions should help to alleviate that congestion.

The DLT component of this intersection design will help keep this intersection operating efficiently because shifting the eastbound left-turning traffic to the left side of the road through the interchange removes the conflicts between that left turn and opposing traffic that you would have in a conventional intersection. As a result, traffic in two of the four legs of the intersection can move during a single green phase instead of needing two separate phases, thus moving more traffic through the intersection in the same amount of time.



Will there be turnarounds?


No, this project will not add turnarounds. There is insufficient demand at this location for turnarounds.



How is this different than the intersection under construction at Bandera and Loop 1604?


This is the same concept as the intersection being built at Bandera and 1604. However, in this case, this is only a partial DLT; specifically, only a half DLT. (There is a similar partial DLT in operation in San Marcos on Aquarena Springs Drive at I-35.) Also, the Bandera/1604 intersection (as well as the San Marcos location) facilitates straight-through traffic on the access roads; that's not needed here.



Who came up with this cockamamie design?


Most of this new intersection is a conventional "diamond" interchange in use around the world. The DLT design has been around for several decades and is in use in several dozen locations in the US and internationally and has a proven track record of improving traffic wherever it has been implemented. It is one of several types of "innovative" or "alternative" intersection designs being implemented across the country at intersections that do not warrant more expensive conventional upgrades (e.g. flyovers.) Because of the heavy westbound to southbound turning movement expected here, the DLT will help this intersection operate efficiently for the long-term.


Schematic
Click on the image below to open the detailed schematic for this project from TxDOT with my own annotations added to help clarify and explain the various elements. The schematic will open in a new window that you can scroll and zoom. Below that is a "how-to" video on making a left turn at a DLT .



Video
TxDOT has a good video that describes this project and the one at Jones-Maltsberger:
---
Other sites of interest