San Antonio Area Freeway System
PROJECT INFO: I-10 East/Loop 410 Interchange
---
This page last updated November 18, 2023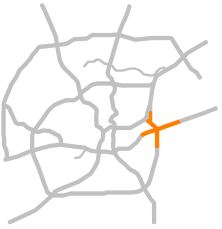 Location
I-10 East from Commerce St. to Foster Rd. and Loop 410 from Rigsby Ave. to I-35 North



Status




Phase 1:

Under construction (67% complete)


Phase 2:

Unfunded

Timeline
Phase 1: Construction began in July 2021 and is expected to be completed in early 2025.
The flyover from northbound Loop 410 to eastbound I-10 opened on July 31, 2023.
Phase 2: Currently no timeline pending funding.

Description
This $450 million project will replace the existing obsolete cloverleaf interchange at I-10 East and Loop 410 with a five-level interchange with flyover connectors and continuous access roads through the interchange on both I-10 and Loop 410. Those access roads will intersect at signalized intersections within the interchange (similar to the Loop 1604/US 281 or Loop 410/SH 151 interchanges), allowing for full local access in all directions.

Phase 1, costing about $166 million, includes the following:
The Loop 410 northbound to I-10 eastbound flyover

(preliminary plans to include the Loop 410 southbound flyover to I-10 eastbound in this phase were dropped)

The I-10 westbound to Loop 410 southbound flyover

(this flyover will top-out at about 120 feet!)

Ramp relocations and access road improvements on southbound Loop 410 between I-10 and Rigsby Ave., specifically:

Relocating the southbound exit to Rigsby Ave. about 1/3rd mile further north
Moving the southbound exit to Houston St. about 1/4th mile further north
Moving the southbound entrance ramp from Houston St. about a mile further south


Re-alignment of the Loop 410 southbound mainlanes from I-10 to Rigsby Ave. including the addition of a 3/4 mile auxiliary lane from the new entrance from I-10

None of the existing ramps in the cloverleaf will be removed in Phase 1; however, the movements that remain in the cloverleaf should see substantially improved operation as the traffic using the new flyovers will no longer be using the cloverleaf, thus reducing weaving conflicts in several areas.
The remaining flyovers will be built in a future phase. In addition to the main interchange, that future phase will also make the following major improvements along Loop 410 north of I-10:
Construct an overpass at WW White Rd. and connect WW White to Cornerway Blvd.
Construct a Displaced Left Turn (DLT) interchange at the new WW White Rd./Cornerway Blvd./Loop 410 intersection
Replace the existing northbound Loop 410 left-hand exit to I-35 southbound with a right-hand exit and underpass
Re-align the Loop 410 mainlanes
Construct continuous access roads in both directions of Loop 410 over FM 78 and the adjacent railroad
Construct a continuous southbound access road through the Loop 410/I-35 southbound cutoff (near WW White) with crossovers/turnarounds
Remove the existing exit to FM 78 from the I-35 northbound to Loop 410 southbound connector and replace with a conventional exit ramp to a realigned frontage road providing access to WW White Rd. and FM 78 (via a turnaround)

The following additional improvements elsewhere in the vicinity will also be made:
Build a continuous access road on I-10 westbound between Loop 410 and WW White Rd.
Build turnarounds at WW White Rd.
Relocate various entrance and exit ramps along I-10 between Loop 410 and Commerce St.
How this project will help
These interchanges are over 50 years old and are now obsolete. Growing traffic volumes in these corridors, including increasing truck traffic from the numerous nearby warehouses, is straining these old interchanges. The new interchanges will accommodate current and future traffic volumes and improve safety. The new underpass connecting WW White to Cornerway will improve local circulation by providing a new route to northbound Loop 410 from WW White and to southbound Loop 410 from the Cornerstone industrial park. Building this new intersection as a DLT will help it accommodate expected traffic volumes well into the future. Adding the new continuous frontage roads and turnarounds through the I-10/Loop 410 interchange, along Loop 410 near FM 78 and WW White, and also along I-10 westbound near WW White will provide improved local access and allow more optimal placement of entrance and exit ramps in the area. Adjusting other ramp locations in the project area will bring them to modern standards and improve traffic flow and safety.
Schematics
Below are the detailed schematics for this project from TxDOT with my own annotations added to help clarify and explain the various elements. Click on an image below to open the schematic in a new window that you can scroll and zoom.

Note that the schematics used here are preliminary and subject to change. The complete project plans show an obsolete proposal for the I-10 mainlanes; the Phase 1 plans include the revised mainlane plans, which which are acutally currently under construction.as part of a separate project on I-10.
The Phase 1 schematic here was preliminary and has since changed. These changes are noted in the annotations.

---
Other sites of interest