San Antonio Area Freeway System
PROJECT INFO: I-10 East Expansion (Loop 1604 to Pfeil Rd)
---
This page last updated May 12, 2023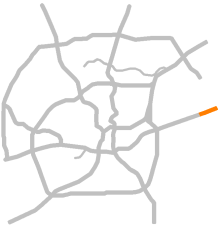 Location
I-10 East from Loop 1604 to Pfeil Rd



Status


Under construction (72% complete)

Timeline
Construction started in February 2020 and is expected to be complete in early 2025.

Description
This project will widen the I-10 mainlanes from four lanes (two each way) to six lanes (three each way), reconfigure the intersection at Graytown Rd., raise the overpasses at Loop 1604, adjust entrance and exit ramps, and convert the access roads to one-way.

This project essentially extends the work being done between Loop 1604 and Loop 410.

Other than raising the I-10 overpasses over Loop 1604, this project does not make any changes to the Loop 1604 interchanges; a future project will add elevated connectors (flyovers) there.

How this project will help
This section of I-10 has experienced significant traffic growth over the past decade and the adjacent area is beginning to see increasing development, so the additional lane in each direction should accommodate anticipated traffic volumes for the next couple of decades. This project also dovetails on a statewide plan to expand all of I-10 between San Antonio and Houston.

Schematic
Below is the detailed schematic for this project from TxDOT with my own annotations added to help clarify and explain the various elements. Click on the image below to open the schematic in a new window that you can scroll and zoom.


Note that the schematic used here includes the eventual Loop 1604 interchange flyovers, access roads, and ramp revisions that are not included in this project. These discrepancies are noted in the annotations.

---
Other sites of interest