San Antonio Area Freeway System
PROJECT INFO: SH 151 from Loop 410 to Loop 1604
---
This page last updated January 29, 2023
Some changes have been made to this project
A few elements of this project have changed since the preliminary schematics were released. Those changes have been noted in the description below and on the schematics at the bottom of this page.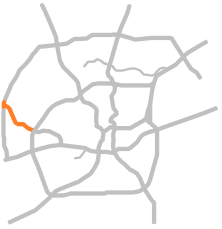 Location
SH 151 from Loop 410 to Loop 1604

Status
Construction starting soon

Timeline
Construction will start in Spring 2023 and is expected to take about 3.5 years to complete.

This project had been expected to start in 2025, but unexpected funding became available in late 2022, and because this project was shovel-ready, it was able to take advantage of that funding.

Description
This $100 million project will widen SH 151 from four to six lanes (i.e. three lanes each way) with a concrete center barrier. The new lanes will be added in the existing grassy median between the eastbound and westbound lanes.

This project will also build a new connector from westbound SH 151 to northbound Loop 1604 to replace the existing hairpin curve there. To accommodate that new connector, the existing northbound Loop 1604 exit to Culebra will be removed. The Culebra exit will be moved south to the current exit to SH 151, which will be widened to two lanes, and the northbound access road will be extended through the SH 151 interchange to reach Culebra.

The new connector will be two lanes and will be mostly at ground level with an overpass over the new extended northbound access road (essentially, a "braided" ramp.) After merging with the existing Loop 1604 mainlanes, there will be four northbound lanes (two lanes from the connector plus the existing two through lanes.) The far right lane will then exit at Shaenfield Rd., and the remaining right lane will end just past the Shaenfield exit.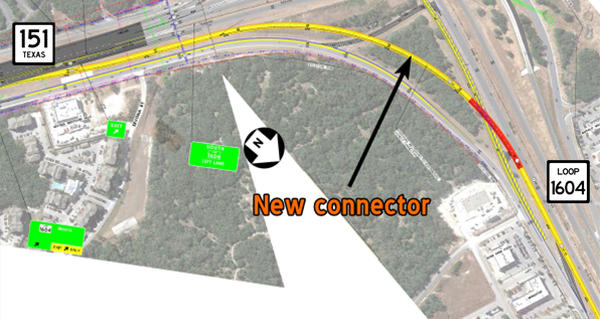 Location of planned new westbound SH 151 connector to northbound Loop 1604
(See the schematic at the bottom of this page for more details)
New turnarounds will be added at Military Dr., Westover Hills Blvd., and Wiseman Blvd, several existing right turn lanes at various intersections will be extended and some new right turn lanes built, and an assortment of other minor intersection improvements will be made.

A previously-planned new eastbound exit ramp to Military Dr. inside Loop 410 was dropped from this project, but may be included in a future project.

The existing lighting along SH 151 will be removed and replaced with high-mast lighting.








NOTE
The number of mainlanes shown is the number of through lanes and does not include auxiliary or transitional lanes.
The number of access road lanes varies depending on location.
Diagrams are for illustrative purposes only and are not to scale.



How this project will help
The added lanes are needed to provide capacity for current and future traffic volumes in this corridor. Traffic volumes have increased substantially since the opening of the flyover connectors at Loop 410. Computer modeling of the improvements vs. doing nothing shows a decrease in 2045 travel times of 34% to 60% depending on direction and time of day.

The connector from westbound SH 151 to northbound Loop 1604 will alleviate the congestion and safety issues caused by the current hairpin ramp there.

The turnarounds and turn lane improvements will help reduce congestion and improve operations at those intersections.



FAQ

The problem isn't that there aren't enough lanes on SH 151, it's the bottleneck at Loop 1604.


That's partially true. First of all, there is indeed a capacity problem on SH 151. For example, traffic backs-up on eastbound SH 151 in the morning. Since this is headed away from the Loop 1604 interchange, that's obviously not the cause. Adding the extra lane on 151 will help alleviate that congestion.

On the westbound side, yes, the bottleneck at the exit to Loop 1604 northbound is a major factor in the recurring congestion there during the afternoon rush hour. The new connector from westbound SH 151 to northbound Loop 1604 that's planned as part of this project should resolve that. Even so, traffic volumes headed westbound now and in the future warrant another lane being added to the corridor. In fact, since the flyovers at Loop 410 opened, traffic counts in this corridor have increased substantially.


Why didn't they build the westbound SH 151 connector to northbound Loop 1604 when they built the other flyover there?
There wasn't funding for that connector at that time. In fact, the flyover that's there now was not even originally part of the project that built it; it was added later when additional funding for it became available.


Why was that hairpin ramp from 151 to northbound Loop 1604 built that way?
This is a bit of an artifact from the original intersection there. That ramp was actually one leg of the original "T" intersection of westbound SH 151 and Loop 1604 when 1604 was just a two lane road and you could turn left there onto southbound Loop 1604. It was converted to the J-ramp that's there today about 20 years ago when Loop 1604 was upgraded to a divided highway in conjunction with the construction of the overpass at Culebra and you could no longer turn left onto Loop 1604. That overpass meant there had to be an exit for Culebra, and the proximity of that exit ramp limited where an entrance to northbound 1604 from 151 could be in order to provide adequate merging/weaving space. Given the low traffic volumes at that time and the limited funding available, a more elegant solution was not cost-effective, and so the existing road was re-purposed and converted to the J-ramp that's there today and was considered to be adequate for the time being.

A "braided" entrance ramp going from the access road over the Culebra exit was briefly considered a few years back. However, it was determined that it was not the best long-term solution and that waiting a little longer to be able to build the direct connector was the best option.



SH 151 needs to be at least four lanes each way. Adding just one lane is a waste of money.


The decision to add one lane in each direction was based on 2045 traffic projections. Sure, adding two lanes might 'future-proof" the corridor more, but it's a significant added cost that could not be justified based on the projections. Furthermore, the funding to do so is not available right now. So the options were to expand to the three lanes and provide some good relief now and for many years, or wait an indeterminate amount of time for funding to be available for four lanes.



Will the endangered spider delay this project?


Almost certainly not. The spider that caused the original project to build an underpass for SH 151 under Loop 1604 to be cancelled and re-designed is actually not even on the endangered list anymore. That said, the area is known to be habitat for other endangered spiders, so TxDOT had to consult with the US Fish & Wildlife Department to ensure that approved mitigation plans are in-place. This is a known issue this time around, and this area has been extensively surveyed now in conjunction with previous work, so no issues are expected.


Schematic
Click on the image below to open the detailed schematic for this project from TxDOT with my own annotations added to help clarify and explain the various elements. The schematic will open in a new window that you can scroll and zoom. Note that there have been a few changes in the plans since this schematic was released; these changes are noted in orange callouts on the schematic.


Video
I put together a video overview of this project:

SH 151 Expansion Preview
---
Other sites of interest