San Antonio Area Freeway System
PROJECT INFO: US 90 West Expansion (Loop 410 to SH 211)
---
This page last updated August 6, 2022
This project is in design
The plans discussed on this page are based on schematics released October 15th, 2020 and recent project schedules. As always, some details may change prior to construction. This page will be updated again if/when new plans are released.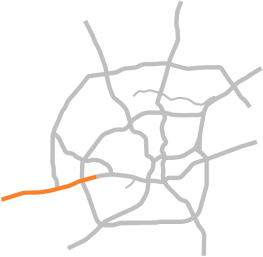 Location
US 90 West from Old Hwy 90 to SH 211



Status


Advanced planning

Timeline
The initial phases are mostly funded and it is expected construction could start in 2025 and 2028 (see below for details.) Future phases are currently unfunded and therefore have no timeline.

A preliminary project recently built the westbound to eastbound turnaround at Montgomery Rd.

Description
This project will ultimately upgrade US 90 from Loop 1604 to west of SH 211 from a four lane divided highway to a six lane freeway with access roads. It will also revise the SH 211 interchange, add an additional lane in each direction between Loops 410 and 1604, and make various operational improvements along the corridor from Loop 1604 to Old Highway 90. A later phase of this project will construct the remaining flyovers in the Loop 1604 interchange. A separate project will construct the remaining flyovers at the Loop 410 interchange.

This project is a continuation of recent projects that expanded the section between Loops 410 and 1604.

Because of the scale of this project, funding availability, and, more recently, inflation, it will be broken into multiple phases. Presently, those phases are as follows:
Phase 1:

Expansion between Loop 410 and Loop 1604. This phase is expected to start in 2025.

Phase 2:

Expansion and upgrades between Loop 1604 and SH 211 and the westbound US 90 to northbound Loop 1604 flyover. This phase is currently expected to start in 2028.

Phase 3:

Ramp revisions and operational improvements between Loop 410 and Old Highway 90. It is currently anticipated that this phase could start in 2032.

Phase 4:

Construct remaining flyovers at Loop 1604. This phase is currently penciled-in for 2034.

How this project will help
Several new large subdivisions have been constructed along US 90 west of Loop 1604 in the past decade with several more planned or underway. As a result, traffic volumes along that stretch of US 90 have increased more than 70% over the past decade. Additionally, growth along the Potranco Road corridor just to the north is likely contributing to traffic in the US 90 corridor via SH 211 and Grossenbacher Rd. Upgrading this segment to a freeway will allow it to more efficiently and safely handle current and expected traffic.
Widening the freeway between Loop 410 and 1604 will allow it to accommodate the influx of traffic both from the west as well as from Loop 1604, where growth is now occurring south of US 90.
Completing the Loop 1604 interchange will accommodate current and future traffic there stemming from the new growth south of US 90.
The operational improvements east of Loop 410 will adjust the ramps there to accommodate the future flyovers for the Loop 410 interchange and make other general improvements.
Schematics
Below are the detailed schematics for Phase 1 and the ultimate build-out of this project from TxDOT with my own annotations added to help clarify and explain the various elements. Click on an image below to open the schematic in a new window that you can scroll and zoom.

---
Other sites of interest