San Antonio Area Freeway System
Wurzbach Parkway
---
This page last updated February 12, 2023
This page covers the Wurzbach Parkway in North San Antonio.

Length: 12 miles
---
On this page
---
The Wurzbach Parkway is an east-west "super-arterial" across northern San Antonio connecting I-10 to I-35. Prior to its completion, there were no true east-west arterials between Loop 410 and Loop 1604 across the North Side. As a result, Loop 410, Loop 1604, and many of the zig-zagged arterials in the area were overburdened trying to facilitate shorter-distance east-west traffic. Wurzbach Parkway was built to facilitate many of those shorter east-west trips across the North Side, although it can and often is used for longer through-traffic journeys.
The parkway was developed under the now-retired Principal Arterial Street System (PASS) program and carries a TxDOT route number of PA 1502. Prior to 2014, this route number was not signed, and seems to be the only PASS route in the state to be signed as such. (Technically, the "PA" in the route number is short for Principal Arterial, not Parkway, although that also works.)
The route passes through a variety of urban land uses. The eastern end of the route passes through a light commercial and industrial area before entering the former Longhorn Quarry, which was redeveloped as an entertainment district with an amusement park, high school football stadium, and soccer complex including the home stadium for San Antonio's professional team. The parkway then passes through the commercial, residential, and light industrial areas around Perrin-Beitel and Nacogdoches Roads before passing over an active quarry near Wetmore Rd. Continuing west, the parkway passes through mostly undeveloped land and parkland near the airport before passing into a light industrial and commercial area. Approaching US 281, the parkway passes over the wooded Salado Creek for a short distance. West of US 281, the route continues through a mostly undeveloped area before passing over a flood control basin. Near Blanco Rd., the route traverses residential areas before bisecting Hardberger Park where a land bridge connecting the two sides of the park opened in late 2020. Commercial and residential development line the route at the far western end where it merges into the pre-existing Wurzbach Road.


Artist rendering of Hardberger Park land bridge over Wurzbach Pkwy.
---
The parkway features four and six lanes with a concrete divider. Along the original sections, a raised island separated the opposing flows; the concrete divider was added atop the island in 2010 after a series of head-on crashes. (A safety improvement project now underway will remove the raised island, leaving just the concrete divider.)
Access to local streets and driveways is limited and there are overpasses at most major intersections. While it has the general appearance and function of a narrow freeway, the route is technically classified as a "super-arterial" rather than a freeway and, as such, the road is a hybrid between a major arterial street and minor expressway.
The parkway has overpasses and interchanges at Blanco Rd., West Ave., US 281, Jones-Maltsberger Rd., Starcrest Dr., Wetmore Rd., Nacogdoches Rd., Perrin-Beitel Rd., and Thousand Oaks Dr. The interchange at Wetmore Rd. is a partial cloverleaf while the others are conventional diamond interchanges. There are no continuous access roads along the route except for the segment between US 281 and West Ave. There are several "right-in, right-out" intersections along the route: eastbound at Alon Loop, Vista Del Norte Dr., Bitters Recycling Center, Heroes Stadium/Tool Yard, and Tech Com Dr.; and westbound at Heros Stadium, McAllister Park, Vista Del Norte Dr., Bluffton Oaks, and Inverness Blvd.
While most of the parkway is controlled-access, the eastern and western ends each have two at-grade, signalized intersections; these are intended to provide a controlled transition from quasi-freeway conditions to the signalized surface roadways that the parkway connects to on either end. At the far eastern end, the parkway crosses Weidner Rd. at a signalized, at-grade intersection and then ends at a signalized intersection where it merges with the pre-existing O'Connor Rd. Through traffic can then continue east on O'Connor the short distance to I-35. The western end meets NW Military Hwy. and Lockhill-Selma Rd. at signalized, at-grade intersections before tying-into the pre-existing Wurzbach Rd. where through traffic can continue west to I-10 and beyond. Improvements were made to that section of Wurzbach to support the anticipated increases in traffic from the completed parkway, and additional improvements are being considered.
Much of the parkway has a designated bike lane in each direction. The section between Lockhill-Selma Rd. and NW Military Hwy. previously had a landscaped and lighted (but weirdly truncated and therefore virtually unused) pedestrian trail in the median that has now been removed as part of an intersection improvement project in that area. Part of the Salado Creek Greenway passes under or alongside of the parkway between US 281 and Starcrest Dr. There are several noise-abatement walls along the route.
There are currently no direct connectors to US 281. Instead, traffic destined to US 281 exits the parkway and uses the US 281 access roads. Traffic wanting to make a "left turn" from the parkway onto US 281 instead turns right onto the US 281 access road, then makes a U-turn at the next downstream turnaround (Bitters Rd. or Nakoma Dr.) Initial plans considered two possible interchange designs including an elevated roundabout or a mixed flyover and cloverleaf interchange, but funding limitations, traffic projections, and additional restrictions caused by the proximity to San Antonio International Airport's runways caused those plans to be shelved. TxDOT has indicated they may study an interchange again if future traffic volumes warrant.

EXITS

EASTBOUND (from Lockhill-Selma):
WESTBOUND (from O'Connor/Crosswinds):
Weidner Rd (signalized intersection)
Thousand Oaks Dr
Heros Stadium

(right-in/right-out)



FM 2252/Perrin-Beitel Rd
Nacogdoches Rd
Wetmore Rd
McAllister Park

(right-in/right-out)

Starcrest Dr
Jones-Maltsberger Rd
US 281
West Ave
Vista Del Norte Dr

(right-in/right-out)

FM 2696/Blanco Rd (signalized intersection)
Bluffton Oaks (right-in/right-out)

FM 1535/NW Military Hwy (signalized intersection)
Inverness Blvd (right-in/right-out)

Parkway ends at Lockhill-Selma and becomes Wurzbach Rd (signalized intersection)
SPEED LIMITS


60 mph between Blanco Rd. and Weidner Rd.

50 mph

between NW Military Hwy. and Blanco Rd.

45 mph east of Weidner Rd. and west of NW Military Hwy.
After completion, sections were initially signed at 45 mph because of TxDOT engineering policies for roadways that include curbs, sidewalks, and bike lanes. Speed studies were subsequently performed and supported an increase to the current limits.

SPECIAL FEATURES & NOTES
TRAFFIC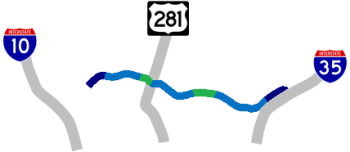 With the completion of the middle segment of the parkway in 2015, traffic counts have increased substantially throughout the corridor over the past decade.

Peak period recurring congestion occurs on each end of the corridor during the afternoon peak period: westbound approaching NW Military Hwy., and eastbound approaching O'Connor Rd.
AVERAGE ANNUAL DAILY TRAFFIC
LOCATION
2001
2011
2016
2019
2020
2021
'11-'21
% CHG
E of Weidner Rd.
5,900
15,400
24,153
25,332
19,000
20,168
+30.96%
E of Perrin-Beitel Rd.
16,700
23,000
39,036
53,821
40,916
38,522
+67.49%
E of Wetmore Rd.
22,000
25,000
39,829
49,197
36,898
37,636
+50.54%
E of Starcrest Blvd.
27,000
25,000
43,558
52,790
39,593
40,385
+61.54%
E of US 281N
44,542
33,407
34,075
N/A
W of US 281N
53,403
N/A
W of West Ave.
47,117
35,338
42,004
N/A
E of NW Military Hwy.
40,741
23,114
20,715
N/A
(

NOTE

: With the completion of the parkway west of US 281, TxDOT has been adding new counter locations there.)
---
Click here for video of this freeway.
---
NW Military Hwy. to O'Connor Rd.: This safety project will remove the existing raised center island and portable center barrier where it currently exists and replace them with a permanent concrete barrier flush with the pavement. The project will also improve drainage, improve the pavement to reduce skidding, upgrade crash barriers and guardrails, install wrong-way driver deterrence and detection systems, upgrade or replace illumination and signage, and install TransGuide cameras and a couple of dynamic message signs.
---
---
This route was originally proposed in the late '80s as the aptly-named "East-West Parkway" and was eventually named Wurzbach Parkway because it connects to Wurzbach Road in northwestern San Antonio. William Wurzbach owned a ranch around what is now I-10 and Wurzbach; the road he built through his property was eventually deeded to the county and named for him. Wurzbach also served as a county judge and county attorney.
The original sections of the parkway were designed and posted for a 45 mph speed limit. After public complaints about this being too low, a speed study was conducted and the speed limit subsequently raised on the original segments to 60 mph ca. 2000. When the final segments were opened in 2014 and 2015, they, too, were posted at 45 mph as per design policies. A speed study conducted shortly after the final section opened supported an increase to 60 mph and signs were changed on November 4th, 2015.
The first sections of the parkway only had a raised center island between the opposing traffic. After a spate of head-on collisions caused by drivers jumping the island, a concrete center barrier was installed in early 2010 between Wetmore Rd. and Weidner Rd. Sections of the parkway built thereafter included a center barrier instead of raised island.
1996: The first section, from Wetmore Rd. to Nacogdoches Rd., completed.

September 1999:

The segment from Nacogdoches Rd. to O'Connor Rd. completed.

March 2000:

The section between Lockhill-Selma Rd. and NW Military Hwy. completed.

July 2002:

The segment from NW Military Hwy. to Blanco Rd. completed. Further work stalled due to a statewide funding shortage.

2007:

The missing section of the parkway from Wetmore Rd. to Blanco Rd. and an interchange at US 281 was considered for a possible tollway project; however it was determined that this was not feasible.

Late 2009:

The Texas Transportation Commission allocates funding to complete the missing middle section.

January 2014:

The segment from Blanco Rd. to West Ave. opens although a pavement issue delays the opening of the overpass at Blanco Rd. until April.

April 2015:

The section from Starcrest Dr. to Jones-Maltsberger Rd. completed.

September 2015:

The final segment, from West Ave. to Jones-Maltsberger Rd., opened to traffic.

October 2022:

The intersection at NW Military Hwy. was reconfigured and the section from there to Lockhill-Selma Rd. was widened.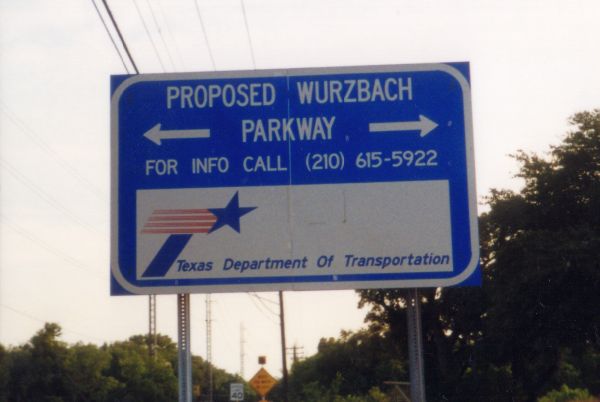 Proposed Wurzbach Parkway sign on West Ave. ca. 2001
(Photo by Brian Purcell)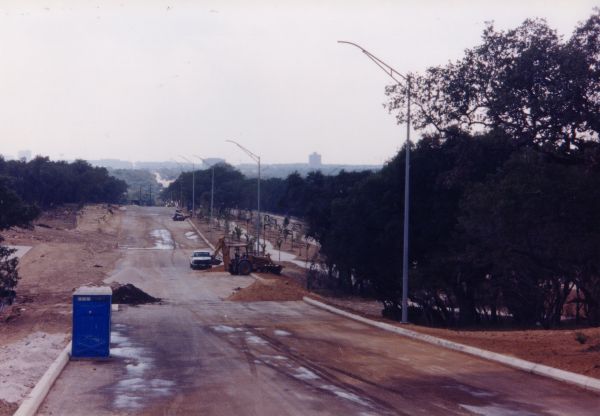 Wurzbach Parkway construction near NW Military Hwy. looking southwest ca. 1999

(Photo courtesy of TxDOT)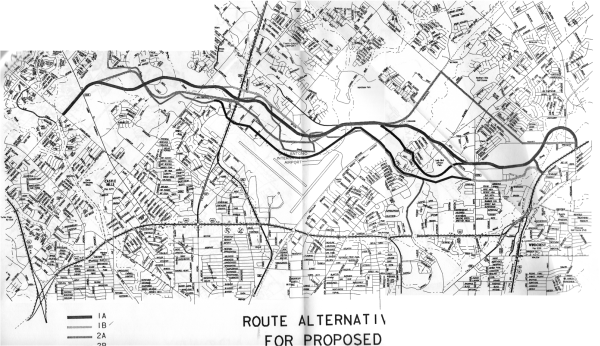 Various alignments studied for Wurzbach Parkway
(Document courtesy of TxDOT)