Other San Antonio Area Roads
Which Wurzbach?
---
This page last updated January 6, 2018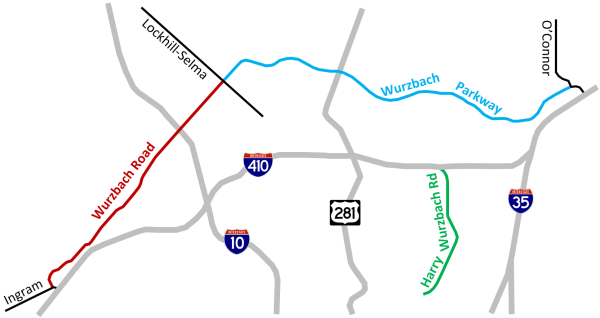 San Antonio is known for having an unusual number of street naming idiosyncrasies that confound locals and visitors alike. One of those is that there are three distinct roadways with "Wurzbach" in their name: Wurzbach Road, Wurzbach Parkway, and Harry Wurzbach Road. Here is an explanation of each:
Wurzbach Road:

This roadway starts at Ingram Road just outside Loop 410 at the main entrance to Ingram Park Mall. It then runs northeasterly through the Medical Center, crosses I-10, and ends at Lockhill-Selma Rd. where it becomes Wurzbach Parkway.



Wurzbach Parkway

: Wurzbach Parkway picks-up at Lockhill-Selma Rd. where Wurzbach Road ends. Although it connects to Wurzbach Road, Wurzbach Parkway is distinctly different from it in that it is a state roadway with expressway characteristics along much of its route. It stretches across the North Side and ends at O'Connor Rd. near I-35. In conjunction with a stretch of Wurzbach Road, this provides the only singular east-west corridor connecting I-35 to I-10 between the loops.



Harry Wurzbach Road:

This is a completely separate roadway that runs from Loop 410 to Fort Sam Houston. Since it is its own road, it is important to call it

Harry

Wurzbach; calling it just "Wurzbach" by itself is technically incorrect and likely to cause even more confusion. It was originally a much longer road connecting Fort Sam Houston to Camp Bullis via today's Loop 410 and NW Military. For more information on that route, see the

Which Military?

page.
Etymology
All three roads are named for members of the same family. Many roads in San Antonio were named for prominent landowners in the area of the road back in the day. In this case, Wurzbach Road (and, by extension, Wurzbach Parkway) was named for William Wurzbach, who owned a ranch around what is now I-10 and Wurzbach Road. He built a road through his property and eventually deeded the road to the county, which named it after him.
William's brother, Harry McLeary Wurzbach, was a lawyer and served as one of the area's congressmen from 1921 until his death in 1931. He also served in the Texas Volunteer Infantry during the Spanish American War. While in Congress, he advocated for veterans. For this reason, officials decided to honor him by naming the new highway built around 1943 to connect Fort Sam Houston and Camp Bullis after him. It is said that his family protested the naming because they thought (presciently, as it would turn out) that having two roads named "Wurzbach" could be confusing.
As if one set of similarly named roads wasn't enough, another example of this local phenomenon are the three roads named Military.