Other San Antonio Area Roads
PROJECT INFO: Harry Wurzbach at Austin Highway
---
This page last updated June 4, 2019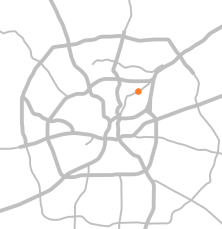 Location
Harry Wurzbach at Austin Highway

Status
Construction starting soon (see timeline below)

Description
This project will build an interchange connecting Harry Wurzbach to Austin Highway to replace the disjointed access there now. Exit and entrance ramps will connect from Harry Wurzbach directly to Austin Highway at the existing overpass location. The new interchange will include San Antonio's first Single Point Urban Interchange (SPUI).

A SPUI elongates a standard access road intersection so that the two intersections typically formed by the access roads on each side of the overpass are instead compressed into a single intersection located halfway between. To do this, the access road approaches are curved inward so that the left turn movements can pass-by each other like they would at a typical four-way intersection. This allows the opposing left turn movements on each axis of the intersection to proceed simultaneously like they do in a typical four-way intersection, thus reducing the number of signal phases required (fewer phases = fewer delays.) Right-turns still take place at the same location as they do in a conventional intersection. However, with a SPUI, there is no straight-through traffic possible on the access roads (i.e. you cannot exit Harry Wurzbach and then re-enter it by going straight through to the entrance ramp.) At this location, since there will be entrance and exit ramps instead of true frontage roads, there should be no need for anyone to go straight through anyway. (See the diagrams below for a visual depiction of a SPUI as compared to how a conventional intersection at this location would operate.)

As mentioned, this will be the first SPUI in San Antonio and what appears to be just the third one in Texas. The other two are in North Texas in Plano and McKinney, and a couple have also been proposed in the Houston area. The design, however, has been around since the mid-'70s and is in widespread use in many other states and overseas.

The diagrams below show what the traffic flow for a conventional intersection would be versus that for a SPUI.


CONVENTIONAL INTERSECTION (TYPICAL)
TRAFFIC FLOW FOR AUSTIN HWY.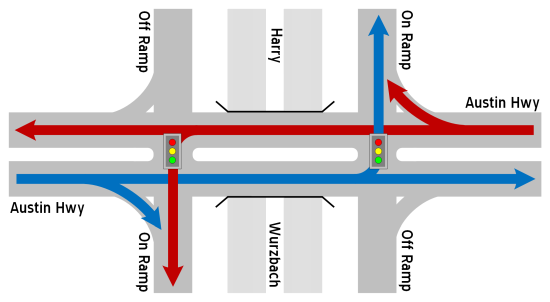 SINGLE POINT URBAN INTERCHANGE (PROPOSED)
TRAFFIC FLOW FOR AUSTIN HWY.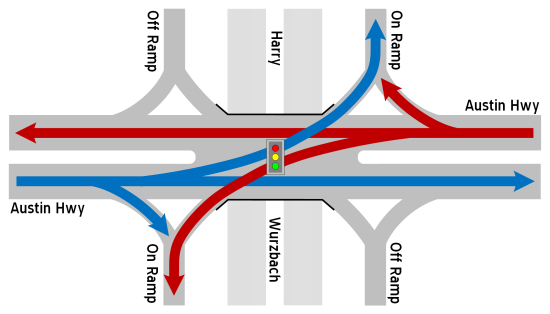 ---
CONVENTIONAL INTERSECTION (TYPICAL)
TRAFFIC FLOW FOR HARRY WURZBACH RAMPS TO AUSTIN HWY.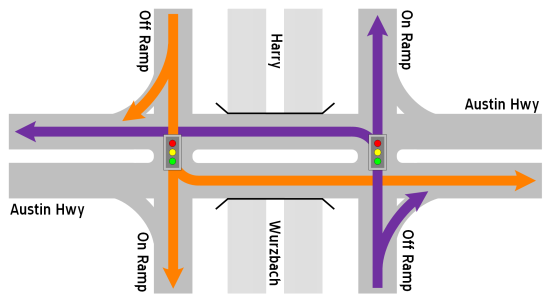 SINGLE POINT URBAN INTERCHANGE (PROPOSED)
TRAFFIC FLOW FOR HARRY WURZBACH RAMPS TO AUSTIN HWY.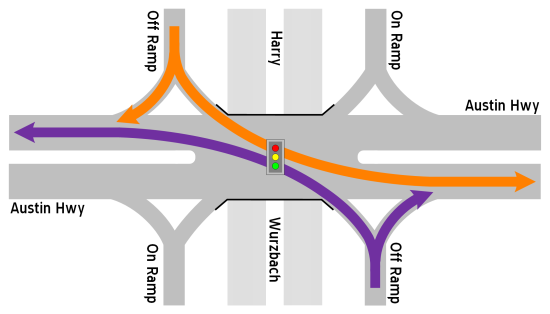 To accomodate the SPUI, the existing overpass will be expanded. The extent of that expansion varies by quadrant.
In addition to the new interchange, this project will also make the following other changes:
The signal on Eisenhauer just west of Harry Wurzbach at the current access road will be removed and left turns at that intersection will be prohibited and blocked by a concrete island. (With the new ramps to and from Harry Wurzbach, there should be little need for those turns anymore.) The right-turn ramp from the access road to Harry Wurzbach will also be removed; drivers will still be able to make two right turns at that location to get onto southbound Harry Wurzbach.


The signal on Harry Wurzbach just south of Austin Highway (providing access to the Lowes and HEB) will be removed. A dedicated left turn lane into the rear driveways of both stores will be provided. Motorists can also use the new ramps to Austin Highway and then access those stores via Austin Highway.


The current "front" driveway for Lowes at Harry Wurzbach will become an exit-only drive as it is located where the southbound entrance ramp from Austin Highway will be; traffic coming from there will turn onto that ramp.


The driveway to Discount Tire on Austin Highway will be closed as it is too close to the new intersection and there is sufficient and convenient access just around the corner.


The driveway on Austin Highway closest to Advance Auto Parts will be closed, also because of its proximity to the new intersection.


The existing signals on Austin Highway and on Harry Wurzbach at Eisenhauer (with the exception of the one discussed in the first point above) will remain.


There will be no right turn allowed from the northbound Harry Wurzbach mainlanes to Eisenhauer Road due to the proximity of the entrance ramp there.


Sidewalks, bike lanes, hike/bike (aka "shared use") paths, crosswalks, and bus stops are included throughout the project.


Previous proposals to close Thrush View Lane at Eisenhauer and to construct a connector to Harry Wurzbach instead have been eliminated.

How this project will help
The new interchange will allow traffic to more easily get from Harry Wurzbach to Austin Highway and vice-versa. The SPUI will allow the new intersection there to function more efficiently than a conventional intersection would. The two separate intersections in a conventional configuration cause left turn movements (for all approaches) to conflict with each other. As a result, each left turn movement requires its own protected green for a total of four signal phases. Because opposing left turns in a SPUI can proceed simultaneously, this results in only three total signal phases being required instead of the four in a conventional intersection.

Timeline
Construction is set to begin in late 2019 and is expected to be complete in late 2021.



FAQ



This looks difficult to navigate. It will cause lots of crashes.
While it may look complicated on the schematics, it's actually fairly easy to navigate on the ground. A 1996 study of SPUI implementations found no significant difference in accident rates or severity compared to conventional intersections.


So if this isn't safer than a conventional intersection, why do it?
Because the design means fewer signal phases, which means less delay for traffic. With safety being equal (no more or less dangerous), the reduced delay still produces a net benefit for this intersection type.


Are the new left turns flyovers?
No, the new turning lanes are at the same level as Austin Highway. Harry Wurzbach will continue to pass under Austin Highway as it does today.




Will there be turnarounds?


No, this intersection will not have turnarounds.



Why hasn't there been a "real" intersection here before?


When Harry Wurzbach was first built back in the 1940s, its purpose was to connect Fort Sam Houston to Camp Bullis. Because of that, and because the area around this intersection was sparsely populated, there was little demand to get from Harry Wurzbach to Austin Highway or vice-versa. Austin Highway was US 81 at that time and was therefore the main highway to Austin and points north, so it was quite busy. To avoid conflicts between military convoys on Harry Wurzbach and traffic on Austin Highway, the overpass that's there now was built to separate that traffic, and that configuration has remained over the years.




Who came up with this cockamamie design?


The SPUI design has been around for several decades and is in widespread use in the US and internationally and has a proven track record of improving traffic wherever it has been implemented. It is one of several types of "innovative" or "alternative" intersection designs being implemented across the country at intersections to improve their efficiency. As this is a completely new intersection, the city and TxDOT were able to select the best design for the location. Since there is no reason for north-south through traffic at this intersection, a SPUI was a perfect fit.



Schematic and renderings
Below is the detailed schematic for this project from the City of San Antonio with my own annotations added to help clarify and explain the various elements. Click on the image below to open the schematic in a new window that you can scroll and zoom. Below that are some renderings of the completed project. For an animation of the SPUI, see the links at the bottom of this page.


DETAILED PROJECT SCHEMATIC
Click above to see the detailed annotated schematic for this project

RENDERINGS
Looking NE along Austin Highway
Looking SW along Austin Highway
Looking from SE corner
Looking along northbound exit from Harry Wurzbach
Close-up of SPUI intersection
Looking northbound along Harry Wurzbach
---
Other sites of interest