San Antonio Area Freeway System
PROJECT INFO: Loop 1604 at Bandera
---
This page last updated March 12, 2019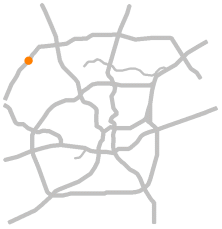 Location
Loop 1604 at Bandera Rd. (surface intersections)

Status
Under construction (91% complete)

Description
This project will convert the access road intersections at Loop 1604 and Bandera Rd. (SH 16) from conventional intersections to a "Displaced Left Turn" (DLT) intersection, also known as a "Continuous Flow" intersection. The project will also add an additional left turn lane (for a total of three) on the southbound access road, dual right-turn lanes on both Loop 1604 access roads, and a two-lane turnaround for westbound to eastbound Loop 1604.

The DLT will shift ("displace") traffic turning left from Bandera to Loop 1604 in both directions to a new parallel roadway on the outside of the opposing lanes via a signalized crossover about 100 to 150 yards upstream of the near-side intersection with Loop 1604. That traffic will then cross under Loop 1604 in the same space as the existing turnarounds and will then make a free left turn onto the access road. (The turnarounds will still be available; however, entry will be controlled by a traffic signal to prevent collisions with the displaced cross-traffic.) Traffic will no longer be allowed to make a left turn from Bandera to Loop 1604 at the locations they do today. (See the diagrams below for a depiction of these changes.)

This will be the first DLT in San Antonio. There are two DLTs in operation each in San Marcos and Austin and one in Cedar Park. The design has been used successfully in several other states as well.


CONVENTIONAL (EXISTING) INTERSECTION
TRAFFIC FLOW FOR BANDERA RD.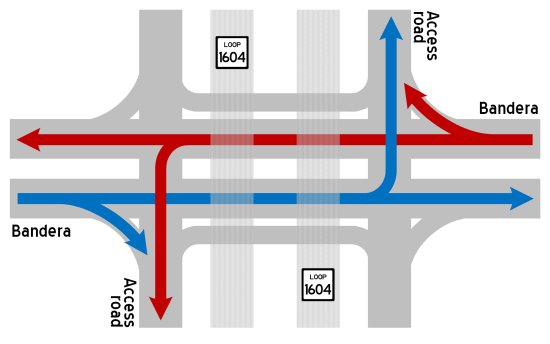 DISPLACED LEFT TURN INTERSECTION
TRAFFIC FLOW FOR BANDERA RD.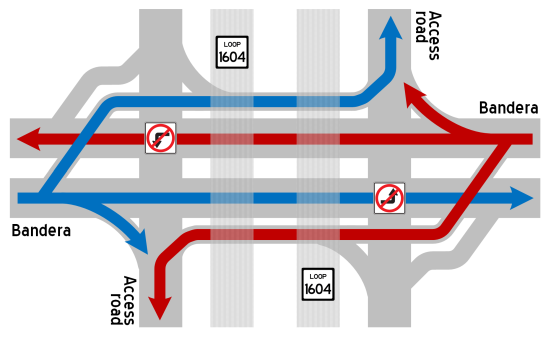 How this project will help
The DLT will help reduce current and expected future congestion at this intersection. Current and projected traffic volumes are sufficient to cause level of service "F" (congested) conditions during peak periods but are not sufficient to justify flyovers now or during the next 20 years. Thus, this intersection is considered to be in the "sweet spot" for an "outside-the-box" (no pun intended) intersection design. Computer modeling shows a dramatic improvement in intersection performance with a DLT and the additional turn lanes with perhaps as much as a 75% reduction in delays.
How a DLT improves traffic flow: A DLT is a relatively low-cost improvement (this project will cost $7.6 million versus over $20 million for flyovers) that increases the throughput of an intersection by allowing traffic headed in both directions (including left turns) to all move simultaneously (in this case, traffic on Bandera.) This is accomplished by diverting ("displacing") the left-turning traffic to the opposite side of the roadway several hundred feet upstream from the near-side intersection. This displacement moves most or all of the left-turning traffic across and out of the way before opposing through traffic reaches the crossover location, thus minimizing or even eliminating the time through traffic has to wait for the opposing left turning traffic.
The displacement also provides a short overlap period that permits left-turning traffic on Bandera to begin their movement even while the Loop 1604 access road still has a green light, thus creating additional efficiency.
This "continuous flow" of traffic in both directions means that only one green phase is needed for both directions on Bandera instead of the two phases required at the conventional intersections. The time saved from having only one phase can then be distributed to extend the green time for all approaches, thus moving more traffic through the intersection on each cycle without having to increase the overall cycle length. For example, if the DLT allows one of the 45 second phases for Bandera to be dropped, that would allow 15 seconds of green time to be added to the two Loop 1604 phases and the remaining Bandera phase. (See example timings illustration below. Signal timings are for illustrative purposes only and may not represent actual timings. Timings are typically adjusted in response to traffic demand.) The additional green time actually has a slightly greater benefit because it is continuing the flow of traffic rather than an added phase where some time and throughput is lost during the signal changes. The net gain from this is typically cumulative, providing a greater overall benefit during any given time period.
Note that the description above is greatly simplified to help explain the concept; the actual phasing of signals in a DLT is a bit more complex and may vary somewhat from what is described above.

EXAMPLE TIMINGS
Simplified timeline showing example signal phase timings for each movement in the Loop 1604/Bandera intersection. Note that these timings are simplified for illustrative purposes only; they do not represent actual timings and the actual phasing is a bit more complex. Be sure to read the explanation in the paragraph above.


Conventional intersection





DLT intersection




Signs, markings, and signals: To properly control traffic and minimize potential conflicts, traffic signals will be located at the crossover locations, the entrance to the turnarounds, and at the end of the right turn lanes onto Bandera in addition to the existing signals at the main intersections. To ensure proper flow throughout the intersection system, all of the signals in a DLT intersection are tightly coordinated and operated from the same controller. The signals at this intersection will have a battery backup system.

Additional lane markings and signage (including large overhead signs) will help guide traffic into the correct lanes to turn left from Bandera to Loop 1604.

Driving through a DLT is actually far easier than it may seem from the diagrams-- see the "how-to" guide at the bottom of this page.



TRAFFIC SIGNAL LOCATIONS IN A DLT



Improvement statistics: A study of four DLT intersections showed a 10-30% increase in throughput and a 30-80% reduction in delays. A DLT in Baton Rouge reported a 40% decrease in travel time and average delay of less than half of that before the DLT. A survey of drivers who regularly use the DLT in Baton Rouge showed that 87% felt that traffic congestion was improved with 48% reporting their travel time "extremely decreased." Computer modeling of this intersection showed as much as a 75% reduction in delay with a DLT.

Safety has also generally improved at DLT intersections studied with serious crashes decreasing 34% at the Baton Rouge location (total collisions were down 25%) and crashes at and near a DLT in Utah were reported to have decreased a whopping 60%.

Drawbacks/cons: The main drawbacks of this intersection are that the right turns from Loop 1604 will now be controlled by a signal as will the entries to the turnarounds. And traffic on Bandera will encounter an additional signal just beyond Loop 1604 that may be red depending on traffic patterns and the point in the cycle motorists reach that signal. However, any delays caused by those additional signals should be brief and be more than offset by the overall improvement in the operation of the intersection.

One other major drawback will be that U-turns will be prohibited at all signals in the intersection system; this means motorists who are used to making a U-turn to head toward Helotes after leaving the shopping center on the SW corner will have to find an alternate (and likely circuitous) route. (Technically, U-turns are already prohibited at all signalized intersections in the City of San Antonio anyway even if they're not marked, although few drivers actually know this.)

Finally, as with anything new and unconventional, there will be some skepticism and initial confusion while drivers learn the new traffic patterns and adapt. And there are always some naysayers who will perpetually denigrate anything different, innovative, or outside their comfort zone or understanding.

Timeline
Construction began in September 2017 and is expected to be complete in late March 2019. (Before the heavy rains in September and October of 2018, the contractor was on target to be finished by Christmas 2018, but the rains delayed the project.)



FAQ



This looks difficult to navigate. It will cause lots of crashes.
While it may look complicated on the schematics, it's actually fairly easy to navigate on the ground. See the "how-to" diagram and video at the bottom of this page. Statistics from most DLT implementations show no increase in crashes and a reduction in many cases.



How does adding signals improve traffic?


This intersection design improves traffic because it moves left turns out of the way of oncoming traffic prior to the intersection. As a result, both directions of traffic (straight and left turning) can move during a single green phase (instead of two separate phases) thus allowing one signal phase to be removed from the cycle. The time formerly used by that phase can be added to the other phases, thus moving more traffic through the intersection in the same amount of time. The extra signals are needed to regulate flow through the extra conflict points created in this intersection type. Those signals, however, are all tightly coordinated by the same controller so that traffic flow is synchronized through the intersection. Any time spent stopped at one of those new signals should be minimal and more than offset by the overall reduced delay at this intersection.




This will not solve the problems at this intersection as they are caused by backups from 1604.


While traffic headed to Loop 1604 eastbound in the mornings does overflow back into this intersection due to congestion on the mainlanes (a problem that will be resolved with a future widening of Loop 1604), the intersection itself does experience congestion for other reasons and at other times of the day (especially the afternoon peak), issues that will get worse as growth in this area increases. The DLT was designed to solve those issues. TxDOT is aware of the morning backups from 1604 and how that will affect the DLT and, as a result, are

planning to reverse the two ramps

on eastbound Loop 1604 between Bandera and Hausman to provide additional storage for that morning backup; that project is expected to start in the near future. Until that ramp project is complete, the new DLT should be able to store most of that backed-up left-turning traffic off of the Bandera through lanes, which will benefit that through traffic.


Are the new left turns flyovers?
No, the new turning lanes are at the same level as Bandera Road and will cross under Loop 1604 in the area where the turnarounds are now.




Will there still be turnarounds?


Yes, the turnarounds in both directions will remain and the WB to EB turnaround will even be expanded to two lanes. However, the entrance to the turnarounds will be controlled by a traffic signal as the same roadway will also be used by the displaced left-turning traffic from Bandera. A signal is necessary to prevent collisions due to that unexpected traffic.




Why not build flyovers instead like the ones at Bandera and Loop 410?


This intersection does not have current or projected traffic volumes to justify the cost of flyovers. This project will cost less than half of what flyovers would cost and be completed in half the time.



How is this different than the intersection planned at Blanco and Loop 1604?


The DLT is similar to the Diverging Diamond interchange being planned at

Blanco and 1604

in that they are both considered to be types of "innovative" or "alternative" intersection designs that make signalized intersections function better by removing the inefficiencies caused by protected left turns. Both intersection designs do this by moving the left turns over to the other side of the road and out of the way of oncoming traffic. However, in the DLT, it is just the left turns that are shifted to the other side of the road whereas the DDI moves both left-turning and through traffic over. A DLT has its crossovers further away from the main intersection and requires more signals and right-of-way than a DDI. Also, the DLT does not block through-traffic on the access road like a DDI does. Finally, a DLT does not eliminate the conflicting left turn from the access roads to the cross street like a DDI does.



Are any other DLTs planned in San Antonio?


Yes, two other DLTs are currently planned: one at Loop 1604 and Culebra and one at Loop 410 and Cornerway Blvd/WW White Rd., as well as a partial DLT (one direction only) at US 281 and Basse. Other alternative intersections are also being planned for other locations; see the alternative intersections page for more info.



Who came up with this cockamamie design?


The DLT design has been around for several decades and is in use in several dozen locations in the US and internationally and has a proven track record of improving traffic wherever it has been implemented. It is one of several types of "innovative" or "alternative" intersection designs being implemented across the country at intersections that do not warrant more expensive conventional upgrades (e.g. flyovers.) TxDOT selected this design for this intersection after studying multiple other options. Computer modeling showed this design provided significant improvement in operations with as much as a 75% reduction in delays.



Schematic
Click on the image below to open the detailed schematic for this project from TxDOT with my own annotations added to help clarify and explain the various elements. The schematic will open in a new window that you can scroll and zoom. Below that is a "how-to" on making a left turn at a DLT .


DETAILED PROJECT SCHEMATIC
Click above to see the detailed annotated schematic for this project

(Base image courtesy of Ohio Department of Transportation)

Note: This is the typical operation of a DLT; actual operation of the 1604/Bandera DLT
may vary but should be similar.


| | |
| --- | --- |
| | Enter the left-turn-only lanes as you approach the Loop 1604 intersection. |
| | A traffic signal will control the crossover intersection. Wait until you have a green signal to cross over. |
| | Loop 1604 access road traffic will get a green. |
| | Shortly thereafter, you will get a green to cross over. |
| | As you approach the Loop 1604 access road, their signal will turn red and you will get a green. |
| | Turn left onto Loop 1604 without stopping. |
For a video of how to drive through a DLT, see
https://www.youtube.com/watch?v=ULyjDcEeHG0

For driver's view visualization of the Bandera/Loop 1604 DLT, see
https://www.youtube.com/watch?v=wgWpgeS3k74&feature=youtu.be

---
Other sites of interest