San Antonio Area Freeway System
Interstate 37 (Lucian Adams/Wm. J. Bordelon Freeway)
---
This page last updated November 22, 2021
This page covers Interstate 37 east and south of downtown San Antonio from I-35 to US 181. This freeway continues north of downtown as US 281 North.

Length: 11 miles
---
On this page
---
Interstate 37 serves San Antonio's southeast side and intersects with US 181, the main link to exurban Wilson County. The freeway provides access to downtown San Antonio, the Alamodome, St. Paul Square, Brooks City-Base, the San Antonio Missions Trail National Park, San Antonio State Hospital, and San Antonio State School. The freeway is also a primary route to the Eagle Ford oilfields south and southeast of the city. Between downtown and SE Military, the freeway is fronted mostly by residential areas. From SE Military to US 181, most of the immediate frontage is undeveloped.
---
LANES

8 lanes from I-35 to S. New Braunfels Ave. with a short six lane stretch through the I-10 interchange
6 lanes from New Braunfels Ave. to Military
4 lanes from Military to Loop 410
5 lanes (3 northbound, 2 southbound) from Loop 410 to US 181



ACCESS ROADS


There are no continuous access roads along this freeway. Short sections of access road exist between Florida and Carolina, between Hackberry and Fair, between Cesar Chavez and Commerce, and along the west side of the freeway from Presa to Blue Wing (at US 181.)
EXITS

Click here for a list of I-37 exits.
SPEED LIMITS

70 mph from US 181 to SE Military Dr.
65 mph from SE Military Dr. to Brooklyn Ave.
60mph from Brooklyn Ave. to I-35



SPECIAL FEATURES & NOTES

TransGuide coverage along entire route
Northbound left exit to southbound I-35
US 281 concurrent (multiplexed with I-37) from I-35 to Loop 410



TRAFFIC

Heavy in the downtown area. Heavy to moderate south of I-10. Recurring morning congestion occurs NB in the downtown area.





AVERAGE ANNUAL DAILY TRAFFIC
LOCATION
2000
2010
2015
2018
2019
2020
'10-'20
% CHG
S of I-35
131,000
129,000
147,952
157,506
159,184
132,147
+2.44%
N of Cesar Chavez Blvd.
110,000
115,000
130,531
134,844
136,515
112,162
-2.47%
N of Fair Ave.
104,000
104,000
138,218
136,546
138,357
114,984
+10.56%
N of Hot Wells Blvd.
69,000
71,000
100,664
101,730
103,713
86,082
+21.24%
N of SW Military Dr.
52,000
57,000
84,639
84,152
86,136
71,493
+25.43%
N of Loop 410
42,000
46,000
72,381
79,276
74,157
61,550
+33.80%
N of US 181
51,000
50,000
83,610
82,959
84,749
70,443
+40.89%
---
Click here for photos and video of this freeway.
---
No current projects in this corridor.
---
The MPO has an unfunded proposal in its 25-year plan to expand I-37 from four to six lanes from Loop 410 south to the Atascosa County line. TxDOT is planning to convert the I-37/Military intersection to a diverging diamond interchange and add an exit to City Base Landing.
---
This route was originally named the "Southeast Expressway". The section south of I-10 is was named in 1994 for Lucian Adams and the section north of I-10 is named for William J. Bordelon, both World War II Medal of Honor recipients. Interstate 37 was authorized by the Texas Transportation Commission on October 1, 1959.
While all of San Antonio's other freeways have sections that were upgraded from existing US highways, I-37 was entirely a "new location" route. US 181 was adjusted to end at I-37 when it opened; it previously continued into the city along S Presa St.
1956: This general route first proposed for US 181.

1957:

Interstate 37 from San Antonio to Corpus Christi added to national Interstate system.

1959:

Route finalized along with that of I-10 East.

1967:

The section from Florida St. to I-10 and the section from SE Military Dr. to US 181 opened.

1968:

The segment from I-10 to SE Military Dr. completed. The right-of-way between Florida St. and I-35 was paved for use as parking for HemisFair, and the I-37 mainlanes coming from the south fed directly into the parking lot.

1969:

The interchange at Loop 410 was completed.

1972:

The section from Florida St. to I-35 completed.

1974:

The section from US 181 to Loop 1604 completed. The overpasses for the mainlanes and several access roads along this section appear to have been completed around 1968, but the mainlanes themselves were not completed until this time.


Late 1980s:

Access roads along most of the route south of I-10 were proposed in the late '80s but were never built.

1995:

TransGuide coverage added from Fair Ave. to I-35 as part of the original TransGuide project.

2009-2010:

Work to raise the overpasses at Pecan Valley, S New Braunfels, and Southcross was completed.

2009:

The section between Loop 410 and US 181 was widened and improved to better facilitate hurricane evacuations from Corpus Christi and South Texas.


2010:

The cloverleaf interchange at SE Military was removed and replaced with a diamond interchange.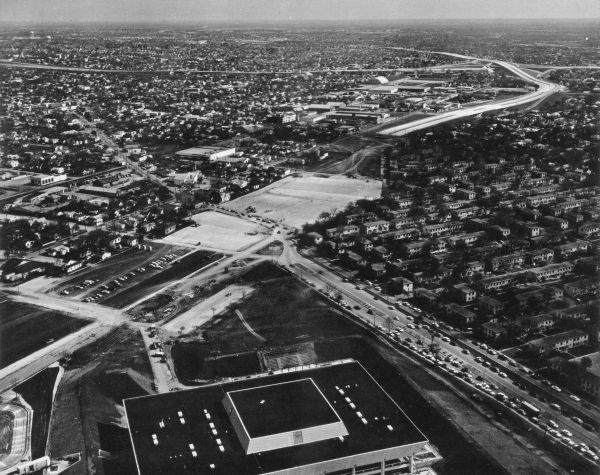 I-37 at Cesar Chavez looking SE in 1968
Note the parking lots for HemisFair being paved in the freeway right-of-way.
(Photo courtesy of TxDOT)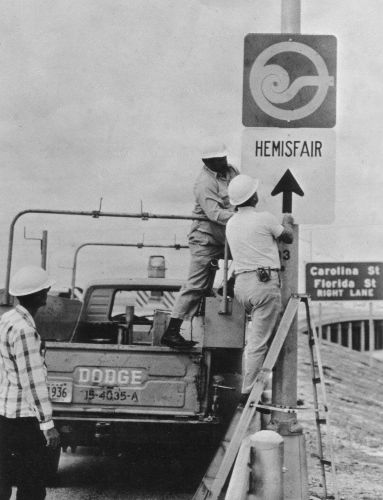 I-37 north of I-10 looking north in 1968

Workers installing HemisFair sign. This section of I-37 lead directly into the HemisFair parking lot just past Florida St.
(Photo courtesy of TxDOT)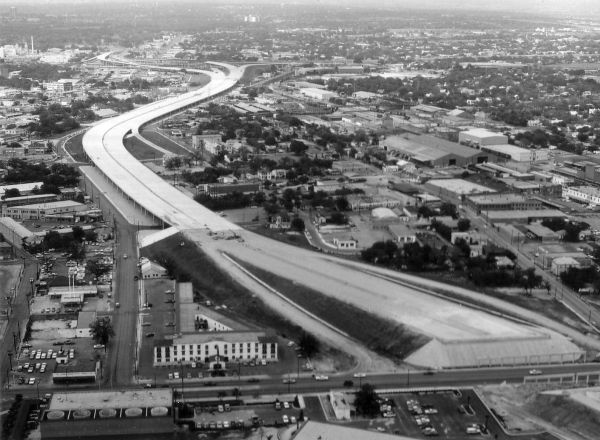 I-37 at Commerce looking north in 1971

(Photo courtesy of TxDOT)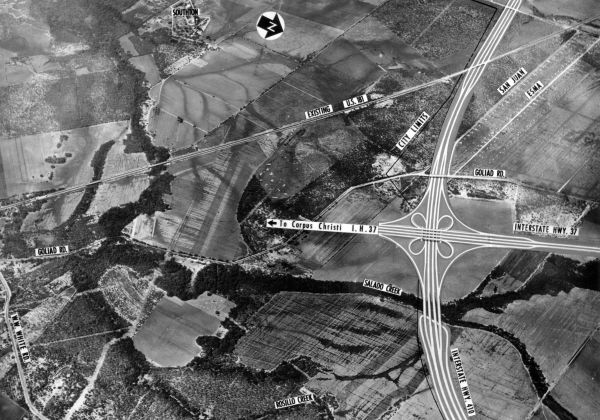 Snippet of 1950 plan for I-37 at Loop 410

Note the planned cloverleaf interchange. This was changed in subsequent plans to the four-level "stack" interchange that's there today. Also note the absence of a route for I-37 south of Loop 410; the routing for that section was still being finalized at this time.
(Document courtesy of TxDOT)