San Antonio Area Freeway System
Kelly Parkway
---
This page last updated May 22, 2022
This page covers the proposed Kelly Parkway in southwest San Antonio.

Length: Approximately 8½ miles
---
Description
The former Kelly AFB has been converted to a major industrial park and inland port named Port San Antonio (formerly known as KellyUSA.) As Port San Antonio grows, traffic in and around the area is expected to increase substantially, especially truck traffic. Therefore, part of the redevelopment effort has included the proposed construction of an expressway connecting US 90 with I-35 South, Loop 410 South, and SH 16 South by way of General Hudnell Drive (Spur 371). This roadway would also provide improved access to the Toyota truck assembly plant in southern Bexar County.
In 2005, TxDOT completed its studies to determine the feasibility and routing of such a road. However, there is no funding currently for this project nor any timetable to do so. The MPO's current 25-year plan lists the project as an unfunded. Congress approved $400,000 for right-of-way acquisition in 2005's surface transportation bill.
Planned route
As currently envisioned, the Kelly Parkway would be a parkway-type road similar to the Wurzbach Parkway in northern San Antonio, meaning it would be a "super-arterial" (essentially a minor expressway) with overpasses at major intersections and controlled access. It would begin at US 90 and follow the existing General Hudnell Drive (Spur 371) to Quintana Rd. Along this route, the alignment would be shifted slightly west to use the existing UPRR right-of-way, allowing for a hike/bike trail and noise walls along the east side of the parkway. A "gateway" feature would be included with the reconstruction of the Kirk Place overpass.
The "Kelly Crossroads" junction of General Hudnell Dr., Cupples Rd., Frio City Rd., and Quintana Rd. would be reconfigured and a three-level interchange would be built along with direct connectors from Kelly Pkwy. to the Port San Antonio main entrance.
South of the Kelly Crossroads, the route would use the UPRR right-of-way west of and parallel to Quintana Rd. A interchange would be built at Southcross Blvd. and at SW Military Dr. After crossing under SW Military Dr., the parkway would then turn south running adjacent to the CPS right-of-way to I-35 with an interchange at New Laredo Hwy. (Loop 353) and an interchange at I-35 with three flyovers serving southbound Kelly to NB I-35, northbound I-35 to northbound Kelly, and southbound I-35 to southbound Kelly.
South of I-35, the route would run along the western edge of the Leon Creek floodplain. At Loop 410, the parkway would pass over Loop 410. An interchange would be built at Loop 410 with three flyovers: southbound Kelly to eastbound 410, eastbound 410 to southbound Kelly, and northbound Kelly to westbound 410.
South of 410, the route would turn southeast meeting SH 16 at Zarzamora St. An elevated connector would connect northbound SH 16 to northbound Kelly Pkwy.
Continuation east
Recent editiions of the City of San Antonio's Major Thoroughfare Plan have added an eastern extension to this initial route running from SH 16 all the way to I-37. As with the initial route, this extension is also unfunded with no current timeframe.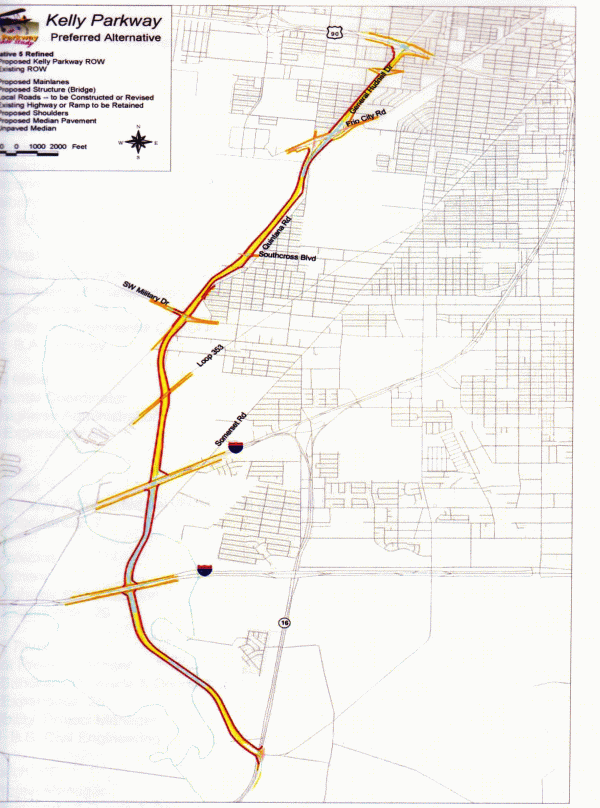 Map of final preferred route for Kelly Parkway from US 90 to SH 16
---
History
This roadway was proposed as part of the Southwest San Antonio Mobility Study in the late '90s. That study was undertaken in the wake of the announced closure of Kelly AFB when city officials began planning the conversion of the old base to an industrial park and cargo airport. The initial plan was for the parkway to run from Loop 410 to a location near the Kelly AFB main gate. That study also recommended widening Spur 371 (General Hudnell Drive) to six lanes. The MPO included these projects in its five-year plan in 1999, and TxDOT began a Major Investment Study in 2000 to determine the design and routing of the parkway with the final preferred routing released in August 2002 and the Environmental Impact Statement completed in late 2004.