San Antonio Area Freeway System
TransGuide ®
---
This page last updated August 15, 2021



TransGuide is San Antonio's award-winning, inter-agency Advanced Transportation Management System. When it went online in July 1995, it was the most advanced system of its kind in the nation, and it continues to be a leader in Intelligent Transportation Systems (ITS) technology. The system is now operational on about 120 miles of freeway in Bexar County and is currently under construction on about 60 additional miles of freeway.

Below is a map of TransGuide's current coverage area and planned future expansions. "Primary coverage" areas shown on the map are the full coverage areas, i.e. areas with the densest camera coverage, traffic volume monitoring, and message signs. "Secondary coverage" areas have more widely-spaced cameras, monitoring, and message signs; these can be thought-of as "TransGuide Lite" areas. Some of these areas are scheduled for future upgrades to full coverage.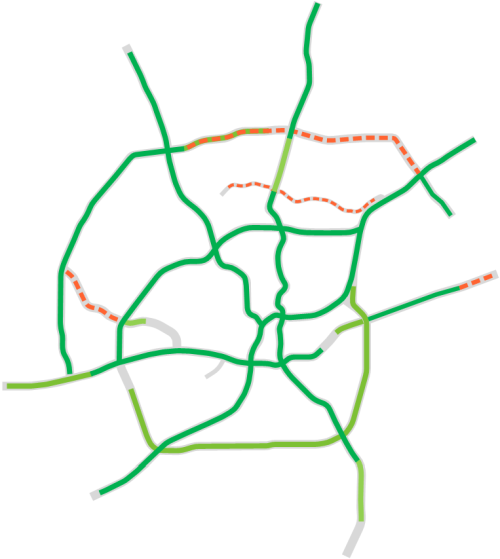 ---
On this page:
---
In the late 1980s, Raymond Stotzer, TxDOT's San Antonio director, instructed the local district to develop an innovative ITS system that would be a model for other systems nationally. Ergo, the Texas Traffic Responsive Automated Corridor (TxTRAC) project was announced in early 1993. The system would eventually be branded as TransGuide and the operations center and initial 26 mile core section officially went online on July 26th, 1995. That original core section consisted of the ring of freeways around downtown: I-35 from New Braunfels Ave. to Southcross Blvd., I-10 West from Hildebrand Ave. to I-35, I-10 East and US 90 from Zarzamora St. to Roland Ave., and I-37 and US 281 from St. Mary's St. to Fair Ave.

TransGuide building under construction in 1994
(Photo by Brian Purcell)

Over the past two decades, the full coverage system has been gradually expanded:
Early 1999:

US 281 from St. Mary's St. to Basse Rd., Loop 410 from I-10 to Ingram Rd., and I-10 from Fulton Ave. to Wurzbach Rd.

August 1999:

I-10 from Wurzbach Rd. to Camp Bullis Blvd., Loop 1604 from Babcock Rd. to Lockhill-Selma Rd., and Loop 410 North from I-10 to I-35

2000:

I-35 from New Braunfels Ave. to Starlight Terrace

June 2001:

US 90 from Zarzamora St. to Hunt Ln.

May 2002:

I-37 from Fair Ave. to US 181

April 2003:

I-35 from Starlight Terrace to Loop 1604, and Loop 1604 from I-10 to Bandera Rd.

2009:

US 281 from Basse Rd. to Nakoma Dr., and Loop 410 from Ingram Rd. to Culebra Rd.

2012:

US 281 from Nakoma Dr. to Winding Way

2016:

Loop 1604 from Bandera Rd. to Culebra Dr.

2019:

Loop 1604 from Culebra Rd. to US 90, and Loop 410 from Culebra Rd. to SH 151

2020:

Loop 410 from SH 151 to US 90

2021:

I-10 from Loop 1604 to Ralph Fair Rd.

Over the past decade or so, "secondary coverage" areas have been added on the periphery of the primary corridors. These areas include cameras, dynamic message signs, and traffic monitors, but in more widely-spaced or strategic standalone locations to help provide additional regional coverage at reduced cost.

In 1999, TransGuide was among the first ITS systems to display real-time estimated travel times on dynamic messages signs, which has now become commonplace nationally. These travel times, along with traffic camera snapshots, were added to TransGuide's website in 2000. Besides providing information to drivers, showing travel times confirms to drivers that the system is operational. Previously, the signs were dark unless there was an incident, and surveys indicated that many drivers interpreted the dark signs as the system being offline, which reduced confidence.

In 2006, TransGuide was designated as the central TxDOT unit to disseminate statewide Amber Alerts and other emergency alerts.

In 2008, in coordination with TxDOT's Austin district, ITS coverage was extended to the entire I-35 San Antonio-Austin corridor as the first such intercity project in the state. TransGuide is responsible for the section south of the Comal/Hays County line.

In 2009, TransGuide completed the first major upgrade of their computer systems and website.

In 2017, dynamic message signs and cameras were installed at strategic locations along I-10 between San Antonio and Ozona.

For many years, TransGuide operated a low-power UHF television station that broadcast a rotation of feeds from select traffic cameras in order to provide the feeds to local TV stations. In 2003, TransGuide established direct fiber-optic feeds to those local stations along with the capability for them to select specific camera feeds for their broadcast. Shortly thereafter, the UHF transmitter was shut down.

Work was completed in 2021 on a major renovation of the TransGuide operations center. This project renovated the main operations room and replaced the obsolete consoles, video walls, and other technology, renovated and reconfigured offices and support spaces, replaced the building's roof, and upgraded the various building utility and mechanical systems. The City of San Antonio's traffic management center will soon move into the main operations room to join the SAPD and VIA dispatchers and TxDOT traffic managers there.

Model Deployment Initiative
In 1996, TransGuide was selected as one of four participants nationally for the US Department of Transportation's ITS Model Deployment Initiative (MDI). This program was developed to design, test, and pilot a variety of innovative transportation technologies. In San Antonio, those included the following:
Development of a wireless data system (similar to today's Wi-Fi) that permitted two-way videoconferencing and data transfer between EMS ambulances and hospitals using the TransGuide infrastructure.
Installation of interactive traveler information kiosks at key locations around the city that provided real-time traffic information as well as weather reports, bus and airport information, and tourist information.
Development of in-vehicle navigation units that displayed real-time traffic and incident information as well as turn-by-turn directions. (A predecessor to today's GPS apps.)
Expanded real-time travel speed data collection using RFID tags distributed to motorists and read by antennas placed over traffic lanes at strategic locations around the city. This data was consolidated into a regional database that also included data from TransGuide's traffic monitoring, SAPD accident data, and TxDOT lane closure information. This database was used by the information kiosks and in-vehicle navigation units.
Creation of the Advanced Warning to Avoid Railroad Delay (AWARD) system that installed detection equipment at railroad crossings near freeway exits which allowed drivers to be alerted of delays caused by trains.
Several of these technologies are commonplace today but were considered innovative for their time as that was before Internet access, GPS, and Wi-Fi were as prolific and ubiquitous as they are now.


The MDI program ended in 1999.
---
When it was first developed, the specifications called for TransGuide to be able to reliably detect incidents within two minutes, quickly verify the incident, and then be able to implement a response scenario that warned drivers within 15 seconds. To accomplish these goals, TransGuide uses a variety of technologies and the system today is composed of the following major components:
Three-story traffic operations center (TOC)
Approximately 200 closed-circuit, remote-controlled video cameras
Traffic detectors (mostly side-fire radar and Bluetooth readers) at over 200 locations
Approximately 120 mainlane dynamic message signs (DMS)
17 travel time comparison (TTC) signs
Dedicated divergently-routed fiber-optic rings, wireless transmitters/receivers, and associated communications equipment
Redundant and distributed data systems, specialized software, and related equipment
Traffic Operations Center
The TransGuide Traffic Operations Center (TOC) is located in the southwest quadrant of the I‑10/Loop 410 interchange on the Northwest Side and is the heart of the system. In addition to TxDOT, the San Antonio Police Department and VIA Metropolitan Transit have dispatchers co-located in the TOC. This allows seamless coordination with these agencies during major traffic incidents.
In 2009, the City of San Antonio established their own traffic management center in the TransGuide building from which they monitor traffic on major arteries and manage the operation of the city's more than 1,400 traffic signals. Currently, COSA's center is separate from TxDOT's, but work was recently completed that will allow the two center to combine in order to improve coordination and efficiency between them.

TransGuide building


(Photo by Brian Purcell)

Operations room


(Photo by Brian Purcell)
Closed-circuit cameras
TransGuide employs about 200 closed-circuit video cameras along the city's freeway system so that traffic managers can view and identify incidents. These cameras offer full tilt/pan and zoom control. These cameras are not used for traffic enforcement and video is not recorded.



First-generation closed-circuit traffic camera
The white box with antenna was part of the Model Deployment Initiative's
EMS wireless communications system.
(Photo by Brian Purcell)




Traffic detectors


TransGuide originally used in-pavement induction-loop traffic detectors spaced at half-mile intervals in each lane to monitor traffic flow in order to detect congestion and associated incidents. Over the past couple of decades, other traffic monitoring technologies have been developed and deployed including transponder tags, video/machine vision (VIVDS), acoustic detectors, side-fire radar, and Bluetooth tracking, all of which have been implemented at various times by TransGuide. Today, side-fire radar and Bluetooth tracking are the main technologies employed. Due to the aforementioned funding shortages, maintenance and expansion of the traffic monitoring systems has taken a back seat to maintenance of cameras and DMSs, so most corridors no longer have reliable comprehensive passive traffic monitoring. With recently increased funding, restoration of this capability is a priority, and TransGuide now also uses traffic data from commercial sources.

Dynamic message signs
Dynamic message signs (DMSs) display text-based messages alerting drivers to incidents or congestion ahead or on an intersecting freeway. In addition to the standard mainlane DMSs, TransGuide also originally deployed frontage road DMSs at on-ramps, which was unique to San Antonio. However, as with lane control signals (see below), funding shortages have resulted in the frontage road DMSs being deactivated and in some cases removed, and there are currently no plans to restore them.


Freeway mainlane DMS displaying travel time information


(Photo by Brian Purcell)

Frontage road DMS


(Photo by Brian Purcell)
Travel time comparison signs
In conjunction with the implementation of an Advanced Traveler Information System in 2021, 17 travel time comparison signs like the one shown below were installed at various strategic "decision points" around the city. These show real-time travel times for two different routes through or around the city or downtown area so that drivers can decide which route to use. Similar signs are in use elsewhere in the state, although San Antonio's system is the largest such deployment to date. These signs differ from the travel times shown on DMSs (like the one shown above) in that they are dedicated to this purpose and show a comparison of travel times for two routes instead of single "inline" travel times for the route you are on.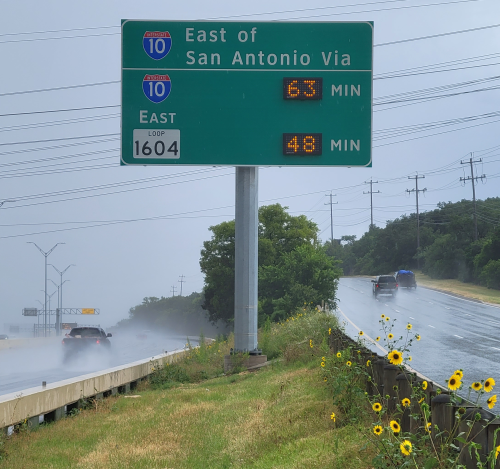 Travel time comparison sign
(Photo by Brian Purcell)


Lane Control Signals
Lane Control Signals (LCSs) placed over each lane give motorists information about the downstream status (open/closed) of that lane. LCSs were an integral part of TransGuide from its inception; however, due to maintenance funding shortages, the cost to maintain and operate them was deemed unsustainable and they were switched-off in late 2009 and have since been removed from some areas. However, with recent funding increases, there are discussions for a partial restoration of the LCS system, primarily at major interchanges.

Lane control signals
(Photo by Brian Purcell)


LCSs can display one of the following symbols to guide motorists into the appropriate lanes:


| | |
| --- | --- |
| | This lane or ramp is open to traffic |
| | There is a hazard on a shoulder adjacent to this lane or congestion in this lane |
| | This lane is closed ahead and traffic should merge in the direction indicated |
| | This lane or ramp is closed |
State law requires motorists to obey LCS signals. A survey in 2007 showed about an 80% compliance rate with LCS and DMS messages. (Perhaps a different corollary of the old 80/20 rule.)
---
Ongoing funding shortages during the first two decades of this century delayed expansion plans for the system and resulted in a substantial backlog of deferred maintenance. This funding shortage resulted in the decision to permanently disable the system's lane control signals and frontage road dynamic message signs in 2009. However, recent increases in funding have allowed for renewed expansion of the system and a program to clear the backlog of deferred repairs and upgrades. Engineers are also hoping to eventually revive lane control signals at major interchanges.
The system is currently being expanded into new areas in conjunction with major freeway construction projects along US 281 north of Loop 1604, and on I-10 East from Loop 410 to the Guadalupe county line. Additionally, work began in mid 2019 on independent expansions of the system on Loop 1604 between I-10 and I-35, and on US 281 from Nakoma Dr. to Loop 1604. Work will start in late 2021 to add cameras and DMSs along Wurzbach Parkway, and on expansions of the full-coverage system on I-35 South from Southcross to Loop 1604 and on I-37 from US 181 to the San Antonio River. Additionally, cameras are being installed on I-37 in Atascosa County and on I-10 between Seguin and Luling. Future system expansions are planned as part of the SH 151 expansion project and the future phases of the I-10/Loop 410 East interchange project.
A project to construct an Advanced Traveler Information System (ATIS) began early 2019 and is now substantially complete. This project included the installation of 17 travel time comparison signs at major route decision points throughout the area, 40 additional Bluetooth readers to improve travel time calculations, and new standalone dynamic message signs and cameras on the southern fringes of the city. The travel time comparison signs show motorists the fastest route to take through or around the city based on real-time conditions.
---
Through the years, several studies have proven the benefits of ITS systems in the form of reduced secondary collisions, mitigated congestion (and all that that entails) due to expedited incident clearing and timely driver information, and, most importantly, lives saved. Here are some statistics from one report that did a before-and-after study of the first phase of TransGuide:
41% reduction in crashes, including a 15% decrease in injury accidents
20% reduction in response times to incidents
Annual savings of $1.65 million in time and fuel
2,600 gallon fuel savings per major incident
Increase in driver compliance to posted instructions from 33% to 80%
88% of drivers reported DMS signs were "very easy" to understand
85% of drivers indicated that TransGuide was an efficient way of managing congestion and notifying motorists

80% of drivers felt TransGuide was a good use of tax dollars

(Source: Texas Transportation Institute Study, 1997)
---
In 2011, after a series of wrong-way driver incidents culminating in the death of a San Antonio Police Department officer, a task force was established to combat the local wrong-way driver (WWD) problem. The task force included TxDOT, SAPD, the City of San Antonio Public Works department, the Bexar County Sherriff's Office, the Federal Highway Administration, and the Texas Transportation Institute. Their charge was to identify local WWD hot spots, analyze previous WWD research, investigate WWD countermeasures implemented elsewhere and determine those that could be implemented locally, and identify funding for a WWD countermeasures program.
The task force identified several countermeasures to implement including enhanced signage and pavement markings, active/illuminated signage, and detection technologies. In 2012, TxDOT began work on a pilot project to install flashing LED wrong way signs on all 29 exit ramps on US 281 north of downtown. That was followed in 2013 by installation of flashing LED wrong way signs and WWD detection radar as part of a larger expansion project on I-35 in the Selma area. Later in 2013, WWD radar was installed on the US 281 locations, and testing of a mainlane WWD detection and warning system was completed at the Southwest Research Institute. That system detects wrong way drivers using radar, then illuminates multiple wrong way signs to alert the driver. All the ramp and mainlane WWD radar systems notify operators at TransGuide when a WWD is detected. TransGuide operators then dispatch police and activate warning messages on the DMSs along the route to alert drivers.
In addition to the above, other countermeasures that have been implemented include red reflective tape added to the wrong way signposts to increase their visibility, adjustments to the locations of the reflectors used in off-ramp pavement arrows to reduce loss due to repeated contact, and additional, repositioned, or larger signage where warranted.
The results of the US 281 pilot project were significant with a 29% reduction in WWD events recorded in the year after the changes were made. Since then, the system has been improved and expanded to most freeways in the area. Newer installations include multiple radar units as well as a camera. When a WWD is detected, the camera takes a picture, which is then included in the automated notifications to TransGuide and SAPD. SAPD now also announces WWD incidents over their radio with an emergency tone.
Between 2011 and 2018, the local WWD system detected and helped stop 67 wrong way drivers. TxDOT continues to refine, improve, and expand the system.
Spike strips on exit ramps
One frequent and seemingly common-sense suggestion made by the public is to install spike strips on exit ramps, such as those used in some parking lots and rental car facilities. However, this idea has been thoroughly studied and there are several reasons why they would not work in this application:
Spike strips are designed for very low-speed locations (<10 mph.) During testing with high-speed vehicles as would be found on exit ramps, the spikes often broke, leaving stubs that damaged the tires of vehicles traveling the right direction.
The strips are hazardous to motorcycles, especially when wet.
Dirt and debris build up in the devices over time, which prevents the spikes from folding down properly and therefore can damage the tires of vehicles passing over in the right direction or even cause drivers to lose control. Freezing precipitation can also cause this.
Some drivers may view the strips as a hazard and suddenly reduce their speed, causing congestion and increasing the chances for rear-end collisions.
Emergency vehicles sometimes have to travel on exit ramps in the wrong direction to more quickly reach accident scenes.
In short, although it seems like an obvious solution to the WWD problem, spike strips have too many "fatal flaws" to be a bona fide option.
---
The Highway Emergency Response Operation (HERO) program, which patrols the local freeways to assist stalled motorists, clear debris, and provide traffic control at crash scenes, is operated out of TransGuide. More details on the HERO program is on the primer page.
---
Here are answers to some frequently-asked questions about TransGuide:
What's the point of TransGuide? All it ever tells me about is congestion that I see everyday and already know about.
Yes, it's true that many TransGuide messages are about areas of chronic or recurring congestion that are familiar and well-known to commuters along those routes. However, these congestion reports are useful to people who are not familiar with that road (e.g. truckers and tourists passing through, local residents who don't usually travel that route, etc.) and are also useful as reminders to regulars to be cautious as they approach the congestion. Studies have shown that these warnings improve the traffic flow and safety in the areas where they are used.

TransGuide's original intent, and the area where it really provides benefits, is reporting on incidents that cause unusual or severe congestion, and providing those reports in a timely manner to allow motorists to take alternate routes. Also, TransGuide can often detect such incidents before they are even reported by phone and, even when an accident is first reported by the public, TransGuide is useful in determining the precise location and extent of the incident as telephoned reports are often vague or inaccurate. This helps to ensure that the proper assistance is dispatched immediately. These factors combine to mean that TransGuide helps improve response times and results in incidents being cleared faster.


What's the point of the travel times on TransGuide signs? I know how long it takes to get where I'm going.
The travel times shown on TransGuide signs are computed every minute based on real-time traffic conditions. While the times shown during periods without congestion may seem pointless to those who travel the road often, they do serve the purpose of reassuring drivers that the route ahead is clear and that the system is online. Studies have shown that when DMS signs are blank, many drivers assume the system is not operating. When the road is congested and travel times increase correspondingly, motorists familiar with the typical travel times are able to use the travel times shown to judge the severity of the downstream congestion and determine whether or not to use an alternate route.


I still think TransGuide is a waste of money. Why don't they use the money spent on TransGuide building new highway lanes?
A 1997 study reported that 80% of drivers thought that TransGuide was a good use of tax dollars. Much of the funding for TransGuide comes from funding sources dedicated to Intelligent Transportation Systems (ITS). As a result, that money cannot be used for anything other than ITS projects. If TransGuide didn't get that money, it would simply go to another city's ITS system. Furthermore, the amount of money spent on ITS projects is substantially less per mile than roadway expansions, so using ITS funding for roadway expansion would yield very few miles of new highway lanes. Compared to roadway expansions, ITS has been shown to result in a more substantial and longer-lasting return-on-investment. Regardless, it is well-understood now that there is a point when you can no longer just build your way out of congestion. Instead, you have to better manage what you have, which is the intent of ITS systems, not to mention the safety aspects.

---
Other sites of interest