San Antonio Area Freeway System
Interstate 35 South (South PanAm Freeway)
---
This page last updated February 12, 2023
This page covers Interstate 35 west and south of downtown San Antonio from the I-10 West interchange to Loop 1604. For information on I-35 north of downtown, see the I-35 North page.

Length: 16 miles
---
On this page
---
As a result of NAFTA and the development of the Eagle Ford Shale oilfield south of San Antonio, I-35 South has become an increasingly important spoke in San Antonio's freeway system. This segment serves the city's southwest side and continues on to Laredo, the busiest US-Mexico border crossing for trucks. This corridor is also an important component in the continuing development of Port San Antonio.
This segment serves downtown San Antonio, Market Square, the University of Texas at San Antonio downtown campus, the San Antonio Produce Market, South Park Mall, Palo Alto College, Texas A&M University at San Antonio, the Toyota plant and adjacent suppliers, and a growing logistics and industrial area at Loop 410 as well as the cities of Von Ormy and Somerset. Commercial and industrial development fronts the freeway near downtown. Residential and some commercial development lines the corridor south of US 90 to Somerset Rd. Mostly undeveloped land takes over south of Somerset Rd. to Loop 410. South of Loop 410, light industrial areas and two rail yards sit on the west side of the freeway between Loop 410 and Von Ormy.
---
LANES

8 lanes from I-10 West to Laredo St. with a short double-decked stretch (4 lanes on the upper levels; 4 lanes on the lower level) from Guadalupe St. to S. Alamo St.
9 lanes (4 southbound, 5 northbound) from Laredo St. to US 90
6 lanes from US 90 to Spur 422/Poteet-Jourdanton Hwy.
4 lanes from Spur 422/Poteet-Jourdanton Hwy. to Loop 1604



ACCESS ROADS

No traditional access roads along most of the route from I-10 West to US 90, although S. Pecos-La Trinidad St. functions a southbound access road from I-10 West to S Alamo St. Short sections of access road exist on both sides between S Alamo St. and Cevallos St. A short access road exists southbound from San Marcos St. to Nogalitos St.
Continuous access roads along most of remainder of route
Access roads do not continue through Loop 410 interchange or over the Medina River, and the southbound access road does not continue through the New Laredo Hwy. interchange




EXITS

Click here for a list of I-35 South exits.
SPEED LIMITS

60 mph from I-10 West to Loop 410
70 mph from Loop 410 to Loop 1604




SPECIAL FEATURES & NOTES



TRAFFIC

Generally heavy from I-10 West to SW Military Dr. Moderate to light volumes south from there.

Regular peak-period congestion can be found northbound in the morning between SW Military Dr. and Cesar Chavez Blvd., and in the evening in both directions between I-10 West and US 90.





AVERAGE ANNUAL DAILY TRAFFIC
LOCATION
2001
2011
2016
2019
2020
2021
'11-'21
% CHG
S of Commerce St.
155,500
N/A
S of Laredo St.
162,000
177,000
178,839
171,936
149,584
160,584
-9.27%
S of US 90
152,000
147,000
155,370
158,210
137,738
159,854
+8.74%
N of SW Military Dr.
99,000
106,000
117,525
116,128
100,402
106,517
+0.49%
N of Zarzamora St.
69,000
76,000
84,659
90,788
78,772
86,323
+13.58%
N of Somerset Rd.
36,000
39,000
47,847
50,360
44,047
48,915
+25.42%
N of New Laredo Hwy.
34,000
37,000
45,579
48,590
39,984
46,776
+26.42%
S of Fischer Rd.
35,000
40,000
56,003
59,644
52,922
82,263
+105.66%
N of Loop 1604
58,644
N/A
(

NOTE

: In 2021, TxDOT changed the location of several traffic counting stations. New stations will show no history prior to 2021, and discontinued stations will show no history for 2021.)
---
Click here for photos and video of this freeway.
---
No current projects in this corridor.
---
The MPO's 25-year plan has proposals for the expansion of I-35 to eight lanes from US 90 to the Atascosa County line.
A new expressway (Kelly Parkway) roughly paralleling this section of I-35 is proposed as part of the Port San Antonio long-range road improvements package. It would run north from SH 16 near the Toyota plant to US 90 via General Hudnell Dr., crossing I-35 between Spur 422 and Loop 410.
A fully-directional "stack" interchange at Loop 410 is included in future plans to upgrade SW Loop 410.
---
The first sections to be built were simply called "US 81 Expressway", then the "South Expressway" and "Southwest Expressway" before being named the "PanAm Freeway" as it is a segment of the Pan American Highway. This freeway is also part of the so-called "NAFTA Superhighway". The designation as I-35 was authorized on October 1, 1959. US 81 was decommissioned south of Fort Worth in 1991.
The section south of New Laredo Hwy. was built in 1934 as part of the Arneson Plan to improve state highways in Bexar County. Prior to then, US 81 and its predecessor SH 2 ran along Frio City Rd. and Pearsall Rd.
This was the first expressway spoke in Bexar County to be completed from downtown to the county line, although the section from Loop 410 to the county line was not upgraded to full Interstate standards until 1974.
Late 1930s:

The section from Nogalitos St. to downtown was included as part of the original three-legged expressway plan for San Antonio designed to provide bypass routes around downtown for through traffic on the various US highways. The United States' entrance into World War II delayed these plans until after the war.

1952:

The section from Guadalupe St. to Pruitt Ave. (just south of Nogalitos St.) was completed as one of the three spokes of the seminal expressway system.

1955:

Alignment finalized for the routing of the section between Nogalitos St. and Loop 410. An earlier proposal would have run due south from Nogalitos St. to Southcross Blvd., then southwest to today's intersection of Zarzamora St. and I-35, then west to join New Laredo Hwy.

1957:

Access roads between SW Military Dr. and New Laredo Hwy. opened and the pre-existing section of US 81 from New Laredo Hwy. to the Atascosa county line was upgraded to a "semi-freeway", which was a full divided highway with access roads but no overpasses at intersections.

The elevated "Central Expressway" segment from Guadalupe St. to present-day I-10 West was completed including "Downtown Y" interchange.

1958:

Freeway between Nogalitos St. and Division Ave. opened.

1960:

Freeway between Division Ave. and Fischer Rd. completed including the Loop 410 interchange.

1967:

Interchange at US 90 completed.

1974:

Work to upgrade the segment from Fischer Rd. to the Atascosa county line to Interstate standards (mainly adding overpasses and exits) was completed.

1989:

The section from SW Military to Spur 422 expanded from four to six lanes.

1988-1991:

Section from US 90 to I-10 West expanded as part of the "Downtown Y" project.

1995:

TransGuide coverage added from I-10 West to Southcross Blvd. as part of the original TransGuide project.

2009:

The section from US 90 to Somerset Rd. was reconstructed. The reconstruction removed several pedestrian bridges, expanded the overpasses and frontage roads, relocated several entrance and exit ramps, removed the previous southbound left-hand exit to SP 422 and the northbound left-hand exit to Palo Alto Rd., and extended the northbound frontage road through the Spur 422 interchange.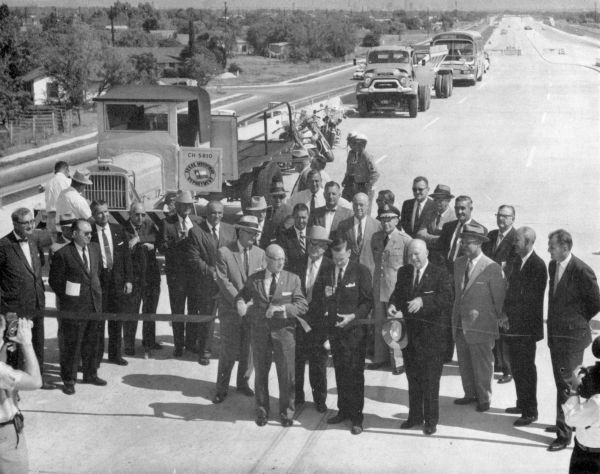 I-35 ribbon cutting at SW Military Dr. looking north in 1960
(Photo courtesy of TxDOT)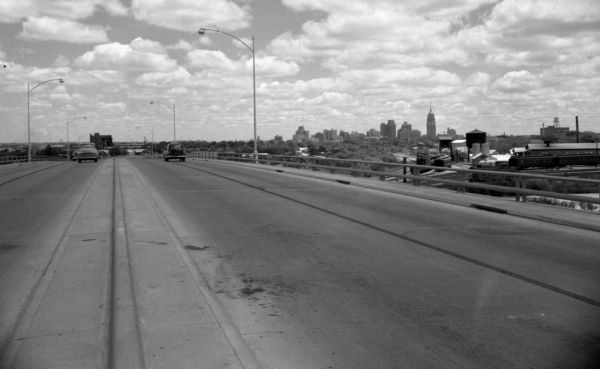 I-35 over San Marcos St. looking north ca. 1955

(Photo courtesy of TxDOT)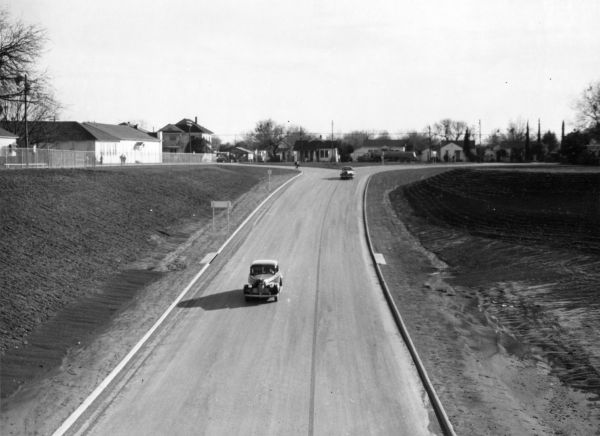 I-35 at Nogalitos St. looking south ca. 1952

The expressway ended here at this time. Southbound traffic exited onto Nogalitos St., but northbound traffic entered the ramp shown here from Pruitt Ave.
(Photo courtesy of TxDOT)