San Antonio Area Freeway System
Interstate 410 (John B. Connally Loop)
---
This page last updated November 21, 2021
This page covers Interstate 410 (Loop 410) around the city except for the section between the Fratt Interchange (Loop 410 North) and the Loop 410 South Cutoff on the Northeast Side. That section is concurrent with I-35 and because the I-35 mile markers and exit numbers are used along that stretch, information on that segment can be found on the I-35 North page. Technically, that section is not even officially part of Loop 410 per TxDOT's highway designation files. However, it is signed as both I-35 and I-410 for continuity purposes.

Length: 49 miles (53 miles including the concurrent section on I-35)
---
On this page
---
Interstate 410, known locally as Loop 410 or just "The Loop", is really a tale of two freeways. The southern half (south of US 90) generally demarks the edge of the city and resembles and functions more like a semi-rural or urban fringe Interstate than an urban freeway. Meanwhile, the northern arc is the busiest stretch of freeway in Texas outside of Houston-- making it one of the 25 or so busiest in the nation-- and is home to a substantial share of the region's suburban office space and several major shopping centers. The Loop also provides access to San Antonio International Airport, the South Texas Medical Center, the Southwest Research Institute and Texas Biomedical Research Institute, the Westover Hills area and Sea World of Texas, the National Security Agency campus, Joint Base San Antonio Ft. Sam Houston and Lackland, Traders Village, Brooks City-Base, Stinson Municipal Airport, the San Antonio Missions Trail National Park, Palo Alto College, Texas A&M University - San Antonio, the Toyota and Navistar plants and adjacent facilities, and the cities of Castle Hills, Balcones Heights, Leon Valley, Kirby, and Windcrest.

Land along the northern arc is heavily developed. Office towers, shopping malls, hotels, and other commercial developments dominate the landscape, interspersed with dense mid 20th century residential areas. South of US 90, development is much more dispersed with large tracts of vacant land, although this area has been seeing new residential, commercial, and industrial growth in recent years, most notably a growing logistics and industrial area at I-35 South.
In 2010, TxDOT completed a major decade-long program to expand Loop 410 to ten lanes across the North Side of San Antonio.
---
| | |
| --- | --- |
| | Loop 410 intersects with I-35 North at two places: Loop 410 North intersects I-35 north of Walzem Rd. at the Fratt Interchange, and Loop 410 East intersects I-35 south of Rittiman Rd. at the 410 South Cutoff. Both highways run concurrent (multiplexed) between these interchanges. |
---
LANES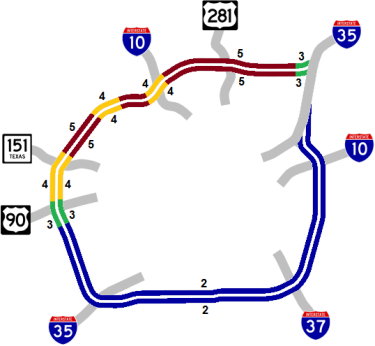 6 lanes from I-35 (Fratt Interchange) to Perrin-Beitel Rd.
10 lanes from Perrin-Beitel Rd. to Evers Rd. with a short 8 lane section through the I-10 interchange
8 lanes from Evers Rd. to Ingram Rd.
6 lanes from Ingram Rd. to Valley Hi Dr.
4 lanes from Valley Hi Dr. to I-35 North (410 South Cutoff)
ACCESS ROADS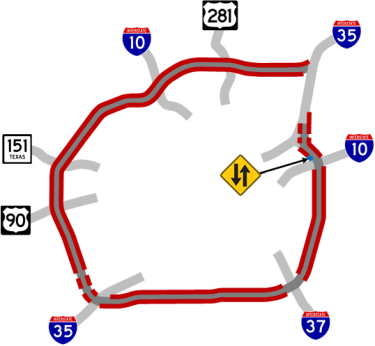 Continuous access roads along entire route except at:

I-35 South
Both sets of railroad tracks just west of I-35 South
I-37 South
I-10 East
FM 78

Eastbound access road through-traffic requires a left turn at Harry Wurzbach Rd.
Southbound access road turns to become the northbound I-35 access road near FM 78 and Binz-Engleman Rd., but traffic can turn left at FM 78 to continue on southbound Loop 410 access road.
Southbound access road between Dietrich Rd. and I-10 East is two-way.
Eastbound access road ends at Interchange Pkwy. before reaching I-35 North. Traffic can turn around to the westbound access road or cross over to Perrin Creek Dr.
Access road flyovers (intersection bypass) at San Pedro Ave. (both directions) and at Military Dr. W

EXITS

Click here for a list of I-410 exits.
SPEED LIMITS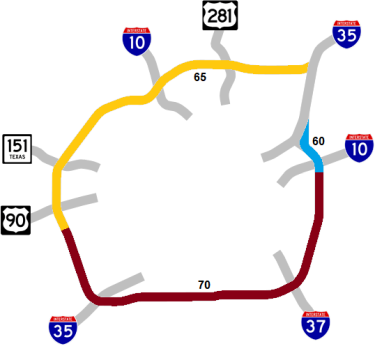 60 mph between I-35 North and I-10 East
65 mph north of US 90
70 mph south of US 90
SPECIAL FEATURES & NOTES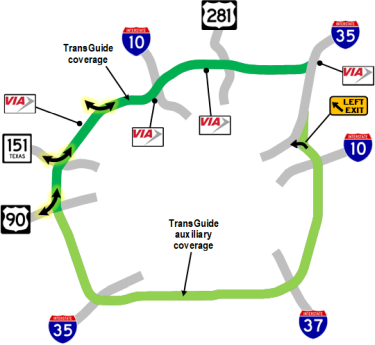 TRAFFIC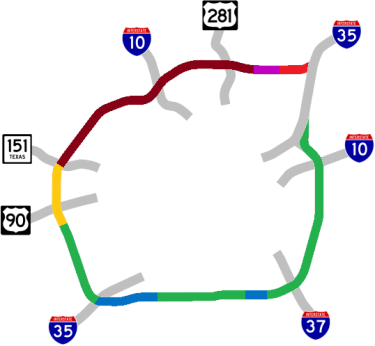 Very heavy along northern arc (US 90 West to I-35 North). The northern section has been San Antonio's busiest or second busiest freeway for over three decades with counts now exceeding 300,000 vehicles per day between Blanco and San Pedro. Much of the chronic congestion along this stretch had been eased with the completion of several expansion and interchange projects in the first decade of this century. However, that expansion has now drawn significant increases in traffic and new recurring congestion. Recurring morning congestion occurs northbound between US 90 and I-10 and northbound between I-10 East and I-35 North. Evening peak congestion occurs in both directions between I-10 West and US 281 North, eastbound approaching I-35 North, and southbound approaching I-10 East.
The southern half carries generally moderate traffic.
AVERAGE ANNUAL DAILY TRAFFIC
LOCATION
2000
2010
2015
2018
2019
2020
'10-'20
% CHG
E of Perrin-Beitel Rd.
127,000
118,000
157,822
160,091
163,071
144,135
+22.15%
W of Nacogdoches Rd.
178,000
147,000
205,441
223,475
229,058
197,593
+34.42%
W of Wetmore Rd.
189,000
146,000
193,267
230,084
235,310
203,634
+39.48%
W of McCullough Ave.
179,000
200,000
259,477
291,434
291,725
253,708
+26.85%
E of Blanco Rd.
199,000
208,000
257,227
299,814
305,764
261,091
+25.52%
W of Vance Jackson Rd.
201,000
208,000
259,898
269,689
276,016
241,025
+15.88%
E of Evers Rd.
177,000
157,000
254,746
224,734
228,632
199,289
+26.94%
S of Bandera Rd.
157,000
159,000
196,376
214,363
218,205
191,131
+20.21%
N of US 90W
109,000
101,000
124,728
128,970
127,248
111,028
+9.93%
S of US 90W
82,000
88,000
99,495
104,744
121,514
99,868
+13.49%
N of Pearsall Rd.
46,000
50,000
67,236
73,951
76,486
67,234
+34.47%
W of I-35S
39,000
45,000
51,451
70,133
73,410
64,760
+43.91%
E of Somerset Rd.
33,000
32,000
41,709
47,245
49,450
44,035
+37.61%
E of Poteet-Jourdanton Fwy.
33,000
33,000
46,778
50,008
53,146
45,599
+38.18%
W of Roosevelt Ave.
38,000
40,000
51,489
57,006
59,670
52,105
+30.26%
E of Roosevelt Ave.
37,000
45,000
47,283
50,692
52,761
46,120
+2.49%
W of I-37
36,000
52,000
57,795
60,937
60,705
53,800
+3.46%
E of I-37
35,000
51,000
56,051
55,673
56,356
49,363
-3.21%
S of Southcross Blvd.
39,000
55,000
60,598
60,801
61,383
54,079
-1.67%
S of Rigsby
47,000
60,000
65,872
65,338
65,688
58,395
-2.68%
S of E. Houston St.
60,000
67,000
77,497
76,655
78,559
69,132
+3.18%
S of I-10E
65,000
70,000
82,099
79,371
83,569
71,809
+2.58%
N of I-10E
69,000
80,000
82,666
81,422
82,654
72,617
-9.23%
N of FM 78
65,000
76,000
71,652
69,491
71,815
63,404
-16.57%
---
Click here for video of this freeway.
---
Ingram Rd. to US 90:

Widen freeway to ten and eight lanes and build Phase 2 of the SH 151 interchange. Click here for details on this project.
Click here to view information for all projects in this corridor.
---
TxDOT has intermediate-term plans to expand the section from SH 151 to SH 16 South to eight lanes and rebuild the I-35 South interchange. Those projects are currently projected to start in 2032, with a project to revise entrance and exit ramps and improve intersections set to start in 2021.
Work to begin rebuilding the I-10 East/Loop 410 interchange is scheduled to begin in 2021; click here for more information on that project.
A project to make several operational improvements in the Loop 410/US 281/San Pedro area will make substantial changes to exits, intersections, and access roads along Loop 410 between US 281 and West Ave. More details on that project is here.
---
A loop around San Antonio was first proposed in 1932 as part of the "Arneson Plan" to improve state highways in Bexar County. That plan included today's Loop 410 between San Pedro and I-35 North, but had the remainder of the loop closer to downtown than today's route. On the West Side, Arneson's planned route would have used the Acme Rd. and Benrus Blvd. corridors and run between Kelly and Lackland Air Force Bases. On the South Side, most of Arneson's route ran a mile or so south of today's Military Dr., and on the East Side, his route was a bit east of WW White Rd.
Planning for the "Military Loop" on the North Side during WWII showed the section west of NW Military Hwy. running slightly northwest to meet Fredericksburg Rd. near Wurzbach Rd. The city's 1950 master plan, also known as the "Lilly Report", moved this routing a little further south to meet Callaghan Rd. at Fredericksburg Rd. and then follow the Callaghan Rd. corridor-- which at that time was still outside the city-- from there to US 90. By 1955, however, that route had been scrapped and replaced with the present-day route from NW Military Hwy. around to US 90 and then continuing along today's routing around the South Side. This route was chosen to avoid traversing Lackland and Kelly Air Force bases and the increasingly urbanized section of the existing Loop 13 (Military Dr.) on the South Side, and this was the route included in the 1955 blueprint for the Interstate Highway System known as the "Yellow Book".
The first sections to be built in the 1950s were signed as Loop 13 and re-designated as Interstate 410 in 1960. The section on the North Side between I-10 and I-35 was not initially included in the Interstate program reportedly due to a dispute over design standards. However, for route number continuity, that section was designated and signed as State Loop 410 until it was finally added to the Interstate Highway System in 1968 and subsequently designated as I-410 by the Texas Transportation Commission on July 31, 1969 (Minute Order 62561.)
Loop 410 is named the Connally Loop for Texas Governor John B. Connally. Connally, who served as governor from 1963 to 1969, was from the San Antonio area and was instrumental in helping the city during the HemisFair World's Fair in 1968.
Loop 410 was the first Interstate loop in Texas to be completed.
September 1956: The section between Culebra Rd. and Bandera Rd. opens as a two-lane expressway (i.e. one lane each way.)

October 1956:

The segment from Culebra Rd. south to Marbach Rd. opens as a two-lane expressway and the section from Marbach Rd. to US 90 opens as access roads.

March 1957:

Access roads between Vance Jackson Rd. and Cherry Ridge Dr. open along with the mainlanes from Cherry Ridge Dr. to Fredericksburg Rd.

December 1957:

Access roads from Vance-Jackson Rd. to San Pedro Ave. open.

ca. 1958:

The section between Blanco Rd. and McCullough upgraded to a freeway including construction of a cloverleaf interchange at San Pedro Ave.


April 1958:

Access roads between Bandera Rd. and Callaghan Rd. open as well as the mainlanes from Callaghan Rd. to Fredericksburg Rd.

July 1958:

Access roads from San Pedro Ave. to Wetmore Rd. open.

1960:

Interstate 410 designated and signs along existing sections of Loop 13 on the northwest side west of I-10 are changed with the section east of I-10 being renumbered as State Loop 410.

September 1959:

Freeway (mainlains and access roads) from US 90 to Old Pearsall Rd. completed.

January 1960:

Freeway from Old Pearsall Rd. to I-35 opens including interchange at I-35.

April 1960:

Interchange at I-10 West completed.

May 1960:

Mainlanes from Bandera Rd. to Callaghan Rd. completed.

June 1960:

Freeway from Bandera Rd. to US 90 opens including interchange at US 90.

March 1961:

Mainlanes from Cherry Ridge Dr. to NW Military Hwy. completed.

February 1963:

Mainlanes from I-35 to Poteet-Jourdanton Fwy. opens.

March 1963:

Mainlanes from Poteet-Jourdanton Fwy. to Roosevelt Ave. completed.

September 1963:

Mainlanes from San Pedro Ave. to Nacogdoches Rd. opens.

1964:

Mainlanes from Nacogdoches Rd. to I-35 and freeway from Rittiman Rd. to Southcross Blvd. completed including interchange at I-10 East.

1965:

Mainlanes from Roosevelt Ave. to S Presa St. opens.

January 19, 1966:

Freeway from S Presa St. to Southcross Blvd. opens with ribbon-cutting ceremony for entire Loop 410 completion.

1969:

Interchange at I-37 completed.

July 1969:

Interstate 410 designation extended to northern section of Loop 410.

1975:

The section from San Pedro Ave. to Harry Wurzbach Rd. widened to six lanes.

1976:

The segment from San Pedro Ave. to I-10 widened to six lanes.

1980-1983:

Fratt Interchange rebuilt in a blockbuster project-- the largest ever in the highway department's history at that time.

1981:

The section from Harry Wurzbach Rd. to Perrin Beitel Rd. widened to six lanes.

1982:

The segment from I-10 to Ingram Rd. widened to six lanes.

1987:

The section from Ingram Rd. to Valley Hi Dr. widened to six lanes.

1988:

Access roads from Somerset Rd. to Southton Rd. and from WW White Rd. to Southcross Blvd. built.

1994:

Overpasses at Fredericksburg Rd. and at Cherry Ridge Dr. widened to accommodate future expansion of I-10 interchange.


1996:

Additional westbound lane added from I-10 to Babcock Rd.

1998:

The segment from Jackson-Keller Rd. to Cherry Ridge Dr. widened to ten lanes but only eight lanes marked to limit bottlenecking. This was the first project in a larger program to widen Loop 410 from Culebra Rd. to I-35 North.

1999:

TransGuide coverage added from Ingram Rd. to I-35 North.

2000-2009:

I-10 interchange reconstructed including expanding Loop 410 to eight lanes through interchange.

2001:

The section between McCullough Ave. and US 281 widened and prepared for the planned 281/410 interchange.

2003:

The segment from I-10 to Callaghan Rd. expanded to ten lanes.

2004:

The section from Jackson-Keller Rd. to Blanco Rd. widened to ten lanes (eight lanes initially marked).

June 18th, 2007:

First ramp in US 281 interchange opened to traffic.

2008:

The segment from Blanco Rd. to McCullough Ave. widened to ten lanes and the San Pedro interchange rebuilt. The previously-completed sections between Blanco Rd. and I-10 restriped to ten lanes.

June 2008:

US 281 interchange completed including widening Loop 410 to ten lanes from Jones-Maltsberger Rd. to Nacogdoches Rd.

May 2009:

Elevated connectors to Bandera Rd. opened.

Mid 2009:

The segment from Callaghan Rd. to Ingram Rd. widened to eight and ten lanes.

Late 2009:

The section from Ingram Rd. to Culebra Rd. widened to six lanes.

2010:

The segment from Nacogdoches Rd. to Austin Hwy. widened to ten lanes. This was the last section to be widened as part of the larger Loop 410 widening program that started in 1997.

2011:

The section of Loop 410 from I-35 South to I-10 East is included in a project to extend the SH 130 designation from the SH 130 toll road near Seguin to I-35 to provide route number continuity.

2018:

The segment from Ingram Rd. to SH 151 widened to eight lanes and the first phase of the SH 151 interchange completed.

2019:

Phase 1 of the US 90 interchange completed.

2021:

Phase 2 of the SH 151 interchange completed.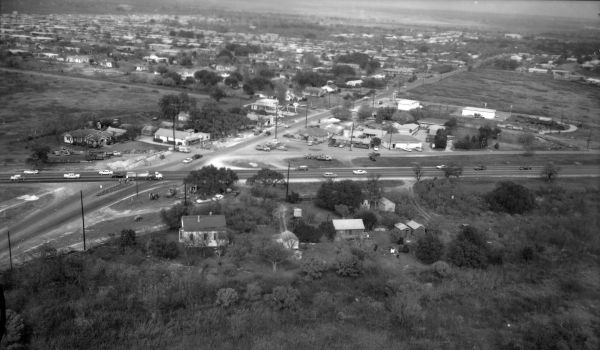 Loop 410 at Nacogdoches looking north ca. 1961
The road running left to right is Loop 410. At this time, it was still a four-lane surface road.
(Photo courtesy of TxDOT)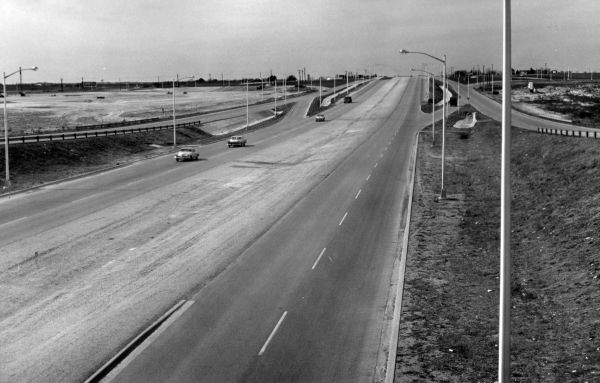 Loop 410 at McCullough looking west in 1958

Construction on North Star Mall was just getting started at the left.
(Photo courtesy of TxDOT)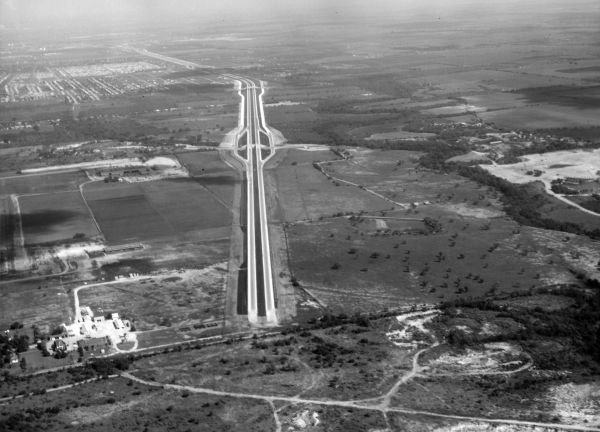 Loop 410 over the WW White Road area looking northeast ca. 1964

The interchange near the center of the photo is Southcross Blvd. Work to complete the final section of Loop 410 had not yet started.
(Photo courtesy of TxDOT)