San Antonio Area Freeway System
State Highway 151 (Raymond E. Stotzer Jr. Freeway)
---
This page last updated February 12, 2023
This page covers State Highway (SH) 151 from US 90 to Loop 1604 in western San Antonio.

Length: 10 miles
---
On this page
---
SH 151 connects rapidly-growing far western Bexar County to Loop 410 and to downtown via US 90. It is the main corridor through the exploding Westover Hills area, which includes Sea World of Texas, the Hyatt Hill Country Resort, several major financial services companies, the National Security Agency campus, multiple large data centers, and Northwest Vista College. This route also serves the Southwest Research Institute and Texas Biomedical Research Institute. At the western end of the corridor is the sprawling Alamo Ranch development. Residential and commercial construction is booming in the corridor with major retail hubs at Loop 410 and Loop 1604.
Inside Loop 410, the majority of the land fronting the corridor is undeveloped, although the area near US 90 has seen growing light and moderate industrial development. Outside of 410, much of the frontage is now a mix of suburban commercial and residential.
---
LANES



4 lanes along entire route
ACCESS ROADS

Continuous access roads along entire route. These access roads originally served as the main highway before the construction of the freeway mainlanes.

EXITS

Click here for a list of SH 151 exits.
SPEED LIMITS



65 mph along entire route
SPECIAL FEATURES & NOTES

Partial directional interchanges at Loop 1604, Loop 410, and US 90. Full connectivity at Loop 410 is provided by access road intersections. At Loop 1604, access roads provide connectivity from SH 151 to Loop 1604 northbound and from northbound Loop 1604 to SH 151. A signalized left turn and ramp provides access from SH 151 to southbound Loop 1604.



TRAFFIC


Generally moderate. Traffic counts have increased substantially over the past decade, and have more than quadrupled in some locations over the past two decades, with the location just inside Loop 1604 up over 700% since 2001. The opening of the Loop 410 connectors resulted in a significant bump in traffic counts.

Daily recurring congestion occurs eastbound between Westover Hills Blvd. and Potranco Rd. during the morning rush hour, and westbound from Military Dr. West (west of Hunt Ln.) to Loop 1604 and on the overpass to Alamo Ranch Pkwy.




AVERAGE ANNUAL DAILY TRAFFIC
LOCATION
2001
2011
2016
2019
2020
2021
'11-'21
% CHG
N of US 90
34,000
67,000
73,804
86,656
68,138
84,625
+26.31%
E of Callaghan Rd.
79,202
N/A
E of Loop 410
18,000
67,000
74,323
82,678
67,687
79,979
+19.37%
E of Potranco Rd.
25,000
97,000
117,138
120,807
98,993
127,629
+31.58%
W of Hunt Ln.
75,000
98,765
105,118
95,378
106,950
+42.60%
E of Loop 1604
10,600
48,000
64,578
67,705
54,259
79,091
+64.77%
(

NOTE

: In 2021, TxDOT changed the location of several traffic counting stations. New stations will show no history prior to 2021, and discontinued stations will show no history for 2021.)
---
Click here for photos and video of this freeway.
---
At Loop 410:

Phase 2 of the interchange at Loop 410. Click

here

for more information on this project.

Loop 410 to Loop 1604:

Expand from four to six lanes and construct a new connector to northbound Loop 1604. Click

here

for more information on this project.
---
A plan to to extend SH 151 all the way to SH 211 in far western Bexar County was once envisioned as part of the regional tollway system but has since been dropped. However, regional thoroughfare plans do still show Alamo Ranch Parkway, which is a county road, eventually connecting to SH 211, although there are currently no plans to extend SH 151 itself over that route.
TxDOT has near-term plans to add a third mainlane in each direction between Loop 410 and Loop 1604 and make additional improvements; click here for more information on that project. TransGuide coverage is planned for the corridor sometime in the future as well, likely in conjunction with the aforementioned expansion project.
---
SH 151 is authorized by Minute Order 81732 (March 14, 1984). The route is named for Raymond Stotzer Jr., a longtime TxDOT engineer and the head of the San Antonio TxDOT district from 1974 to 1986 who was instrumental in getting the route approved. It originally had the moniker "West Side Expressway." When it was first proposed, some maps mistakenly labeled the route as the "Northwest Expressway", but at the time, I-10 northwest of downtown officially held that name. (I-10 was subsequently renamed the "McDermott Freeway" in the mid '90s.)
Like many freeways in Texas, the access roads were built first, then the mainlanes followed as traffic necessitated. On SH 151, the mainlanes were built in piecemeal fashion as traffic warranted and funding was available with short sections of freeway and overpasses at major intersections first, followed finally by the remainder of the mainlanes.
1983:

Local real estate developer Marty Wender, noting that the fast-growing Northwest Side was the largest gap in the freeway system and himself needing access to his planned Westover Hills development, pitched the idea of a freeway connecting Loop 1604 to US 90. To help improve the chances of approval and expedite its construction, he coordinated the donation of 85% of the right-of-way and also donated funding to cover half the cost of the access roads.

1984:

The Texas Transportation Commission approves SH 151.

1985:

SeaWorld announces they will build a park in Westover Hills. Construction of the frontage roads between Loop 410 and Loop 1604 begins including the overpasses over the then-future mainlanes at Military Dr., Westover Hills Blvd., and Wiseman Blvd.

1986:

Construction of the access roads between Loop 410 and US 90 begins.

1987:

Access roads between Loop 410 and Loop 1604 opened.

1988:

Access roads between Loop 410 and US 90 completed as well as the interchange at US 90.

May 1988:

SeaWorld opens.

1997:

Construction completed on the first short segment of the freeway mainlanes over Ingram Rd. and Potranco Rd.

February 1998:

The freeway mainlane overpass at Old Highway 90 opened.

Summer 1998:

The mainlane overpass at Pinn Rd. completed.

March 2001:

The mainlane overpass at Callaghan Rd. and the mainlanes between Callaghan Rd. and Old Highway 90 completed.

2003:

Modifications to the 151/1604 interchange made in conjunction with the Loop 1604/Culebra overpass project. As a result of a statewide directive, a study was initiated to determine the feasibility of tolling SH 151. However, due to local political pressure-- and notably the fact that the right-of-way for SH 151 had been donated-- the tollway proposal was subsequently dropped.

May 2004:

Mainlanes from Callaghan Rd. to Loop 410 completed.

September 2004:

Mainlanes from Loop 410 to Loop 1604 opened.

July 2016:

The flyover from southbound Loop 1604 to SH 151 completed.

December 2016:

Overpass from SH 151 to Alamo Ranch Parkway opened.

2018:

The flyovers from southbound Loop 410 to SH 151 westbound and from eastbound SH 151 to Loop 410 northbound opened in April and May respectively.

2021:

The flyovers from eastbound SH 151 to southbound Loop 410 and northbound Loop 410 to westbound SH 151 opened in September and October respectively.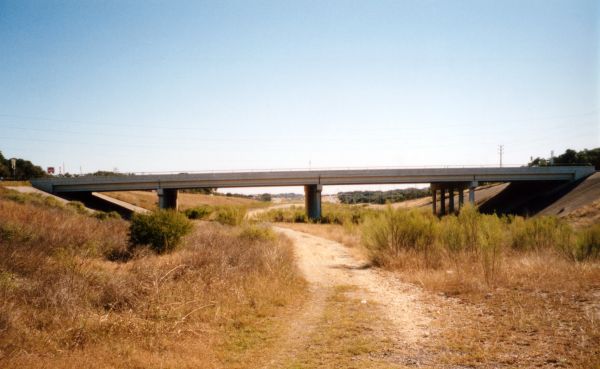 SH 151 at Wiseman Blvd. looking southeast in 2001
The overpasses for the thoroughfares near SeaWorld were built over the future mainlanes in conjunction with the original construction of the frontage roads.
(Photo by Brian Purcell)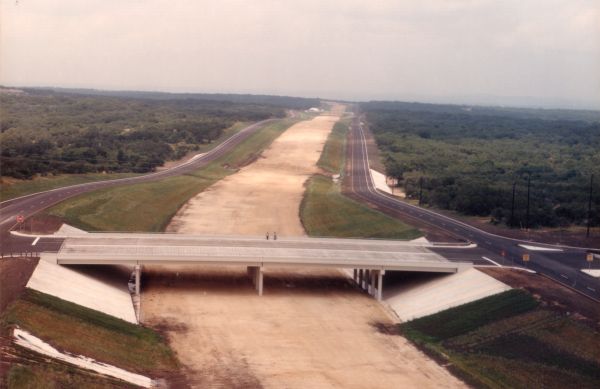 SH 151 at Military Dr. looking northwest in 1987

(Photo courtesy of TxDOT)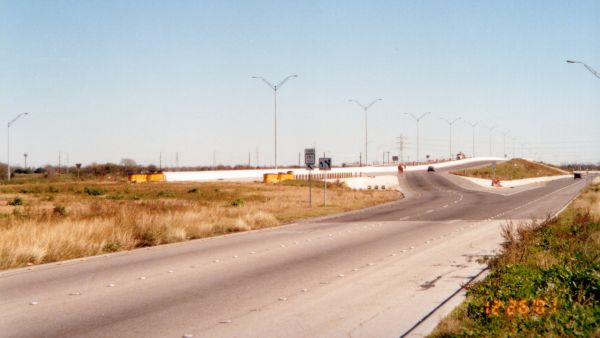 SH 151 near Callaghan Rd. looking southeast in 2001

This shows where the frontage road entered a completed section of freeway mainlanes.
(Photo by Brian Purcell)