San Antonio Area Freeway System
US Highway 90 West (Cleto Rodriguez Freeway)
---
This page last updated September 10, 2023
This page covers US Highway 90 west of downtown San Antonio from I-35 to just outside of Loop 1604. US 90 continues east concurrent (multiplexed) with I-10 East.

Length: 12 miles
---
On this page
---
This is the main freeway serving San Antonio's West Side. It provides access to Port San Antonio (the former Kelly AFB), Joint Base San Antonio Lackland, Our Lady of the Lake University, St. Mary's University, the San Antonio Produce Market, and Nelson Wolff Municipal Stadium. Residential areas abut the freeway along most of the corridor between I-35 and SH 151. Near 151 are several large manufacturing plants, warehouses, and the ballpark. The freeway runs through mostly undeveloped land and parkland between Leon Creek and Old Highway 90/Enrique Barrera Pkwy. An older commercial area lines the access roads between there and Loop 410. Outside of Loop 410, most of the southern frontage is undeveloped land that's part of Lackland Air Force Base. The northern frontage is a mix of undeveloped land and residential areas. Major residential growth is now occurring along US 90 west of Loop 1604.
---
LANES



ACCESS ROADS

Short sections of access roads immediately west of Nogalitos St.
Short section of westbound access road at Cupples Rd.
Continuous access roads from SW 36th St. to Loop 1604.



EXITS

Click here for a list of US 90 West exits.
SPEED LIMITS

65 mph from I-35 to Loop 410.
70 mph from Loop 410 to Loop 1604.



SPECIAL FEATURES & NOTES



TRAFFIC


Moderate to heavy east of SH 151. Moderate west of SH 151. Traffic volumes grew notably along most of the corridor over the past decade.

Recurring morning peak period congestion occurs eastbound from Montgomery Rd. to Loop 410, and westbound in the same area during the evening peak period.





AVERAGE ANNUAL DAILY TRAFFIC
LOCATION
2002
2012
2017
2019
2021
2022
'12-'22
% CHG
E of Zarzamora St.
128,000
152,000
169,413
165,709
145,201
162,240
+6.74%
E of Cupples Rd.
116,000
137,000
153,450
149,640
146,449
159,306
+16.28%
W of General McMullen Dr.
141,232
151,656
N/A
E of Old Hwy 90
65,000
73,000
81,311
80,494
76,940
81,858
+12.13%
W of Military Dr.
73,000
84,000
92,913
89,824
89,173
94,904
+12.98%
W of Hunt Ln.
44,000
61,000
81,073
83,301
80,978
86,153
+41.23%
W of Loop 1604
30,000
38,000
61,100
53,373
50,704
53,929
+41.92%
(

NOTE

: In 2021, TxDOT changed the location of several traffic counting stations. New stations will show no history prior to 2021, and discontinued stations will show no history for 2021 or thereafter.)
---
Click here for photos and video of this freeway.
---
---
Kelly AFB was closed in mid-2001 and the city has converted the former aircraft maintenance depot into a major civilian industrial complex and inland port called Port San Antonio. To support the new facility, interchange improvements at General Hudnell Dr. have been proposed in conjunction with a new parkway (Kelly Parkway) connecting US 90 to I-35 South via Spur 371 (General Hudnell Dr.)
The first phase of a multi-level interchange at Loop 410 has been completed. Plans are to eventually build the remaining connectors, but funding to do so has not yet been secured.
TxDOT will begin a project in 2023 to upgrade US 90 from Loop 1604 to SH 211 to a full freeway, build the westbound US 90 to northbound Loop 1604 flyover, and make additional improvements between Hunt Lane and Loop 1604. Click here for more information on this project.
A future project (currently unfunded) will modernize the section from Loop 410 to SH 151 which is still mostly in its original 1968 layout.
---
This route was originally named the "West Expressway" but is now named for Cleto Rodriguez, a San Antonian who was the first Hispanic to be awarded the Medal of Honor. This freeway was built in the mid '60s to replace the old route that ran on surface streets through San Antonio's West Side.
Most of the section west of Acme Rd. was part of the original US 90 and its predecessor SH 3. As part of the Arneson Plan to improve state highways in Bexar County, the section between Pinn Rd. and Acme Rd. was bypassed in 1934 with what's now Old Highway 90/Enrique Barrera Pkwy. Also, the segment between Loop 1604 and Medio Creek was built around 1945 to straighten that section. Prior to then, the route followed Kriewald Rd.
1956:

Route approved.

1960:

The interchange at Loop 410 was completed.

1965:

The segment from Nogalitos St. to Cupples Rd. was completed. The existing two-lane highway from Loop 410 to Old Highway 90 upgraded to access roads.

1967:

The interchange at I-35 opened.


1968:

The section from Loop 410 to Cupples Rd. was completed.

1971:

The existing two-lane highway from Loop 410 to Loop 1604 was upgraded to a freeway.


1988:

The interchange at SH 151 was completed.

1991:

Freeway was widened from six to 10 lanes between I-35 and SH 151.

1995:

TransGuide coverage was added to the section from I-35 to Zarzamora St. as part of the original TransGuide project.

1996:

The eastbound access road between Old Highway 90 and Leon Creek was completed.

2001:

TransGuide coverage added from Zarzamora St. to Hunt Lane.

2007:

VIA relocated the Kel-Lac Park & Ride facility from within the Old Highway 90 interchange to its current location just west Military Dr.

2009:

The Old Highway 90 overpass was rebuilt and the westbound access road through that location was realigned.

2018:

The first flyover in the Loop 410 interchange was opened and the freeway was widened to add a long auxiliary lane in each direction between Loop 410 and Loop 1604.

2019:

The second flyover in the Loop 410 interchange opened as well as the flyover from Loop 1604 to eastbound US 90.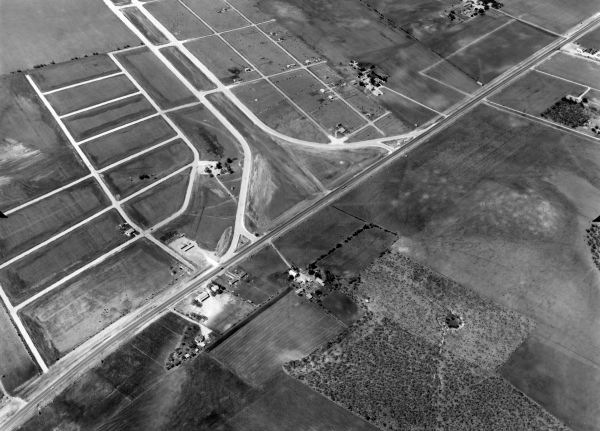 US 90 at Loop 410 looking northeast in 1956
US 90 is the roadway headed from the lower left to upper right. In the center, you can see what would eventually become the northern half of the US 90/Loop 410 cloverleaf.
(Photo courtesy of TxDOT)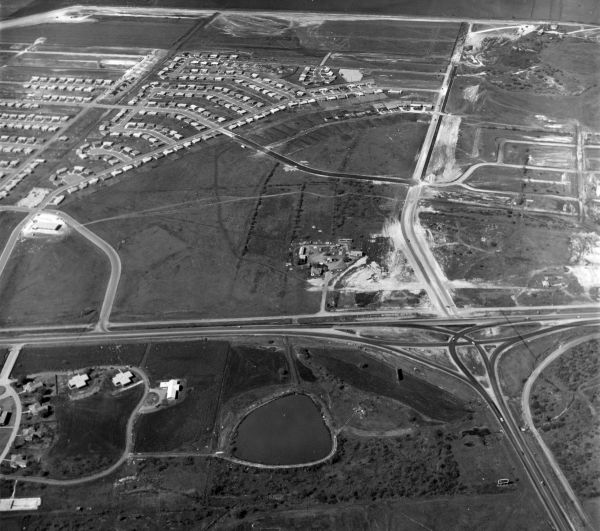 US 90 at Military Dr. looking north in 1961

This shows the at-grade "seagull" intersection there prior to the expressway construction. Military Dr. to the north was under construction at this time.
(Photo courtesy of TxDOT)