San Antonio Area Freeway System
Interstate 10 East (Josť Lopez Freeway)
---
This page last updated February 12, 2023
This page covers Interstate 10 south and east of downtown San Antonio from I-35 to Pfeil Rd. Two miles of I-10 is concurrent (multiplexed) with I-35 north of the western end of this segment; see the I-35 South page for details on that segment. Interstate 10 then continues northwest of downtown; see the I-10 West page for more info.

Length: 11 miles
---
On this page
---
This unassuming freeway serves San Antonio's East Side neighborhoods as well as industrial areas south of downtown and near Loop 410. Residential areas line most of the route between I-37 and E Houston St. while commercial and industrial uses front the corridor east of there and between I-35 and I-37. The corridor provides access to the AT&T Center and Freeman Coliseum, the San Antonio Missions Trail National Park, and the suburban cities of Kirby and Converse. While the I-10 corridor itself east of Foster Rd. is still mostly lightly developed, heavy residential and commercial development exists just a few miles north of I-10 along FM 78, and that development is now creeping southward all the way out to FM 1518. Therefore, this route has become a favorite commuter route for motorists in the FM 78 corridor wanting to avoid the heavy traffic on I-35. New industrial development is also occurring within and south of the I-10 corridor in the Foster Rd. area, which has increased truck traffic in the corridor.
---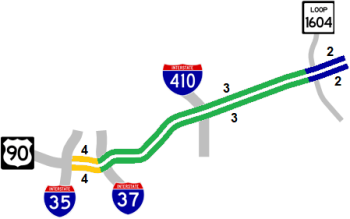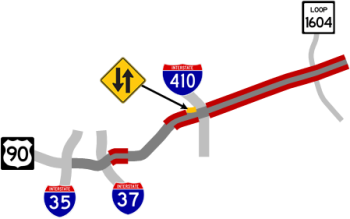 Continuous access roads from Hackberry St. to Gevers St.
Continuous eastbound access roads east of E Houston St except through the Loop 410 interchange.
Continous westbound access roads between WW White Rd. and E Houston St. and east of Loop 410. Between Loop 410 and WW White Rd., Emil St. functions as a two-way frontage road east of the UPRR tracks and as a backage road west of the tracks.

No continuous access roads between I-35 and Hackberry and from Gevers St. to E Houston St.
EXITS

Click here for a list of I-10 East exits.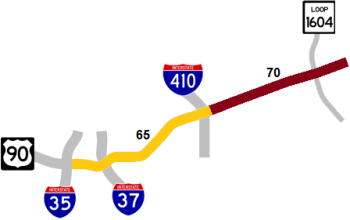 70 mph from Pfeil Rd. to Ackerman Rd.
65 mph from Ackerman Rd. to I-35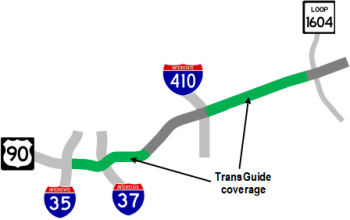 TransGuide coverage from I-35 to Roland Ave. and from Loop 410 to Loop 1604..
Left lane truck ban (6am-9pm M-F) inside Loop 410.

High-mast lighting

has replaced the traditional streetlights between I-35 and I-37.

Route number concurrency (multiplexes):
US 90 along entire route
US 87 from I-35 to Roland Ave.
SH 130 from Loop 410 east to Seguin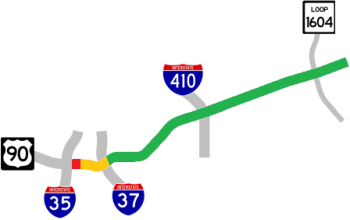 Heavy between I-35 and Roland Ave. Moderate east of Roland Ave.
Recurring congestion occurs in the mornings and evenings in both directions between I-35 and I-37, and westbound approachings I-37. Previous congestion in the Ackerman Rd. area has been relieved by the receent freeway expansion.
AVERAGE ANNUAL DAILY TRAFFIC
LOCATION
2001
2011
2016
2019
2020
2021
'11-'21
% CHG
E of Loop 1604E
31,000
38,000
52,235
56,317
48,064
60,663
+59.64%
W of Loop 1604E
33,000
47,000
57,979
65,321
55,258
75,457
+60.55%
E of Foster Rd.
39,000
57,000
68,111
75,486
64,238
80,830
+41.81%
E of Ackerman Rd.
59,000
41,000
43,414
57,033
47,933
64,529
+57.39%
E of WW White Rd.
54,000
78,000
71,413
79,822
67,277
81,224
+4.13%
W of WW White Rd.
58,000
80,000
70,744
78,059
66,632
80,225
+0.28%
E of Martin Luther King Jr. Dr.
58,000
78,000
74,867
77,872
66,191
83,311
+6.81%
W of Gevers St.
70,000
93,000
83,241
88,996
75,703
100,519
+8.08%
E of Probandt St.
112,000
125,000
135,705
149,338
126,937
147,822
+18.26%
W of Probandt St.
113,000
128,000
137,180
149,616
127,174
146,320
+14.31%
---
Click here for video of this freeway.
---
Loop 410 to Loop 1604:

Click

here

for details on this project.

Loop 1604 to Pfeil Rd.:

Click

here

for details on this project.
Click here to view information for all projects in this corridor.

---
TxDOT has plans to upgrade both the Loop 410 and Loop 1604 interchanges. The first phase of a fully-directional, five-level "stack" interchange at Loop 410 is expected to start construction in 2021. A five-level "stack" interchange was proposed at Loop 1604 as part of the Loop 1604 managed lanes project, but it will now be done as a standalone toll-free project. TxDOT plans to eventually widen all I-10 between San Antonio and Houston to six lanes.
---
US 90 and its predecessor SH 3 headed east to Seguin originally followed today's FM 78. A new alignment for US 90 that followed today's I-10 east of Commerce St. was built in 1932 as part of the Arneson Plan to improve state highways in Bexar County. Most of that original alignment is where the westbound frontage road is today.
This freeway was originally called the "East Expressway" and was also known for a short time as the "Highland Park Expressway." It was renamed in 1994 for Josť Lopez, a Medal of Honor recipient. The designation as I-10 was authorized on October 1, 1959.
The routing of the freeway between Loop 410 and downtown was subject to several revisions and some controversy before today's alignment was finalized in 1959. Planning for this route was done in conjunction with the planning for I-37.
1945: The earliest expressway plans would have routed this freeway from the WW White Rd. area northwest to join I-35 near AT&T Center Parkway.

1952:

An new proposal for this freeway

would have used today's I-10 from Loop 410 to Salado Creek. From there, the route would have followed the Aransas Ave. corridor to near New Braunfels Ave. where it would have turned west and followed the Indiana St. corridor. After crossing today's I-37, it would have turned northwest and crossed Presa St. and St. Mary's St. at Sadie St. Continuing northwest, it would have crossed Alamo St., the King William District, and the San Antonio River between Sheridan St. and Beauregard St. It then would have continued along Arsenal St. and El Paso St. to an interchange with I-35.

1956:

The proposed alignment was shifted further south and included today's route between I-35 and I-37. From there, it would have continued east along the Bailey Ave. corridor to Clark Ave. before turning northeast to meet Houston St. just east of Commerce St. This route generated significant controversy.

1959:

The alignment for the route inside Loop 410 was finally settled. Meanwhile, the freeway segment from just inside Loop 410 to just west of FM 1516 was completed.

1962:

The freeway from FM 1516 to the county line was completed.

1963:

The first Interstate rest area in Texas opens on I-10 just west of FM 1518. (It was removed sometime around 2006.)


1964:

The section from Commerce St. to Loop 410 was completed as was the Loop 410 interchange.

1967:

The segment between I-35 and I-37 opened.

1968:

The section from Commerce St. to I-37 opened.

1995:

TransGuide coverage was added to the section west of Roland Ave. as part of the original TransGuide project.

2009:

Various operational improvements were made to the section between Loop 410 and Foster Rd.

2010:

Operational improvements were made at the Loop 410 interchange.

2011:

The Texas Transportation Commission approved extending the SH 130 designation along I-10 from the terminus of the SH 130 toll road east of Seguin to Loop 410, then south along Loop 410 to I-35 South. Signage was installed in 2013.

2021:

The section from Loop 410 to Loop 1604 was widened to six lanes.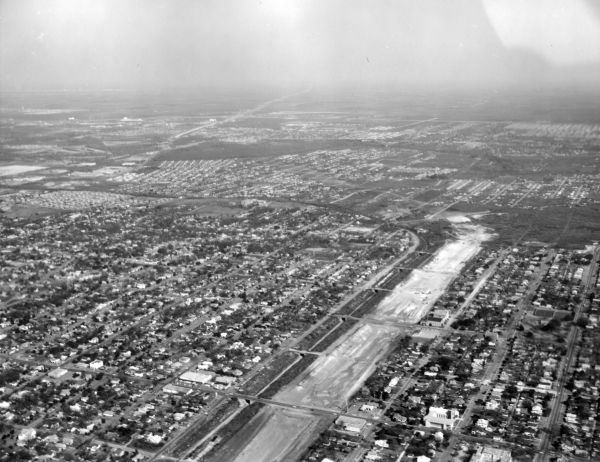 I-10 at New Braunfels Ave. looking northeast ca. 1967
(Photo courtesy of TxDOT)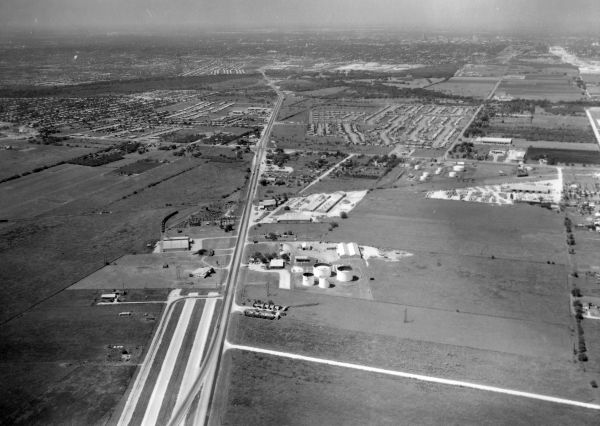 I-10 over Loop 410 looking west ca. 1962

Note the end of the freeway in the foreground. Planning for the route west of here was still underway.
(Photo courtesy of TxDOT)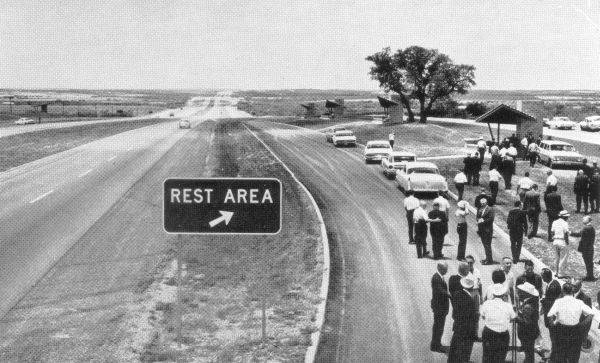 Opening ceremony for rest area near FM 1518 in 1963

(Photo courtesy of TxDOT)