Other San Antonio Area Roads
Interstate 35/San Antonio-Austin Corridor
---
This page last updated January 4, 2020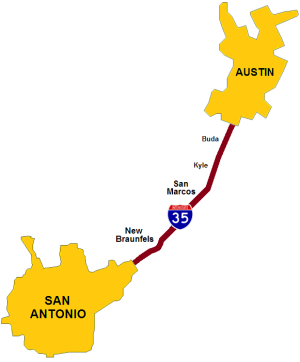 The I-35 San Antonio-Austin Corridor connects a booming region with an aggregate population of 4.7 million stretching 100 miles from South San Antonio to Georgetown north of Austin and is the busiest inter-metro Interstate in Texas with traffic counts exceeding 100,000 vehicles per day. From south to north, the corridor traverses Bexar, Guadalupe, Comal, Hays, Travis, and Williamson counties and the cities of San Antonio, Live Oak, Selma, Schertz, Cibolo, New Braunfels, San Marcos, Kyle, Buda, Austin, Round Rock, Pflugerville, and Georgetown.
This page gives an overview of the 48 mile core section of the corridor between the San Antonio and Austin urbanized areas, or more specifically from FM 482 in Schertz to SH 45 near Buda. To continue south, see the I-35 North page in the San Antonio Area Freeway section of this site.
---
Roadway configuration
Lanes
6 lanes

from FM 482 to Solms Rd.

8 lanes

in New Braunfels from Solms Rd. to FM 306

6 lanes

from FM 306 to SH 45
There is a left-lane truck restriction in effect for the entire corridor from just inside Loop 1604 in Live Oak to north of Georgetown.
Frontage roads
Nearly continuous frontage roads along the entire route. Originally, the frontage roads did not continue over the Guadalupe River in New Braunfels nor over the Blanco River in San Marcos, and there was a gap in the southbound frontage road between Kyle Crossing and Kyle Parkway as well as through downtown Kyle where BR 35 functioned as the frontage road. Frontage roads were added at all of those locations during expansion projects between 2000 and 2010.
Prior to 2000, all of the frontage roads between San Antonio and Austin were two-way with the exception of a 2.3 mile one-way section through San Marcos. Expansion projects since 2000 have converted nearly all of the frontage roads in the corridor to one-way. The last section remaining two-way is between Conrads Rd./Kohlenberg Rd. north of New Braunfels and FM 1102/York Creek Rd. near the Comal/Hays county line. Work to convert that section to one-way is scheduled to begin in 2020. Completion of that project will result in all of the I-35 access roads between the Medina River south of San Antonio to Hillsboro being one-way.
Traffic management
In 2008, TxDOT installed Intelligent Traffic System (ITS) equipment throughout the corridor consisting of cameras, speed detectors, and dynamic message signs. This system connects to the TransGuide ITS system in San Antonio and the CTECC ITS system in Austin, thus providing real-time corridor traffic information to motorists in both cities.
---
Traffic
Interstate 35 is the main freeway tying the San Antonio/Austin region together and, as a consequence, is frequently overloaded on many sections. All counts in the corridor now exceed 100,000 vehicles per day.
In addition to local growth, NAFTA has put an additional strain on the corridor as I-35 connects the nation's busiest freight border crossings in Laredo to the Midwest and results in a high level of truck traffic in this corridor. Consequently, officials lobbied to have it designated as a NAFTA Superhighway to secure federal funding for various conventional and ITS improvements and the entire corridor has been upgraded to a six and eight lane facility in the past two decades.
---
Speed limits
70 mph along entire corridor
---
Future plans
Construction of various frontage road, ramp, intersection, and overpass improvements north of New Braunfels is set to start in 2020 (more details here) and a similar project at Posey Lane is currently underway. Additional operational improvement projects at several locations are in various stages of planning.
A statewide planning study for I-35 in 2016 recommended several expansion projects in the corridor. However, there are currently no advanced plans underway for any such expansions in the foreseeable future.
Planning for a commuter rail line between San Antonio and Austin was suspended in 2016 after Union Pacific would not agree to the use of its rail line and the cost of building a new rail line and its proposed location were determined to be not feasible.
The I-35 corridor has been mentioned as a possible location for a future "hyperloop" transportation system.
---
SH 130
| | |
| --- | --- |
| | In an effort to alleviate the growing traffic problems in the I-35 corridor, a parallel tollway, SH 130, was built. For more information, see the the SH 130 page. |